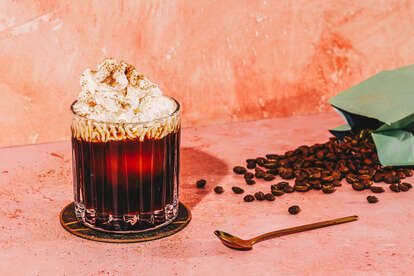 The dozen or so weeks between Labor Day and the holiday season feel like the Thursday of the calendar year. There's still enough structured energy to put effort into life, while the weekend's proximity gives some license to let loose. Fall is also a time of abundance, with harvest festivals sprinkled throughout the season—with a vast cornucopia of flavors.
I hit up some of my favorite bartenders from around the country to tap into their creativity to bring you the best of what this season has to offer. Fall sets the stage for festive, intriguing, and slightly ambitious (yet still unfussy) large format cocktails like these. The North Star from Shannon Mustipher features a beguiling blend of spice and citrus and Chris Elford's Sharpie Mustache, a Seattle staple, unexpectedly combines overproof whiskey, gin, and bitters into a bracing concoction that's perfect to sip while you take in multicolored foliage.
Some words of encouragement: Since they're from our nation's top mixologists, these drink recipes are relatively advanced, but they are well worth the effort. For instance, the sublime braiding of vibrant kumquat, roasted green tea, and blended Scotch whisky make Masahiro Urushido's Yakan Punch well worth the extra time spent, and the five-spice grenadine in Austin Hennelley's Jack Rose Royale and the spiced honey syrup from Lauren Paylor's Bourbon and Coffee might require a visit to the spice aisle, but you'll be glad you went.
All recipes serve 6-8 people.
Bourbon and Coffee
Lauren Paylor, R&D production chief for Silver Lyan
Ingredients:
12 ounces brewed coffee
6 ounces amaro, any style
3 ounces bourbon
1½ ounces spiced honey syrup
12 dashes Angostura bitters
Directions:
Combine all ingredients in a large bowl with two cups of ice and stir to combine. To serve, pour into an old fashioned glass with ice. Garnish with whipped cream (or milk foam) and grated nutmeg.
Spiced Honey Syrup:
Toast one tablespoon honey, two tablespoons star anise pods, one tablespoon fennel seed, one tablespoon Szechuan peppercorns, half tablespoon, whole cloves, and one crushed cinnamon stick in a pot on medium heat until fragrant. Add a tablespoon honey, half cup granulated cane sugar, and one cup filtered water, stirring until combined. Remove from heat and allow to cool before straining. Will keep in the refrigerator for up to 2 weeks, or frozen for up to four months.
Sharpie Mustache
Chris Elford, beverage director for Trade Winds Tavern, Navy Strength, and Vinnie's
Ingredients:
4½ ounces rye whiskey (hundred proof or greater recommended)
4½ ounces London dry gin
4½ ounces amaro
4½ ounces Bonal Gentiane Quina
12 dashes Bittermens tiki bitters
Directions:
Combine all ingredients in a pitcher with two cups of ice. Stir to combine. To serve, pour into a chilled old fashioned glass. Garnish with an orange peel expressed over the surface of the drink, then discarded.
North Star
Shannon Mustipher, author of Tiki: Modern Tropical Cocktails
Ingredients:
10 ounces Barbados rum
10 ounces fresh lime juice
5 ounces pink grapefruit juice
3½ ounces cinnamon-clove syrup
3½ ounces Angostura bitters
¾ ounces Allspice liqueur
Chilled hard apple cider
Directions:
Combine all ingredients except for cider in a large bowl with 3 cups of ice. To serve, pour into Old Fashioned glasses filled with ice, and top with hard cider. Garnish with dehydrated citrus peels and/or freshly grated nutmeg.
Cinnamon-Clove Syrup:
Combine one medium cinnamon stick with ⅛ teaspoon ground clove with 2 cups simple syrup in a small pan over low heat for 30 minutes, stirring and adjusting heat to prevent simmering/boiling. Allow to cool before straining. Will keep in the refrigerator for up to 2 weeks, or frozen for up to four months.
Jack Rose Royale
Austin Hennelly, head bartender at Majordomo
Ingredients:
One 750mL bottle of non-alcoholic sparkling apple cider (Martinelli's is too sweet)
8 ounces bonded apple brandy
4 ounces Oloroso sherry
6 ounces five spice grenadine
6 ounces fresh lemon juice
¼ ounce Angostura bitters
Large pinch of kosher salt
Directions:
Combine all ingredients except for cider in a large bowl with four or five large chunks of ice, or four cups of regular ice. Add cider slowly, gently stirring to combine ingredients but not disturb the cider's carbonation. Serve in your choice of glassware garnished with clove-studded lemon wheels and star anise pods.
Five Spice Grenadine:
Bring 1½ cups of 100% pomegranate juice to a simmer. Add 5 grams Sichuan peppercorns, 5 grams lightly crushed cinnamon sticks, 5 grams lightly toasted fennel seeds, 5 grams lightly crushed star anise pods, and 2½ grams of cloves. Simmer on low heat for five minutes and remove from heat. After cooling, strain syrup and return to the pan. Add 1¾ cups medjool date syrup and stir to combine. Transfer to a container after cooling. Will keep in the refrigerator for up to two weeks, or frozen for up to 4 months.
Yakan Punch
Masahiro Urushido, director of deliciousness at Katana Kitten and author of The Japanese Art of the Cocktail
Ingredients:
8 ounces blended scotch whisky, preferably one finished in Japanese whisky casks
2 ounces Ao-tani no Umeshu, aged 7 years
6 ounces cold-brewed houji-cha (Japanese roasted green tea)*
3 ounces fresh lemon juice
7 tablespoons kumquat oleo saccharum
Directions:
Combine all ingredients in a large container, making sure that the oleo saccharum is dissolved completely. Transfer to a Japanese-style yakan kettle, or other medium-size tea kettle. Add a half cup of ice to the kettle and infuse with palo santo smoke before covering with the kettle lid. To serve, pour into Old Fashioned glasses filled with ice. Garnish with an edible flower, rosemary sprig and dehydrated orange and/or lemon wheel, as desired.
Cold-brewed houji-cha:
Combine ¼ cup loose tea with 4 cups filtered water in a small container and let sit in the refrigerator overnight, at least 8 hours. Strain into a clean container and discard tea. Will keep in the refrigerator for up to one week.
Kumquat oleo saccharum:
Ingredients:
2 cups of sugar
1 cup quart of whole fresh kumquats (if unavailable, use the peels of 3 small oranges instead)
2 sprigs of fresh rosemary
Directions:
In a medium bowl, muddle kumquats into sugar, making sure that each kumquat is smashed thoroughly. Add rosemary and transfer to a plastic freezer bag, making sure to eliminate all air in the bag (or use a vacuum sealer if you have one). Let sit for three days. Strain and transfer to a container. Will keep in the refrigerator for up to one month.
John deBary is a cocktail and bar expert with over a decade of experience working in award-winning New York City bars and restaurants. He is also the co-founder and president of the Restaurant Workers' Community Foundation, which is dedicated to improving the lives of hospitality industry professionals through advocacy, grantmaking, and impact investing. John is also the creator of Proteau, a line of non-alcoholic drinks.