The 25 beers you need to drink this Fall
A good Fall beer will guide you away from light, Summery suds and ease you into stuff with more flavor and character. A great fall beer is like 17.5% ABV and described as "daring & vulgar". And then there're all the ones in between. We rounded up beer experts from around the country to give their picks for the 25 you need to drink before Winter, from Oktoberfests, to pumpkin ales, to the vegetable beers your mother would be oh-so-proud of you for drinking. Live Oak Oaktoberfest (Märzen/Oktoberfest, 5.8%)Kevin Afghani, Craft and Growler, Dallas, TX "Full-bodied and richly malted from the German malts, this brew has a smooth, clean finish due to aging in conditioning tanks after fermenting with Bavarian lager yeast."
Jack's Abby's Copper Legend (Märzen/Oktoberfest, 5.9% ABV)
Rob Burns, Co-Founder of Night Shift Brewing, Boston, MA
"As the name suggests, this orange-hued beer celebrates the Oktoberfest style. The rich, bready maltiness lays a hearty base for the cooler nights, but the hops bring on flavors of flowery spice that almost hint at the warmer weather citrus. This easy-drinking yet flavor-packed beer is a welcomed alternative to the heavily spiced beers of Fall."

Southern Tier Harvest (Extra Special/Strong Bitter, 6.7%)
David Cichowicz of Good Beer, New York, NY
"It's an ESB that has a terrific piney aroma with a little earthy bitterness balanced by a wonderful sweet malt backbone. It just tastes like Fall. Think dead leaves and fresh Pine needles wrapped in a sweet caramel treat."
Summit's Great Northern Porter (American Porter, 5.6%)
Broc Krekelberg, co-founder of Badger Hill Brewery, Minneapolis, Minnesota
"This brew has been a long time favorite, and a style that seems to be bypassed these days. A smooth, light roast and a subtle sweetness makes me want to kick my feet up on the porch and enjoy. 5.6% ABV lets me enjoy more than one. Full of flavor and a local gem."

Wild Heaven Craft Beers' Ode To Mercy (American Brown Ale, 8%)
Jay Huffman, @TheBreweryUSA, Atlanta, GA
"Fall is almost upon us and when the weather starts to turn colder, the Ode To Mercy can keep you warmer than that fuzzy sweater with a cat on it that you wear every night. A combination of oak, coffee (specially blended by Athens, GA's 1000 Faces), citrus hops, and a 8.2% ABV, this beer is the perfect go to for a cold day working the grill or for a chilly Fall night by the fire."
Weyerbacher Brewing Co's Imperial Pumpkin Ale (Pumpkin Ale, 8%)
Dennis "Ale Sharpton" Byron, @AleSharpton, Atlanta, GA
"When Fall hits, beers get more hearty, their colors change, and ultimately they become more warming for the holidays. Enter pumpkin beers, and the Weyerbacher Brewing Co. Imperial Pumpkin Ale is one of the best, thanks to the upfront rush of nutmeg, cinnamon, and, of course, baked Jack-o'-lantern, held down by a malty backbone. Sweet with no tricks. It's a straight-up treat."
Ayinger Brewing's Oktober Fest-Märzen (Märzen/Oktoberfest, 5.8%)
Matt Simpson, @BeerSommelier, Atlanta, GA
"This lager is exemplary for the style. Like drinking liquid bread, it's malt-forward, with just a hint of hop bitterness on the finish. And with a crystal-clear copper color, just gazing at it makes you want to drink several liters. Which, technically, you're supposed to do!"

Abita Pecan Harvest (American Brown Ale, 5.2%)
Brett Hubbard, craft and specialty import manager at Gold Coast Beverage & host of By the Glass radio show, Miami, FL
"This is made with real Louisiana pecans that have been toasted to perfection. That makes it something really special, because most beers with a nutty flavor or aroma aren't made with real nuts. The natural oils from the Louisiana pecans give the ale a light pecan finish and aroma."
Dogfish Head Red & White (Witbier, 10%)
Josh Levitt, Capt'n of What's Tappening, Brown Distributing Specialty Division, Miami, FL
"Red & White is a Belgian wheat beer brewed with Pinot Noir juice, and then 11% aged in Pinot Noir barrels, and 89% aged in giant oak staves. They then blend the beer together to make a truly unique and amazing beer that drinks almost like a wine. At 10% ABV, it truly is incredible."
Funky Buddha Sweet Potato Casserole (Vegetable Beer, 10%)
John Linn, brand director at Funky Buddha, Miami, FL
"This is a homer pick, but instead of doing yet another pumpkin beer, Funky Buddha decided to create a beer made after the eponymous Thanksgiving dish. We actually brew it in the Fall as well, around October, so you can drink it around the same time you're tucking into your Thanksgiving feast. At 10%, it's a big, rich, sticky beer full of sweet potato and marshmallow."

Left Hand Oktoberfest (Märzen/Oktoberfest, 6.6%)
"Just about every American brewery makes a Marzen now for Oktoberfest, but Left Hand's version is a step above the rest. It's stronger than most beers of its kind at 6.6%, but that extra malt body lends itself perfectly to Fall meals or just a festive atmosphere."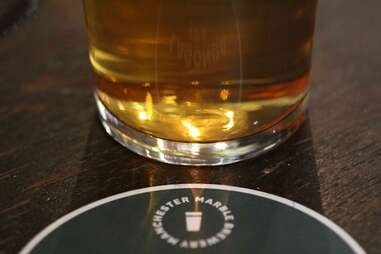 Marble Beer and Brouwerij Emmelisse's Earl Grey IPA (English IPA, 6.8% ABV)
Kane Brooks, Beverage Operations Manager for ETM Bar Group, London UK
"This is new spin on the good, old IPA style, with Earl Grey additions during secondary fermentation. The fruity Citra hops match the Earl Grey's bergamot very nicely indeed, producing light apricot notes combined with the typical citrus aromas. The tea adds an intriguing perfume and a little tannin to the silky mouth feel. Great Autumn drink, with great voluptuous body and generous 6.8% ABV."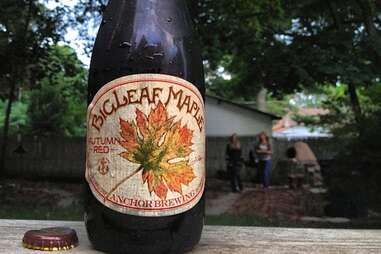 Anchor Brewing Bigleaf Autumn Maple Red Ale (American Amber/Red Ale, 6% ABV)
Nahem Simon, Jack Rose Dining Saloon, Washington DC
"This is an American amber that has all the malty goodness that you would want to enjoy on a cold day, with a perfect sharp and spicy hop kick that is mellowed out by the echo of sweetness left by the Big Leaf maple syrup."

Ommegang Scythe & Sickle Harvest Ale (Bière de Garde, 5.8% ABV)
"Unlike other harvest ales, this beer is a traditional Northen France style: Bière de Garde. Meaning 'beer for storing/ keeping', these beers were brewed in early Spring and stored in cold cellars until the warmer months, when they would be consumed. Similar to the Belgian saison, they differ in that their 'cellaring' gives them a more well-rounded, malty profile, [that is] less bright and spicy."
Union Craft Brewing's Blackwing (Schwarzbier, 4.9% ABV)
Chris Van Orden, Co-Editor of DCbeer.com, Washington DC
"Blackwing is a rock-solid take on Schwarzbier, a German style that marries a relatively light body with all those darker malts that you don't see much of in the warmer seasons. Blackwing pours a dark mahogany with a pillowy head that shows off noble hop aromas alongside some roastiness. The flavor is mostly chocolate with a hint of coffee, but the carbonation and attenuation keep things from getting too rich. Lots of flavor on a light chassis: the perfect transition beer to start the Fall right."
Mikkeller's Black 2011 (American Double/Imperial Stout, 17.50% ABV)
Anna Roth, Food Editor at SF Weekly, San Francisco, CA
"Mikkeller's Black 2011... what they call a 'daring & vulgar imperial stout.' It's more like a fortified wine than a beer. It's strong, but still easy sipping, and at a staggering 18% ABV, a great distraction from the fact that it's getting colder and darker with every passing day (sob)."

Deschutes Hop Trip (American Pale Ale, 5.50% ABV)
Christian Albertson, co-owner and cellar master at The Abbot's Cellar and Monk's Kettle, San Francisco, CA
"The Fall is the time of year when the wet hop beers come out (with the hop harvest), so it's well-timed to bring them to the table. A more well-distributed one is from Deschutes, Hop Trip."
New Belgium Coconut Curry Hefeweizen (Herbed/Spiced Beer, 8% ABV)
Ezra Johnson-Greenough, Founder of The New School Beer Blog, Portland Fruit Beer Fest, and Portland Beer Week, Portland, OR
"Coconut beers are sexy hot right now, and New Belgium Brewing was bold enough to add curry to the mix of the usually light and refreshing Hefeweizen style of beer. A 22oz bottle of this beer at 8% ABV will make anyone want to remove their top again before Summer is completely over."
The Bruery's Autumn Maple (Fruit/Vegetable Beer, 10% ABV)
Christina Perozzi, The Beer Chicks, Los Angeles, CA
"Pumpkin ales are hugely popular as Fall seasonals, but I have a dirty little secret. I pretty much hate them. However, I do absolutely love The Bruery's innovative take on the style. Instead of using pumpkin, The Bruery brews their Autumn Maple ale with 17lbs of yams per barrel. They also add cinnamon, nutmeg, allspice, vanilla, molasses, and maple syrup to this Belgian style, which delivers an amazingly balanced spice bomb. This beer is perfect paired with a crackling fire and a blanket on a cold fall evening. Oh, and drink this beer with cheesecake."

Gordon Biersch FestBier (Märzen/Oktoberfest, 5.3% ABV)
Dieter Foerstner, Brewer at Angel City Brewing, Los Angeles, CA
"My number one choice would be an Oktoberfest-/Märzen-style beer, like a Gordon Biersch FestBier. I cannot imagine Fall without sipping on a sweet, malty Märzen. The color of the beer matches the color of the changing leaves. The medium body is just right for the cooler weather, and the beer pairs really well with heartier Fall dishes."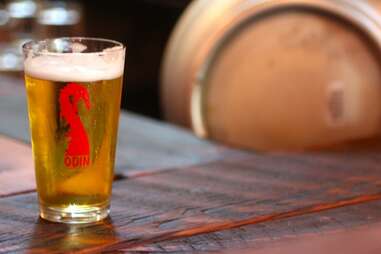 Odin Brewing's Thor's Equinox (Belgian Dark Ale, 9.0% ABV)
Brad Robinson, Odin Brewing, Seattle, WA
"This late-September brew from Odin is rich in all the right ways, besides the price. Notes of nuts, figs, and just a touch of banana make this a rapidly sought-out prize. 9% ABV, $6 at area grocery stores."

Ninkasi Brewing's Oktoberfest (Oktoberfest Lager, 5.1% ABV)
Sarah in the Morning, KZOK Radio Personality, Seattle, WA
"A solid choice is Oktoberfest from Oregon's Ninkasi Brewing Company. It's a great Fall beer in that it's not too heavy, but not too light. The chilly, rainy weather isn't here yet, and this beer allows you to transition into the cooler weather. It's refreshing for the warm days, and yet substantive, which you need after all the light Summer beers. Ahhh, just close your eyes with this one and imagine you're in a beer hall in Germany."
Dry Dock Brewing's Wee Heavy (Scotch Ale/Wee Heavy, 9.50% ABV)
Brian O'Connell, Founder of Renegade Brewing Company, Denver, CO
"Here's one of my favorite Fall beers: it's a Scotch ale with a great color for Fall and a malty body that pairs with Fall foods like pumpkin or apple pie."
Great Divide's Rumble IPA (American IPA, 7.10% ABV)
PJ Hoberman, Denver Off The Wagon, Denver, CO
"This beer carries some amazing flavors from aging the beer in oak and the heavy handed malt additions. I want to drink this while still wearing shorts, but with a big Yeti hoodie on, because I'm an idiot and it dropped 20 degrees and now I'm freezing but still hanging out on the patio at Great Divide."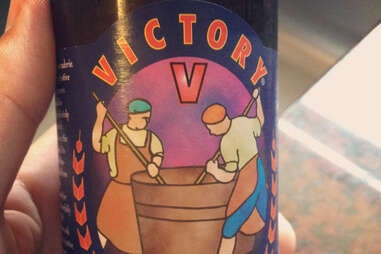 Victory Festbier (Märzen/Oktoberfest, 5.6%)
Jimmy Carbone from Jimmy's No. 43
"Victory is one of the best American breweries that makes Belgian style beers. This one'll get you ready for Oktoberfest, though it's more hoppy than a typical German Octoberfest beer."