10 Famous Writers' Quintessential Quotations on Drinking
Writers have a knack for dropping lines that end up on Bartleby.com -- it's basically part of their job description. And if history has taught us anything, that crowd also likes to throw back a few. That makes them doubly qualified to provide quotations about booze, so we went ahead and rounded up 10 excellent thoughts on alcohol from famous literary minds. Hemingway and Bukowski are in there, obviously, but you'll also want to hear Kurt Vonnegut's feelings towards vodka:
David E. Scherman/The LIFE Picture Collection/Getty
"I have drunk since I was fifteen and few things have given me more pleasure. When you work hard all day with your head and know you must work again the next day what else can change your ideas and make them run on a different plane like whisky? When you are cold and wet what else can warm you?"
-- Ernest Hemingway
 "There is an ancient Celtic axiom that says, 'Good People Drink Good Beer.' Which is true, then as it is now. Just look around you in a public barroom and you will quickly see: Bad People Drink Bad Beer. Think about it."
-- Hunter S. Thompson, in a toast to the launch of Road Dog Porter
"Alcohol is like love. The first kiss is magic, the second is intimate, the third is routine. After that you take the girl's clothes off."
-- Raymond Chandler
"I pray you, do not fall in love with me,
For I am falser than vows made in wine."
-- William Shakespeare
"Beer's intellectual. What a shame so many idiots drink it."
-- Ray Bradbury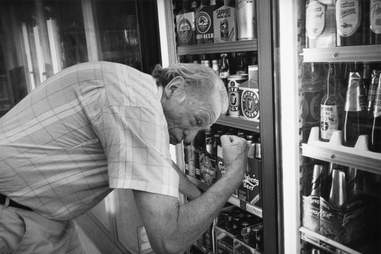 Chris Felver/Donaldson Collection/Getty
"Stay with the beer. Beer is continuous blood. A continuous lover."
-- Charles Bukowski
"My own experience has been that the tools I need for my trade are paper, tobacco, food, and a little whiskey."
-- William Faulkner
"Three be the things I shall never attain: Envy, content, and sufficient champagne."
-- Dorothy Parker
"Fill with mingled cream and amber,
I will drain that glass again.
Such hilarious visions clamber
Through the chamber of my brain.
Quaintest thoughts -- queerest fantasies
Come to life and fade away;
What care I how time advances?
I am drinking ale today."
-- Edgar Allan Poe
"And do you really know what Vodka is like? Jesus! It's just straight alcohol, and they drink it by the tumbler full. Really, some scientists should investigate how it is possible for man to drink such stuff in such huge quantities."
-- Kurt Vonnegut, describing WWII Russians to his sister and uncle
Sign up here for our daily Thrillist email, and get your fix of the best in food/drink/fun.
Kristin Hunt is a staff writer for Thrillist, and would like to thank her copies of The Portable Dorothy Parker and Letters: Kurt Vonnegut for assisting in this piece. Follow her to boozy bon-mots at @kristin_hunt.