The whole point of drinking wine is looking fancy and refined, or at least that's what Muffy from the yacht club tells us. But some wines boldly throw class and elegance to the wind with curse words, risqué artwork, and dick jokes on their labels. Let's take a look at a few of those mavericks, who somehow manage to make a bottle of classy fermented grapes look more depraved than a 40oz.
A regular find in the "$10 and under" bin, Thierry & Guy Fat Bastard Chardonnay makes some gutsy claims for a bottle half the size of that truly fat bastard Carlo Rossi.
Get it?! The grapes are balls! Well Hung Vineyard from Virginia has a real cheeky sense of humor!!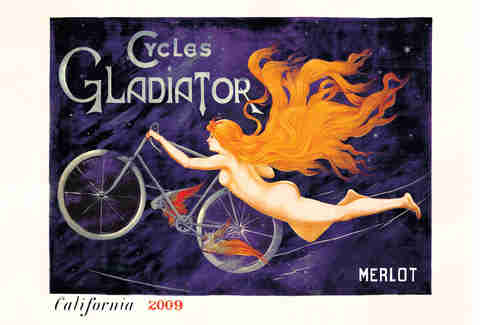 This oddly dressed bike enthusiast on the Cycles Gladiator bottle was too inappropriate for all of Alabama, and got herself shut out statewide in 2009. You'd think the winery would be bummed, but someone on staff must hate the Crimson Tide, 'cause they're downright celebratory. Snap up a "Banned in Alabama" naked lady mug over here.
If nudist bikers aren't your bag, check out Cycle Gladiator's soul sister, Naked on Roller Skates. This red is part of the Australian winery Some Young Punks' "pulp series", which draws its labels from trashy novels of the '20s through the '50s. Meaning: yes, Naked on Roller Skates is an honest-to-goodness piece of literature.
And on the third day, Cali winemakers Adler Fels created Big Ass Chardonnay, and lo, Saint Mix-a-Lot did smile down upon it.
This vino chose the moniker If You See Kay, which you should totally say out loud in your office right this second. A little pissed you got tricked into sorta swearing? So were the people of New Hampshire.
A super-cheap Grenache coming out of Australia, this bottle of Bitch proves that anything can seem elegant with the right calligrapher. Frankly, we'd rather drink wine by Key & Peele called Biiiiiiiiiitch.
It's almost impossible to talk about wine without seeming like a pompous ass, so naming your wine Pompous Ass and putting a snooty donkey on the label is basically the most meta thing to happen since that time you watched Inception on an airplane WHILE YOU WERE ASLEEP.
This red blend called The Ball Buster is from Austraila's Tait Wines -- not Taint Wines, because that would be too perfect. It supposedly boasts an aroma of black currants, stewed plums, cherry, chocolate, and 15yrs of relentless verbal abuse.
Don't be fooled by the parrots on the bottle of Big Pecker, those of you with untainted ears. This is a dirty old dick joke. But if you simply must have it for your collection, for the love of tannins, be careful how you Google it.