The Female Brewers Shattering Craft Beer's Glass Ceiling
Hearty, healthy, and naturally free of deadly waterborne illnesses, beer has been a dietary staple for most of human existence. And from ancient civilizations like Sumer and Egypt, through the Dark Ages, and well into the 16th century, historical evidence has shown that women were the ones brewing the good drink. Then, one thing led to another -- female brewers were suddenly accused of witchcraft, the Industrial Revolution turned beer into big business, etc., etc. -- and women were all but erased from the brewing industry's landscape.
Fast-forward to today's craft beer revolution. In 2014, a Stanford University study found that out of 1,700 active breweries surveyed, only 4% had a female head brewer or brewmaster. Yet, that very same year, Nielsen reported that women account for a whopping 32% of American craft beer consumption, indicating that growing interest could eventually result in a similarly diverse industry. The general public might still picture the average craft brewer as bearded and beflanneled, but that image seems to be changing, slowly but surely. Despite the challenges, these 10 badass brewers are doing their part to destroy outdated stereotypes and make the beer world a better place for everyone, regardless of what's in their pants.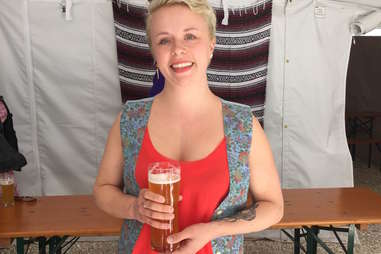 Red Hook, NY
Colorado-born Camille Shoemaker might be new to the professional brewing scene, but her life's been all about beer for years. She discovered her love for brewing back in culinary school, and has been hot on the industry's trail ever since, first as a homebrewer, then later as a graduate student at NYU's Food Studies program, where she focused on the history of female brewers as well as gender dynamics in today's beer industry.
These days, she's putting her ample knowledge to use at From The Ground, a small farm brewery located in rural Red Hook, New York that sources the majority of its ingredients from within a five-mile radius. And even though her new country digs are a far cry from the nonstop craziness that is New York City's craft beer scene, Shoemaker views this hardscrabble, back-to-the-land environment as the ideal place to begin her brewing career. "It's such a collaborative and open community. Here, I'm looked at for how hard I work, my input, and how much passion I incorporate into my job, but it has nothing to do with whether I'm female or male," she says. "I see the grain we use for our beer growing, smell it being malted, mill it myself, collect it after mashing, and then feed the waste to some very happy pigs just a few miles away -- that's something you just can't do in the city."
McMinnville, OR
Beer is a family business for Heater Allen's Lisa Allen. Her father, Rick Allen, opened the McMinnville, OR nanobrewery in 2007, and just two years later, Lisa left a career in the wine industry to join her dad's two-man crew. Since Lisa came on the scene, Heater Allen has grown from a six-barrel to a 15-barrel brewhouse, producing a record 1,100 barrels of beer in 2015.
By focusing on exceptionally brewed, traditional German lagers instead of the standard West Coast IPA fare, the father-daughter operation has managed to stand out from Oregon's famously crowded craft scene -- which, according to Lisa, has also been a very friendly one. "I always thought I would go back to wine, but after a few months I was hooked on beer," says the younger Allen. "I love how open and supportive people are of each other -- there's a lot of camaraderie. And for the most part, people are really cool and really like to see a woman brewer."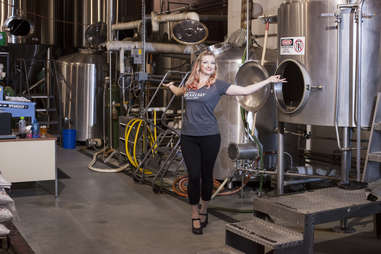 Santa Cruz, CA
In 2011, Cat Wiest came across a copy of Bitch magazine, the cover displaying the words "Beer Goddesses" in big, bold letters. The article inside -- titled "We're Here, We're Beer, Get Used to It" -- inspired the out-of-work Bay Area native to dust off her husband's old homebrew kit and start brewing. Within just a few months (and to her great surprise), she found herself employed as a brewer at Berkeley's legendary Pyramid Brewery. Wiest went on to do a stint at San Francisco's hugely popular Speakeasy Brewery before recently assuming the head brewer role over at Seabright, a beloved neighborhood brewpub in Santa Cruz.
And though her rise to the top of the craft beer food chain has been remarkably quick, it hasn't been without its gender-based challenges -- some more serious than others. "I feel that I experience 'passive sexism' more often, like a fellow brewer exclaiming, 'It pays to be pretty!' when they find out I cut my teeth on a 125-barrel brewhouse and not cleaning kegs," she explains. "And once, while visiting a small brewpub, the brewer came out to talk to my husband, and when he pointed at me and said, 'My wife is the brewer,' the guy was dumbfounded. He kept asking me what I actually did at the brewery. He asked so many times that I finally asked him if he needed some help back there. Then he left."
Seattle, WA
Robyn Schumacher started her career as a high school biology teacher, but after 13 years in the classroom, her dreams of becoming a professional brewer -- along with her lifelong passion for great beer, status as Washington State's first female Certified Cicerone, and unstoppable homebrewing skills -- refused to be silenced. In 2013, Schumacher, along with business partner Brad Benson and co-owner Lara Zahaba, opened up Stoup Brewing in Seattle's Ballard brewing district.
Though her teaching years are behind her, Schumacher's still a science geek through and through, perfecting each pint down to a molecular level. And, as you might have guessed, she approaches the industry's gender situation with the rational, balanced mindset of a true scientist. "Women in every profession experience challenges and I think that those challenges are pretty well documented," she explains. "What I have experienced personally is that men who are successful in this industry because they brew great beer are generally thoughtful, intelligent men. My goal is to become a brewer that people write about because I brew great beer, not just because I brew beer as a woman."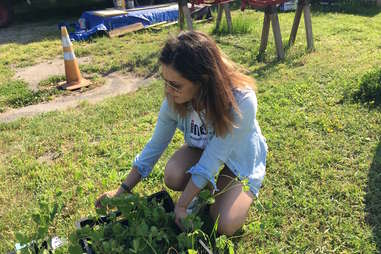 Brooklyn, NY
Katarina Martinez began homebrewing in 2009 and rekindled her love affair with beer after moving to Brooklyn four years later, homesick and looking for a little taste of home -- both literally and figuratively. She soon discovered a great homebrew shop nearby, got in with a super-supportive group of local homebrewers, fine-tuned her skills, and, just this year, took the entrepreneurial leap and opened her very own Lineup Brewing.
Proving yourself as a solo small business owner is extremely taxing, no matter your gender, but Martinez's passion for beer and confidence in what she does help her ward off the haters. "Being a female in any male-dominated industry is tough -- you have to work a lot harder for people to take you seriously," she says, echoing the frustrations of so many other female brewers. "I think the most difficult question I get is, 'Who's the other owner?' No one. Women are, in fact, completely capable of such feats, regardless of the stereotypes."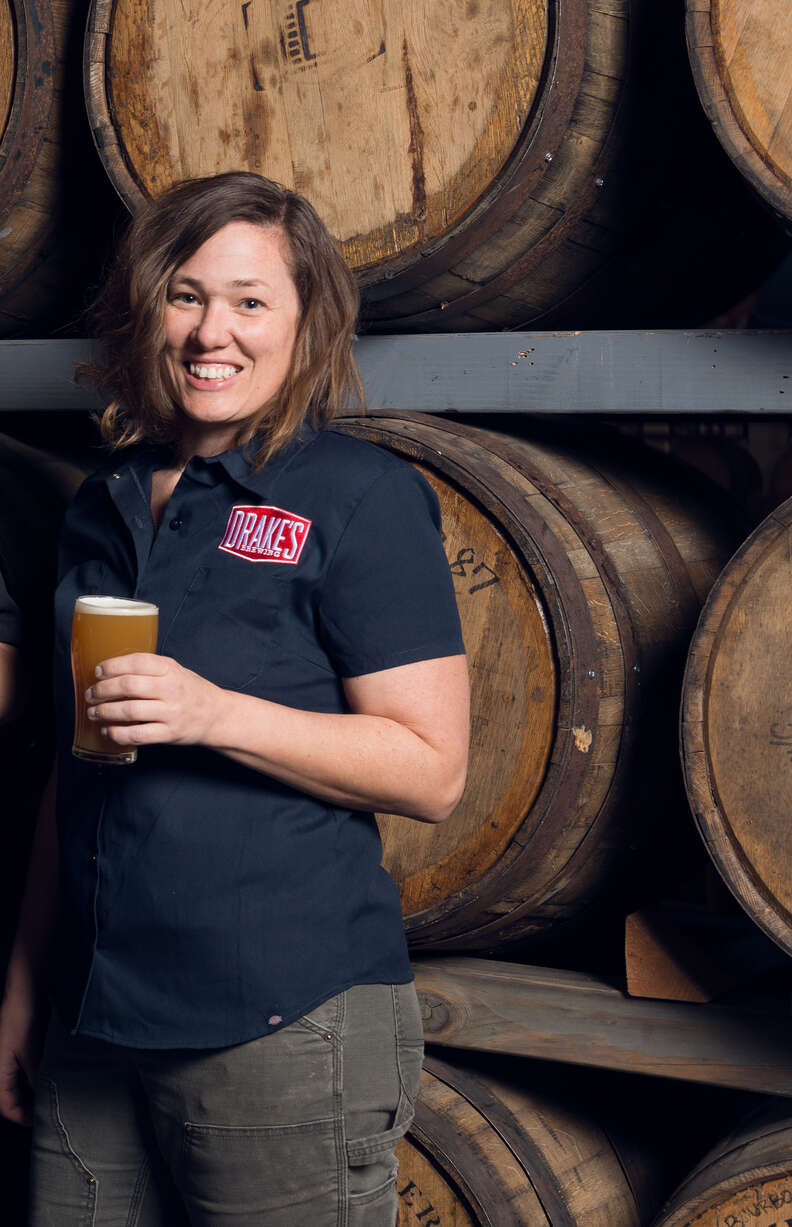 San Leandro, CA
With four years of professional brewing experience under her belt, Drake's Brewing Company's DeVonne Buckingham plays a major role in just about everything the award-winning San Leandro craft brewery does. As Drake's innovation brewer, Buckingham runs the 20-barrel pilot system, developing, testing, and tweaking brand-new recipes as well as cranking out all the in-house drafts. Her story is a familiar one -- she fell madly in love with beer, began homebrewing out of her garage, popped into her local brewery looking to learn the trade, and worked her way up from bar back to event staff to tour guide, and, finally, to brewer.
What makes her experience a bit different, however, is Drake's impressively diverse crew, boasting a gender breakdown that might be par for the course for many workplaces, but is few and far between in the beer scene. "Of course I've experienced challenges as a female brewer -- false assumptions and ignorant remarks are regularly made," says Buckingham about her time in the industry. "But that being said, I feel lucky to be at a brewery where that reality does not exist (and more than 50% of our brew team is female). I am inspired and humbled by my co-workers at Drake's -- and making awesome beer is a pretty big bonus."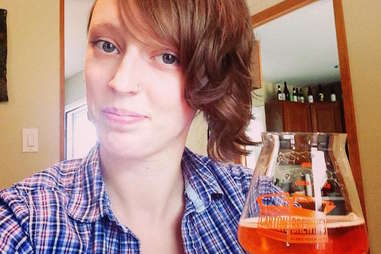 Atlantic Highlands, NJ
New Jersey's Aud Ragle fell in love with craft beer in college, homebrewing in friends' off-campus apartments and combing local liquor stores for the newest offerings. After graduation, the geology major began giving tours of nearby Carton Brewing Company, eventually working her way up to tasting-room manager and, finally, to a full-fledged brewhouse employee and, since early 2016, Ragle's also been heading up Carton's plan to develop a quality-control lab for its growing fleet.
Her brewing team has been super supportive throughout her rise in the ranks, but as the sole woman in the 13-person crew, some challenges are unavoidable. "Being a brewer is a dream come true, but it's been a physical challenge moving from my stovetop to a 15-barrel brewhouse," Ragle admits. "I'm a 5'6", 120lb female that until recently has been stuck behind a desk. Things I never thought about, like hoses, are heavy. Our grain mill is well above my head. Our mash tun doesn't have rakes or a plough, making mashing in and graining out an absolute nightmare for me. I'm getting stronger and faster every day, but I am reluctantly forced to ask for help occasionally -- this brewhouse was clearly designed for a 6ft, 200lb man." But, she says, at the end of the day, that struggle is well worth it: "It's wonderful to share a passion with passionate people [and] it's highly rewarding to see your sweat and elbow grease evolve into an appreciated product."
Brooklyn, NY
Before starting one of New York's most sought-after gypsy breweries, Lauren Grimm was obsessed with fermentation. "Twelve years ago, you'd find me fermenting ginger beer, mead, pickles, and kimchee. I had pork belly surrounded by cheese cloth hanging from the ceiling in my art studio," she remembers. "I was transfixed by the transformation of materials by bacteria, yeast, and time."
All that smelly work led Grimm down a very successful homebrewing path, and, after six years spent banging out delicious brews in their Brooklyn apartment, she and her husband Joe decided to try their hand at commercial brewing. The rest, of course, is GABF award-winning history. Grimm acknowledges that being a woman in the male-dominated brewing industry isn't always easy, but her front-and-center role has definitely helped level the playing field -- for her as well as for other female brewers. "When I first started Grimm Artisanal Ales, there were a handful of customers who assumed that I didn't brew beer," she says. "[But] at this point, Joe and I have a strong following, and customers know who I am."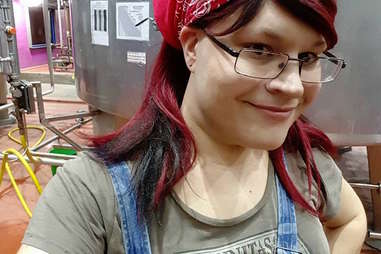 Chicago, IL
After catching the homebrew bug in college, Julia Davis decided to give brewing school a shot, launching a five-year-and-counting career as a professional brewer that's most recently led her to Lagunitas' monstrously huge and incredibly busy Chicago production facility. Every aspect of brewing appeals to Davis -- the craft, the science, the history, the labor, the community, and especially the creative freedom.
As an out trans woman, Davis has a pretty unique POV when it comes to sexism in beer. "Transitioning within the brewing industry has been an interesting and occasionally challenging experience," she says. "There are subtle changes here and there -- some people don't seem to take my input as seriously as they used to, and I find my experience as a brewer scrutinized by new people far more than before. Overall, though, the industry has made me feel welcome and valued, and I cherish being a part of it."
San Francisco, CA
Destroying old-fashioned gender roles is nothing new for 21st Amendment brewer Jocelyn Havel. Not only is she pursuing a PhD in the traditionally guy-heavy field of chemistry, she was also the only girl on her high school's wrestling team, trained in jiu jitsu, and oh -- did I mention she was voted homecoming queen?
Badass doesn't even begin to describe Havel, whose attitude towards women in the brewing industry is just as straightforward and no-nonsense as one might expect given her resume. "I feel like I need to speak a little louder and be a little more assertive to make my voice heard," she says. "However, being in San Francisco, it's easy to feel a part of the brewing community, especially at 21 Amendment. And at the end of the day, a keg weighs 160lbs regardless of who is lifting it."
Sign up here for our daily Thrillist email, and get your fix of the best in food/drink/fun.
Meredith Heil is a staff writer for Thrillist. Bless you if you represent the Fu, but she'll hex you with some witch's brew if you're doo-doo. More at @mereditto.