This Just In: North Koreans Love Beer Festivals Just as Much as You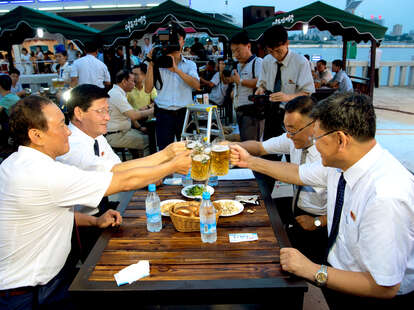 At a time when microbreweries are popping up faster than you can say bourbon barrel-aged imperial coffee porter, a new beer festival is not exactly newsworthy. Except, of course, when the country behind it isn't known for its bustling craft beer scene but for what President Obama called "a government that would rather starve its people than change."
That's right, a day before accusing the US of trying to infiltrate state lines and promising that it's "fully ready to deal a merciless and annihilating blow to the enemy if they make even the slightest provocation," the good ol' Democratic People's Republic of Korea (aka North Korea) threw its first-ever beer bash. The open-air festival kicked off Friday in the capital city of Pyongyang with a two-hour complimentary tasting for 200 lucky drinkers before opening up to the public for a 20-day run. The first day drew a full 800 residents, tourists, and whoever else woke up thinking, "You know what I want to do today? Hit up a beer festival in North Korea."
"This Pyongyang Taedonggang Beer Festival, held on the charming and beautiful Taedong riverside, is a significant occasion," People's Service General Bureau director Choe Yang Nam was quoted as saying during opening remarks that were absolutely off the cuff. "Which shows the superiority and vitality of our own-style socialist system, which is all about the people."
Unlike most beer festivals, variety is not this event's central focus (big surprise here). Instead, North Korean brew enthusiasts will be gorging themselves on state-owned Taedonggang beer alone, a local favorite named after the nearby Pyongyang Taedong River. The Taedonggang Brewing Company dates back to 2002, when then-leader Kim Jong Il, who was known to appreciate a good drink or two, decided to purchase a retired British brewery and transport it in full to his own personal Communist wonderland.
The festival is set to offer seven different varieties of Taedonggang -- including chocolate and coffee-spiked styles -- but the most popular by far is the original Taedonggang beer, a 5% ABV American-style (shhh, don't tell them) adjunct lager reportedly brewed with a mix of barley and rice for a drying, slightly bitter bite and pleasant sweetness throughout. It's apparently pretty tasty, too, especially during the region's current 95+ degree heat wave.
So while event-goers clinked glass mugs, munched on crispy fried chicken, and belted out patriotic songs with booze-fueled glee, the powers that be plotted for an international battle more chilling than a cold pint in January. Who needs a drink?
Sign up here for our daily Thrillist email, and get your fix of the best in food/drink/fun.
Meredith Heil is a staff writer for Thrillist. Headed to Philadelphia, she's yelling out "Free Mumia," CDs selling like nuclear weapons in North Korea. Please don't hack any of @mereditto's private documents.