Your favorite Daym Drops-approved burger joint is about to get even better. Despite years of insisting they wouldn't, Five Guys Burgers and Fries is currently testing milkshakes at select locations in New York and New Jersey, with plans to expand over the next month. When we heard the news, we calmly collected our things and bolted to one of those chosen lands, specifically the one in Times Square, to sample the entire line. Their roster includes chocolate, peanut butter, coffee, malted milk, cherry, salted caramel, strawberry, banana, bacon, and Double Stuf Oreos. Our roster, meanwhile, included brain freeze.
Here's what we discovered:
Banana
You might have a flashback to your many afternoons spent loitering at Orange Julius when sipping on this. It's got that same fruity, saccharine feel -- and suspicion that you should be sitting in a mall food court -- that's aces for some, but too much for others.
Salted Caramel
It takes a few sips for the caramel to really hit, but once you're in that sweet spot, this is one solid shake. Excellent work. All five of you guys.

Cherry
Listen, if you like cherry shakes, you'll probably like this one. But for the rest of us who find such experiences on par with chugging Robitussin, this shake will not change your mind.
Coffee
Only serious coffee-lovers need apply. Five Guys really aimed for the bitter side of java with this shake, making it taste more like a standard cup of Joe than most coffee-flavored treats. Which is great if you mainline coffee all day, every day. But if you hate it as much as this guy, this drink is not your friend.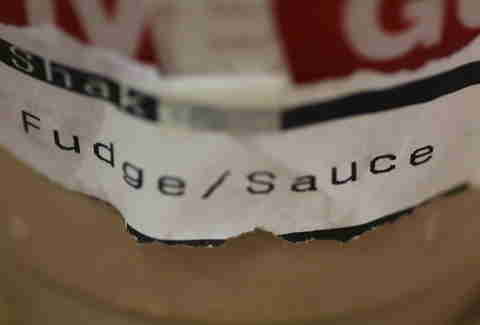 Chocolate
This ain't your standard choco shake. Think less notes of Hershey's syrup and more semi-sweet chocolate, which Five Guys actually uses in this selection (Ghirardelli, to be precise). Also, for hilarious and unknown reasons, it was labeled "Fudge/Sauce". Make sure to order it with this name.
Strawberry
For something so simple, strawberry milkshakes get screwed up at an alarming rate. Thankfully that's not the case here, as Five Guys whipped up a shake that'll remind you of the Strawberry Nesquik you used to hoard in elementary school.

Bacon
Five Guys went rogue and actually put real bits of bacon in the milkshake blender, though the results are just so-so. It mainly just tastes like a vanilla shake, with chunks of pork shooting up the straw on scattered occasions. Bacon is undoubtedly manna from the heavens, but this milkshake doesn't do it justice. Now if they used bacon grease instead of ice cream...
Peanut Butter
Sweet Jesus is this delicious. It's like a bunch of Reese's took a long soak in a tub of ice cream and you're drinking the amazing bathwater... and it's not gross at all. It's incredible.
Double Stuf
Cookies and cream -- even of the Oreo variety -- has been done before. But not like this. They weren't kidding about the Double Stuf part -- you can taste the extra cream filling in this thick, cookie-blasted shake. It would probably be our favorite, if that tasty bastard peanut butter wasn't so good.
Malted Milk
This one isn't bad, but it's clearly meant to be mixed with its peers rather than stand on its own. Try pairing it with an old reliable like chocolate, or go buck-wild with a bacon-malted milk hybrid.

And there you have it! Keep an eye out for the milkshake menu at Five Guys locations in New York and New Jersey as they continue to expand, and pray to the fast-food gods that those peanut butter and Double Stuf shakes get permanent placement nationwide.
Kristin Hunt is a food/drink staff writer for Thrillist, and would like to thank Timothy at the Times Square Five Guys for only laughing a little at her order of "every milkshake". Follow her to peanut butter milkshake dreams at @kristin_hunt.