If you take a flask into a bar, usually you best keep it close to the hip. But there's a crop of bars across the country (and the UK!) that are moving flasks out of the shadows and onto the bar top, filling them with everything from barrel-aged Hanky Pankys to Tootsie Roll-infused Jack Daniels.
Here are eight such establishments that really hope you don't steal their flasks.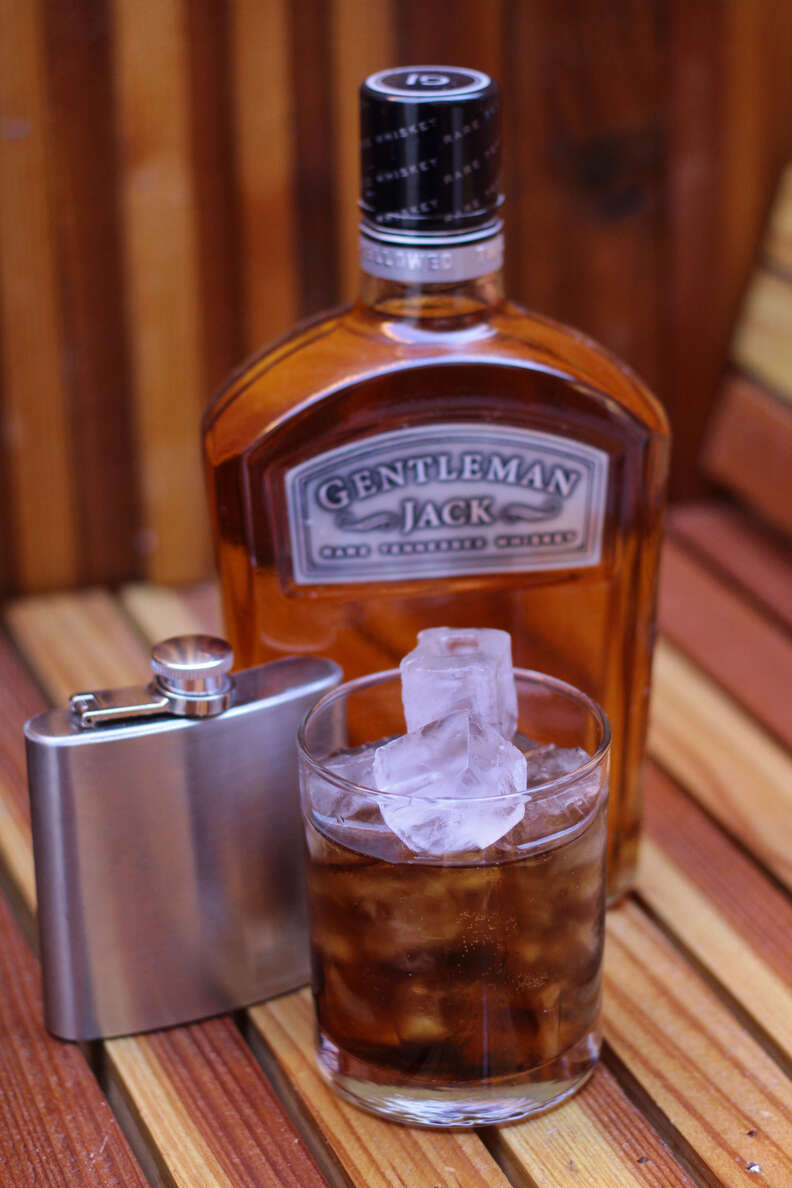 The Chairman
The Nice Guy (address and info)
Los Angeles, CA
Contrary to their name, The Nice Guy doesn't finish last in the rankings of LA's cocktail bars (it was one of our favorite openings of the summer!). The move is the Chairman: Gentleman Jack, Aperol, cacao, salted cola reduction, and cider vinegar served in a traditional steel flask.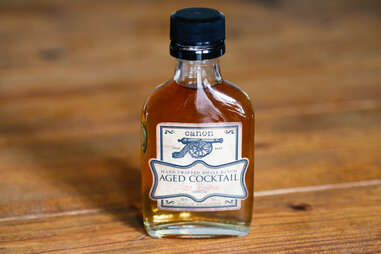 Aged Hanky Panky
Canon Whiskey and Bitters Emporium (address and info)
Seattle, WA
Canon keeps their full 94-page menu behind the bar, but the abridged version features two aged cocktails based around gin and sweet vermouth: La Bicyclette (with St-Germain) and the Hanky Panky (with fernet and orange zest). For fans of darker spirits, they also do an aged Liberal Cocktail with rye, sweet vermouth, Amer Boudreau, and orange bitters.
The Capo
The Jacobson (address and info)
Kansas City, MO
The Jacobson's upping the ante on cocktails and dining in Kansas City, offering several carbonated flasks served on ice. The Capo with cucumber, Hendricks, and fennel syrup is a winner, as is the Blood Orange Coin with Avion Silver, Solerno, ginger lime syrup, and citrus.
Sultan of Swing
Sofitel London St. James (address and info)
London, England
To honor Frank Sinatra, the St. James Bar has concocted this Dry Manhattan (this was also done in coordination with a gallery show of portraits of famous 20th century figures). Ol' Blue Eyes apparently loved Tootsie Rolls (and he definitely loved Jack Daniels), so the bar has infused them into Jack mixed with Aperol, Martini Extra Dry vermouth, and black walnut bitters.
The Sharpie Mustache
Amor y Amargo (address and info)
New York, NY
The bitter-enthusiasts at Amor y Amargo know a bit about the psychology of cocktail bars and love surprising their customers. That might be why they don't have a place on their menu for the bushy flask in which they serve the easy-drinking Sharpie Mustache, which features Amaro Meletti, Bonal, rye, gin, and Tiki bitters.
Robert Burns' Hunting Flask
The Coachman (address and info)
San Francisco, CA
Wash down some blood sausage from one of SF's biggest openings of the year with a flasked traditional Scottish Highland cocktail full of Redbreast 12-year, currants, ginger, and lemon peel.
House Punch
Saloon (address and info)
Somerville, MA
Just Northwest of Boston, the Saloon bottles up their house punch in an oversized glass flask. It's made for two, and features both light and dark rum as well as white wine, apricot, and citrus.
New Moon
Rose. Rabbit. Lie. (address and info)
Las Vegas, NV
RRL is one crazy dining destination. Or maybe it's a normal one, because only in a place like Vegas is a caviar buffet not too over the top. There's also large-format flask cocktails like the New Moon, with Chopin Wheat vodka, violet liqueur, Orange Cream Citrate, and lemon.
Dan Gentile is a staff writer on Thrillist's National Food and Drink team. He has never brought a flask into a bar, but has walked out with one. Follow him to deep trouble: @Dannosphere.