Erin Kirkland/Thrillist
Erin Kirkland/Thrillist
How Flint's Only Brewery Navigated the Water Crisis
Not exactly the best scenario for making beer. But that didn't stop Tenacity from opening while the nation's gaze once again turned to this perpetually beleaguered city, which once stood as a paragon of the American dream. And the aptly named brewery has managed to help elevate the overall status of the city by sticking to its guns and refusing to stop brewing.
"I don't think in retrospect that had we known what we know that we would have slowed down," says Tenacity co-founder Robb Klaty, taking a sip of ale made with honey from the local farmers market and the very water that has evoked horror in the minds of the world. "We didn't know how serious everything was (at first). But our understanding from the beginning was that regardless of external circumstances, it was going to take a long time for us to learn and perfect our craft."
Tenacity Brewing -- the first and only brewery in Flint proper -- is at the forefront of a Downtown revitalization effort that seeks to bring Flint out of its funk, to rise above preconceived notions of the proud city. It's a venture that its founders could have tackled in any of the affluent suburbs on the other side of the Flint city limits, where fresh water is in abundance. But they didn't. "It's actually more about Flint than it is about beer," says Klaty, assertively. "Beer is what I love, but it was never in anybody's mind to do this anywhere but Flint."
Welcome to Tenacity, the bravest craft brewery in America.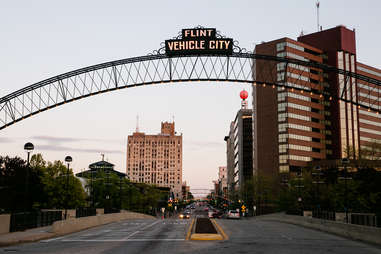 Long before celebrities rallied to raise funds for Flint's residents, only to disappear to focus on the next cause du jour, Flint was making a play to raise its tarnished image.
Consider Flint to be a smaller version of its due-south neighbor Detroit: If you took Motown and boiled it down like a bouillon cube -- concentrating everything good and bad about the city into a much smaller space -- you'd have Flint. This is a city built by -- defined by -- the automotive industry, with GM factories beginning operation way back in 1908. It was thriving. Then, in the late '80s, massive layoffs at the factories delivered a debilitating blow to the city, leaving tens of thousands jobless.
The once-vibrant Vehicle City was a boom town, a place where anyone regardless of education, race, or social standing could flock to find a steady paycheck and an affordable home. Today, its poverty rate hovers at around 41%. Buildings and even full city blocks have been abandoned to urban decay. Violent crime has increased. But Flint is a city of stubborn pride... one where resilience has always been a way of life. And Flint's downtown -- with its iconic "Vehicle City" arch ways spanning across the brick road of Saginaw Street underneath the glow of the iconic Weather Ball -- became the nucleus for an effort to resuscitate the city's image.
Naturally, hospitality -- markers of a thriving city and an industry that constitutes 10% of jobs in Genesee County -- became a focus of Downtown's resurgence. After all, businesses that rallied to relocate to renovated Downtown offices needed a place to eat that wasn't the Halo Burger drive-thru across from the historic mural of gnomes making Vernors ginger ale.
Longstanding businesses like Blackstone's and burger bar The Torch were soon joined by places like The Flint Crepe Company and Table & Tap, an upscale BBQ spot serving 30 Michigan beers. The Flint Farmers Market got new digs nearby. Bars like The Soggy Bottom switched to craft beers and high-end gastropub fare, and old-school music venue Churchill's went all in on upscale beverages.
But there was something lacking: One of the biggest cities in a state heralded as one of America's best for beer had no brewery to call its own. Sure, affluent nearby suburb Grand Blanc has Redwood Lodge, and Burton – right across the city line, a short drive through an industrial wasteland from Downtown Flint – recently birthed Red Line. But Flint proper manufactured no beer whatsoever. It was a hole investors were eager to fill.
After a successful Kickstarter campaign, founders Robb and Tamra Klaty, Jeff and Melissa Rasmussen, Jason Caya, and Janet Van De Winkle opened Tenacity Brewing in February of 2015, immediately developing a cult following and drawing curious beer lovers to the city. Original brewer Jeff Rasmussen learned to brew on the job, creating a local favorite in the form of Basic Bitch Blonde Ale and dipping his toes into more advanced brewing techniques.
Inside, Tenacity seems to have taken a page from the brewhouse playbook: Taps protrude from a tiled wall behind a long bar. Board games populate a small nook. Heyday coffee roaster operates alongside the 2.5 barrel system in the back, while a hair salon, peculiarly, operates in a small space adjoining the brewpub, doubling as a space for musicians and comedians on weekends. Outside, the popular Vehicle City Po' Boys truck -- co-owned by Caya -- draws a hungry late-lunch crowd. If you didn't know any better, you might think you're in Portland. It was an instant hit among Downtown office workers, college students from nearby Kettering and the University of Michigan-Flint, old-timers from the factory days, and suburbanites looking to reconnect with Downtown.
"I was really happy that the beer was good. If it was Flint's one and only brewery and the beer wasn't up to par, I would have been sorely disappointed," says Scott Atkinson, a journalist and University of Michigan-Flint writing instructor who hits Tenacity's Monday trivia nights. "Is it going to save the city? Of course not. But it certainly isn't going to hurt anything, and if anything it's going to bring more people and more dollars Downtown."
There was, of course, cause for concern with the water upon opening -- though the crisis at that point was still simmering, poised to explode -- which the brewery met through an extra careful filtration process and constant testing. But a rapid-fire series of revelations that the city had cut corners, resulting in the poisoning of Flint's entire water supply, sent all food and drink operations into varying degrees of tailspin.
As the population of Flint struggled with a new reality where their drinking water had to be obtained from bottled water stations and parents feared the consequences of bathing their children, restaurants, naturally, took a huge hit. Flint has always been a city that struggled with trust -- that'll happen when the primary economic driver abandons the city it built like a deadbeat dad, and when elected officials offer assurances despite allegedly knowing about the poison in the water. A drop-off in patronizing businesses where water is an essential part of the product was inevitable.
"There was some flatlining of growth," says Klaty. "But it could have been a lot more given the hysteria."
"I think water's going to be, in the long run, something that helps turn Flint around."
"Is it safe?" is a question business owners began to answer with regularity. Daily water tests became as common as shift changes at bars and restaurants. The city's momentum, it seemed, had received a season-ending injury.
"There was a building of energy downtown that Flint was actually going to be rebirthed into something that was going to have a vibrant downtown again. That feeling just got a major buzzkill," says Klaty with a sigh before taking a long swallow from his pint.
But Flint is perpetually an underdog fighting for a comeback. A massive communications campaign assured citizens and tourists alike that it was safe to patronize businesses. Water reports were posted right alongside menus in the windows. Tenacity doubled down: The brewery had always been charcoal-filtering and testing its water -- that's just Brewing 101. In fact, at no point had Tenacity's water shown traces of lead. But in the dog days of the crisis, they took extra measures, testing both pre- and post-production and even printing out daily water reports and laying them on the bar right alongside the tap list.
"Before anyone asked us to prove anything, we shared our water tests. Then there's the national news that got the momentum going... but people trust us and all the businesses," says Caya, who previously worked with the Flint Area Reinvestment Office. "For us, I think immediately there was a concern and a drop-off. The first weekend that (the story) went national, everyone was like 'wait a minute.' But then the community galvanized to communicate that it was safe to eat and drink in Flint."
The message, it appears, was well-received. Over at Table & Tap -- which uses no tap water in crafting its BBQ -- customers began showing up in droves, something that manager Caleb DeHart sees as a sign that Flint's revival is currently back and stronger than ever. Flint has always been a city where people rally for each other, and patronizing the city's businesses became a mission for many.
"I think water's going to be, in the long run, something that helps turn Flint around," says DeHart over a pint of Tenacity. "It's a horrible situation what happened to families, and a lot of children were affected by lead. But we're seeing an overall belief that the city's going to turn around. We work very hard to keep people eating downtown."
On an early summer Friday in Downtown Flint the streets are alive with activity during the monthly Art Walk. Live music fills a nearby plaza. The popular Soggy Bottom Bar is at standing room only, with a collection of politicians, hipsters (yes, Flint has hipsters), and college students lined up for craft beers. At nearby dive bar The Loft, stiff energy-drink cocktails slosh all over the floor as customers grind it out to deafening hip-hop. At the other end of Buckham Alley, all-ages club Local 432 hosts a punk show.
"When I grew up 20 or so years ago, downtown wasn't so hot," says DeHart. "The only restaurant down here was the Torch."
This is the epicenter of Flint's attempted resurgence. Across from Table & Tap, the historic Capitol Theater is currently undergoing a $32 million restoration, one of the many projects involved in the $503 million in reinvestment dollars the city claimed in the past year. The same year, $131 million tourism dollars were generated.
Outside Tenacity, Caya points to the river as another sign of life for the city, despite the odds. The shores will gradually transform into a river walk, complete with public beaches and boat launches that will serve as part of a statewide trail spanning across both peninsulas of the state.
Huge swaths of the city where factories once clanged away are being deluged with redevelopment money from universities and philanthropists in an effort to resuscitate the city's image as a living horror movie set, a metropolis many think has remained unchanged since Michael Moore released Roger & Me in 1989.
"All of these things are small, boot-strap, entrepreneurial ventures by people who are willing to work hard for little pay," says Klaty. "I would like to think of us as part of that story of the almost micro entrepreneurs that I hope Flint is known for. I think that we've proven that relying on one big business is not the best thing."
Wherever you go in Flint, the conversations are all about, well, Flint. It's not just advocates and officials tasked with preaching the city's new gospel, either. Damn near everybody you talk to in Flint is eager to talk about how the city's turning around. If they're not wearing "Hard as Flint" T-shirts, they're busy chattering about the city's resurgence, not just to strangers, but among themselves.
"Everyone that comes through -- family, friends, people I have the opportunity to meet -- has a paradigm shift when they see what's going on," says Caya. "Nothing can convey that fact like actually seeing it. You're struggling against a perception issue. Once you get people to Flint, they're in."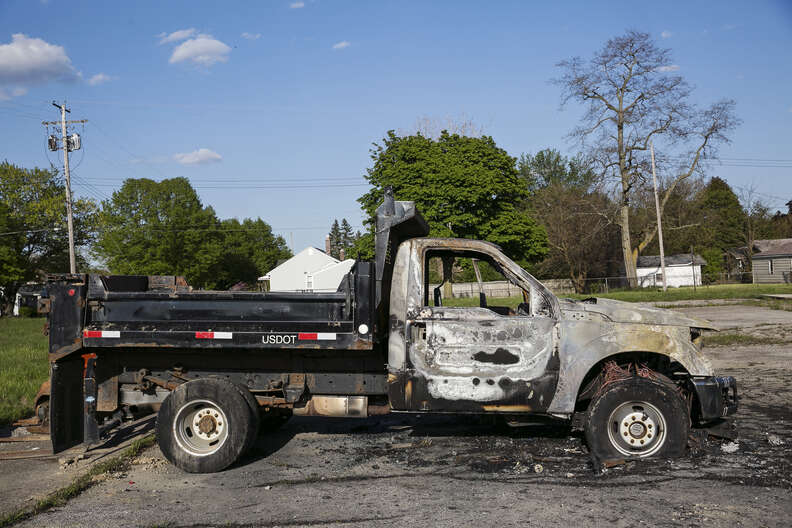 The ripple effect, of course, can move slowly, and in the case of Flint, it only takes a short drive or walk away from the booming businesses and in-demand loft spaces downtown to get a solid reality check.
While the area surrounding Saginaw Street bursts with activity on a lively Friday, many neighborhoods on the city's predominantly black north side might as well be ghost towns. Entire blocks are decimated, the charred bones of houses piled on the ground with only brick chimneys rising from the rubble. Boards cover windows of buildings serving as squats. Around one corner near Dayton Street -- home turf of legendary Flint gangsta rap trailblazers the Dayton Family -- a small group of people stands in the street basking in the glow of a burning car. They take no notice of traffic in the road as the frame of the vehicle is engulfed in flames. It looks like a macabre, apocalyptic bonfire, a startlingly relevant symbol of the city's troubles.
This is not the whole of Flint, of course, but it's a tremendous portion of it, and paired up with the abandoned warehouses and shuttered businesses that dot the landscape amid pothole-riddled roads and broken glass, it's an alarming contrast to the narrative of revival, and an important one.
Whether you're in a neighborhood whose centerpiece is an abandoned school, amid the middle class families of Mott Park, or among the mansions off the city's busy Miller Road business district, bottled water is visible. It's stacked up against the sides of houses. Empty plastic bottles overflow from trash cans in parks and outside homes. Picnic tables are overloaded with them. This is how it's going to look in Flint until at least 2020, when most of the pipes are scheduled to be replaced in residential areas. It's a reminder of the troubles literally gurgling underneath the city. Naturally, some residents worry that the Downtown revitalization is a distraction for the bigger issues plaguing the city.
"[The city and county are] picking and choosing the areas to work in, to put the pipes in, to beautify," says Arthur Woodson, who has emerged as one of the most vocal and visible advocates for Flint. "Northside and eastside they feel is a lost cause until they can remove some of the elements. Gentrification is what it looks like. They're not putting opportunity here for people to work and build themselves up to the kind of element that they want in Flint: That element is the poor, the have-nots. It's not racism, it's classism. They step on everybody's necks."
Woodson -- a former nuclear, biological, and chemical specialist for the US Army currently advocating for the recall of embattled mayor Karen Weaver -- said the development is contributing a new "college town" vibe in the city, and that it's not spreading beyond Downtown. But even he has hope.
"It's a new day, and I believe all of Flint can grow instead of just certain areas," he says. "We can really make things happen in the city of Flint as long as we have somebody working for the people. They don't need a handout, they need a hand-up."
And Atkinson, formerly the entertainment reporter at news site MLive, says that businesses like Tenacity provide a much-needed bright spot in a city that needs all the positivity it can get.
"It's hard to talk about this with a 'rah rah' attitude. I've been very careful not to use the words 'revitalize' because it's such a loaded word. The water crisis was just heaped on top of all this other stuff we have to deal with," says Atkinson. "Flint's got all its problems, and it's great there are these places where you can go have a beer and have fun. You can talk all day about how that won't solve all the problems, because that's true. But the alternative is having all of Flint's problems and not have a place like Tenacity."
Flint might be in the midst of an identity crisis, but back at Tenacity the mood is optimistic... that's just kind of the Flint way. The brewery represents a step forward for the area, a place that draws positive attention and curiosity to a city starved for something -- anything -- positive to be noticed. It's even laid the groundwork for another craft beverage company, Flint City Cider, set to open later this year.
That said, Caya is well aware that there's a divide between the two sides of Flint and the way redevelopment can thrive in one area and stall in another. And that's before gentrification comes up. This is, after all, a brewery with a majority white clientele in a predominantly black city. It sits on the outskirts of a few square blocks with waiting lists for luxury lofts while other areas struggle with a lack of transportation and basic needs like water.
"Unfortunately in Flint it's a pretty clear divide between the haves and have-nots, and the have-nots haven't really been south of the river historically. If you look at crime and poverty you basically see this cluster on the north side and somewhat on the east side too: Unfortunately the development hasn't reached there yet," Caya says. "This is where it gets tricky. You want that business there, and people are asking about it and saying, 'Why are we investing downtown? Why aren't we investing in my neighborhood.' The question in Flint that we need to ask and keep our finger on: We're on the precipice of prosperity, so who's going to benefit from that prosperity? If the balance isn't right -- even if the headlines are better -- we won't have done our community right."
"We're on the precipice of prosperity... If the balance isn't right, we won't have done our community right."
Tenacity is but a small part of a larger picture downtown, a small business just like any other, save for the fact that they're doing something nobody's ever attempted in the city during a time where it might seem audacious, foolhardy even, to attempt it. And its founders, basking in the warmth of a sunny day, beers in hand, plan to stay exactly where they are, repeating their "beer for Flint" mantra not as a catchphrase, but as a central philosophy at the brewery.
"We're going to be the best we can, and we have years ahead of us to get as good as we want to be. We love beer and we love Flint, so we're going to have a great brewery here," says Klaty, taking a sip of IPA from the day's designated tap from which $1 of every sale will go to the Child Health and Development Fund.
"We want to have a specific thing for here. People think the goal is always scale. Forget that. If somebody wants to start a brewery in Grand Blanc or whatever, we'd love to help them or tell them what we learned, but we're not going to do that. We're for Flint."
Sign up here for our daily Thrillist email and subscribe here for our YouTube channel to get your fix of the best in food/drink/fun.

Senior editor Andy Kryza has spent many a day canoeing down the mighty Flint River, and many a night dancing horribly at Churchill's as a gawky teenager. Follow him to beers for Flint from afar @apkryza.