The 'Gilmore Girls' Diner Is Real, Giving Out Free Coffee Near You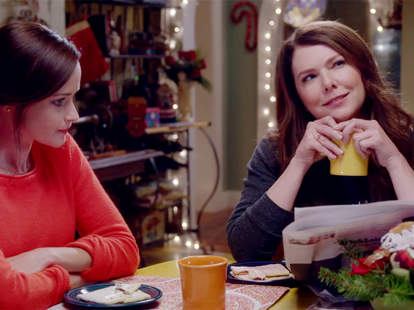 Whether you're on Team Jess or Team Logan, there's a lot to talk about right now if your heart lives in Stars Hollow: Netflix's revival of Gilmore Girls hits the streaming service on Nov 25th.
But where's a Gilmore fan supposed to really go to find kindred spirits/knit-cap aficionados to gab with about Rory's time on the Obama campaign, or Sookie's second career as a Ghostbuster? Turns out, it might be your local coffee shop. For one day -- Wednesday, Oct 5th, specifically -- coffee shops around the country are getting a promotional makeover as the series' iconic Luke's Diner. What's more, each location will do something the famously cantankerous namesake would probably never do, unless you showed up emotionally wounded and ready to talk a mile a minute: give you free coffee.
There are dozens and dozens of shops participating in the temporary transformation -- at least one in each state (locations here) -- which isn't unlike the time 7-Elevens nationwide became Kwik-E-Marts in anticipation of The Simpsons Movie. So roll in, grab a cup, and get ready to talk extremely rapidly about Lorelai's brief love affair with Ray Romano during the show's hiatus. But probably not about how Rory should have stayed with Logan. Dude was a douche. A dreamy douche, but still...
Sign up here for our daily Thrillist email, and get your fix of the best in food/drink/fun.
Andy Kryza is a senior editor at Thrillist, a Gilmore Guy, and a longtime Logan sympathizer. Follow him to Stars Hollow @apkryza.