The Fall Beer Everybody Should Be Drinking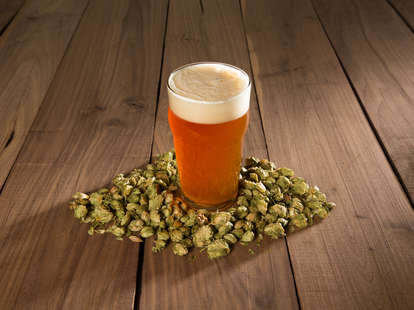 For beer lovers, fall is the magical time of year when the hop cone -- the flower on the Humulus lupulus, aka the magical hop plant -- is ready to be harvested. Something like 99% of beer is made with the dried form of hops. But when the cool weather starts to blow in, fresh green hops offer brewers the chance to put out regional beers that are rare and delicate: fresh-hop beers.
Fresh-hop beers were born in the Pacific Northwest, where Oregon and Washington, along with Idaho, farms produce about 98% of America's hops. During the annual hop harvest, most of the haul is dried out in a process that concentrates their bitterness, making them more shelf-stable for the rest of the year.
In the early '90s, brewers in the region started experimenting with the freshly cut, undried hop cones. They're used within 24 hours of picking, which imparts a fresher floral, green, grassy, and oily flavor and aroma. Due to the quick pick-and-brew nature of the beers, fresh-hop beers are rarely produced outside of the Cascadia region.
In addition to the fleeting harvest, beers made with fresh hops decline in quality much more rapidly than regular ones, so the hunt is on for connoisseurs during this season, with fans stalking Twitter and Facebook for tapping info and release dates.
Fresh hops vs. wet hops
"What does 'fresh hops' mean?" asked beer blogger Bill Night when we talked to him about the new change in verbiage.
"Before 2008, it meant hops which have not been dried," Night said. "Check out Sierra Nevada's 2007 marketing for Harvest Ale: they call it 'fresh hop,' not call it 'wet hop.' Then, in 2008, Sierra Nevada decided to make Southern Hemisphere Harvest -- in my opinion a brilliant idea -- but of course they were not going to fly unkilned hops from New Zealand. They wanted to market Southern Hemisphere as a fresh-hop beer, even though it contained only dried hops, so that year they started calling the original Harvest Ale a 'wet hop' beer."
In short, Sierra Nevada redefined "fresh hops" as "wet hops," which were once synonymous. The distinction is absurd. Take herbs: you call dried basil "fresh" just because somebody said it was only dried a couple of days ago. The same goes for the freshness of hops.
So how do you know if the fresh-hop beer you ordered is actually made with fresh hops? Well, if it says "wet hop," you're good. Otherwise, you have to dig a little deeper. Look at the brewery's website to see if it says whether the hops are dried or kilned. And don't buy anything with either label after October, when the flavors start to go south.
Or, even better, just follow this list of the best actual fresh-hop beers that are available throughout the country.
6.4%
Astoria, OR
This brewery in Goonies country became one of the few breweries to can a fresh-hop beer in 2014. Using hops straight from Oregon's Willamette Valley, brewers sit on standby to fire up the brew kettles as the truck driver retrieves the hops in the morning. The grassy and fresh IPA is available in 16oz cans and four-packs for a very limited time in Oregon, Idaho, and Washington. That limited quantity means you won't find old, stale cans months later.
7.4%
Bend, OR
Deschutes was an early adopter of fresh-hop beer, with the first variation released in 2004. A year later, it introduced Hop Trip, one of the earliest examples of a bottled fresh-hop beer. Then in 2014 it began making Chasin' Freshies, a reference to snowboarders' efforts to find fresh snowfall during the winter and beer lovers' quest to track down the freshest hop-harvest beers. Chasin' Freshies has changed over the years: it was originally brewed with fresh Amarillo hops and most recently fresh Centennial. It's also one of America's most widely available fresh-hop beers: as the country's eighth-largest craft brewer, Deschutes has rolled it onto shelves nationwide.
7.5%
Hood River, Or
A favorite among Oregonians, Double Mountain brews and bottles two fresh-hop beers each year: Killer Red and Killer Green. Available in 500ml grenade-sized bottles, Killer Green will straight-up blow your socks off with its dank, even vegetal flavors. Head brewer/owner Matt Swihart also believes that pushing the alcohol up a notch on the IPA pulls more flavors out of the delicate fresh hops, which makes Killer Green a 7.5% sneaker. It disappears fast. If you see it, grab it. You might not have another chance.
6.1%
Denver, CO
One of the first bottled fresh-hop beers and one of the most widely distributed is the Fresh Hop pale ale from Denver's Great Divide. Bright, grassy, citrusy, copper in color, and highly quaffable, it's always a reliable late-autumn seasonal release. It's also available in 30 states nationwide, making it something of an ambassador for Colorado's fresh-hop greatness.
6.3%
Cleveland, OR & Portland, OR
Originally made as an exclusive to its Cleveland home base, Fat Head's Brewing has expanded and thus Trail Head is now also brewed fresh in Oregon and is hopped with lemony, orangey, juicy Simcoe, and Citra hops. Trail Head also nabbed a silver medal at the 2013 Great American Beer Festival, making it one of the most acclaimed fresh-hop beers in existence. Find it on draft and in limited-edition 12oz cans.
6%
Seattle, WA
Fremont used to having fans falling all over themselves for its high-IBU beers. In 2016 it completed a major expansion and added a new fresh-hop release called Field to Ferment, a pale ale, brewed four different times, each highlighting a different hop variety. The Simcoe version might be a new classic, and better yet, Field to Ferment is now available in wider distribution and cases of 12oz cans as well as on draft.
6.5%
Petaluma, CA
Petaluma legend Lagunitas may have sold off 50% of the company last year to Heineken, but at least the extra cash flow does keep more costly beers like Born Yesterday coming. It's some kind of feat to rush unkilned hops all the way from Yakima, WA down to Petaluma for brewers to quickly sort, pick, and brew with those dank-ass green buds. Even better? It's available nationwide.
7%
Albuquerque, NM
Last year, Bosque scored a coveted GABF gold in the highly contested fresh-hop category. The brewery also claims an impressive 100 IBUs on Acequia Wet Hop, all from fresh juicy Chinook and Cascade hops. Bosque Brewing bottles this beer each year, though you would be hard-pressed to find it outside of New Mexico, making it even more elusive than that blue rock candy.
6.3%
Brooklyn, NY
You don't see too many fresh-hop beers in New York, let alone Brooklyn, which is where Sixpoint Brewing is located and puts out tightly crafted beers in slick 10oz cans. Sixpoint Brewing even occasionally cans the fresh-hop Sensi, though in keeping with the hard-to-get nature of fresh-hop beers, the brewery has taken a by-year and didn't can it this year. Let's hope that brewers bring back Sensi in 2017: with 725lbs of fresh Amarillo hops in each batch, those of us outside Brooklyn want a taste of the bitter legend.
Sign up here for our daily Thrillist email, and get your fix of the best in food/drink/fun.
Ezra Johnson-Greenough founded the New School Beer blog, and is the man behind Portland Beer Week, the Portland Fruit Beer Festival, and the Portland Farmhouse & Wild Ale Fest.