We tried coffee-infused wine in a can, which is a very real thing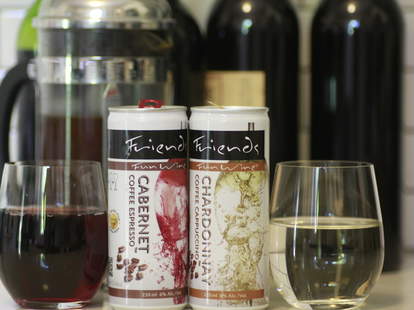 We always love a good mashup (What up, Miley/Wiz?! Big ups, ramen taco), but when Friends Fun Wine debuted a duo of coffee-infused wines -- in cans, no less -- we were more than a little skeptical. Would this take the place of the mimosa at your next brunch, or would it taste like making out with Samantha from Sex and the City in a Starbucks bathroom? We decided to find out.
Andy Kryza
Cabernet Coffee Espresso
Look, I was admittedly skeptical, but I also secretly like ChocoVine (please don't tell my Mom), so I approached this concoction optimistically. The first thing I noticed is that it looks like normal wine, which was surprising since it smells like Willy Wonka's breath after a bender. Flavor-wise, it's crazy sweet, and a little creamy and chocolaty despite appearances.
The coffee flavor is light -- it's like drinking a super-sweet wine right after you've had coffee, which, well, is kinda gross. But not super gross. I'd imagine this is what it would taste like if McDonald's France made a Wine McFlurry. Also, why the hell did I finish this?!
Andy Kryza
Chardonnay Coffee Cappuccino
Once again, it looks like nice, crisp wine, so I decide to pair it with some cheese... and I've never disliked the taste of cheese in my life. There's more chocolate this time, but also some vanilla. It's like I went into a coffee shop and ordered a vanilla Italian soda with a little grape flavor, and they made it in an unwashed coffee cup.
It's like bad candy (which isn't a thing), or maybe one of those canned coffees with a little bit of booze in it. Either way, it exists in a weird vortex where it's just gross enough to be mesmerizing, and just weird enough that I'm considering shotgunning it.

Conclusions
Unless you're Lucille Bluth looking for a new breakfast go-to, or trying to impress college-aged wine aficionados by shotgunning a can of vino, it's hard to say who this is for. But hey, it'll make a hell of a gag gift for your snooty friend who usually gets you a membership to a wine club.
Andy Kryza is a senior editor on Thrillist's food and drink team, and was serious about that ChocoVine thing. Follow him to fine Dutch chocolate via @apkryza.