This New Frosted Flakes Beer Will Be Grrrrreat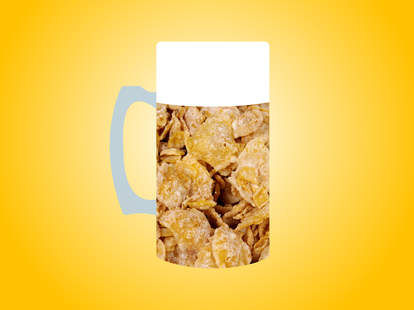 Beer and breakfast are a perfect pair, and that's never been more true than when two Oregon-based breweries teamed up to create a limited-edition Frosted Flakes beer.
The brewers of Montavilla Brew Works and Coin Toss Brewing are both Detroit natives, the car-obsessed city two hours away from Battle Creek, where Frosted Flakes-maker Kellogg's is based. And along with complaining about how bad the Lions are, Detroiters enjoy drinking beer, so the two joined forces to brew the Catch a Tiger IPA, which was made using 25lbs of the sugary cereal.
To try the beer, you'll have to go to either Montavilla on Friday, Sept 16th or Coin Toss on Sunday, Sept 18th, as we doubt the mere 10 barrels of beer the breweries made will last long. We reached out to Tony the Tiger for comment, but he was unavailable, as he was back in the '90s filming a cereal commercial.
Sign up here for our daily Thrillist email, and get your fix of the best in food/drink/fun.