The White Zombie from Sunken Harbor Club

| Photo by Cole Saladino for Thrillist
The White Zombie from Sunken Harbor Club

| Photo by Cole Saladino for Thrillist
For too long, the frozen cocktail suffered a bad rap for being overly sweet and loaded with artificial flavors and colorings. Think Bourbon Street bars slinging 15 flavors of daiquiris or 7-11 Big Gulp Slurpees, and it's easy to see why.
But thanks to the resurgence of the tiki cocktail—be it in bars devoted to the theme or in craft bars seeking to add a dash of fun to their menu, frozen and blended cocktails have made a serious comeback. They're becoming easier to find at high-end cocktail spots and swanky rooftop bars, and come with way less sugar to boot.
Who can forget the frosé fad that swept the nation five years ago, and has never quite gone away? Or the recent emergence and myriad versions of Dole Whip? The pandemic has seemed to spur the trend on even further, as operators have realized that frozen drinks make for brisk sales and little effort apart from batching cocktails to load into a machine.
A cold, consistently served, and, when done well, delicious blended cocktail can whisk you back to pleasant memories of spring break or travels to an exotic location abroad.
History of the frozen drink
Originally made popular during Prohibition at Bar El Floridita in Havana (where the Cantineros continue to freely pour their daiquiris into their blenders to this day), the frozen cocktail became popularized when Waring Electric approached the bar to carry their new line of high-speed blenders. The brand needed exposure, and the bar needed a way to pump out cocktails at a brisker pace than shaking by hand would permit.
Owner Constantino Ribalaigua Vert was meticulous in the adjustments he made to the original so that it would translate to the new format. Ernest Hemingway was notorious for his devotion to the frappe version of the Papa Doble, which he enjoyed on a near daily basis, once famously downing 20 in one sitting, and miraculously lived to tell the tale, among many others.
While the bar was popular among American tourists, the frozen daiquiri never quite made it back to the U.S. bar scene outside of tiki bars, and once those began to fade away (with craft cocktails in general in the 1970s), so did the frozen cocktail. But the public's fascination with them never went away, hence corporate outlets stepping in to fill the gap. These drinks used industrial mixes and poor quality liquor however, and were a far cry from the artistry of the cocktails served at El Floridita, Don the Beachcomber, or Trader Vic's. Up until a decade ago, the only place to get a frozen cocktail was a beach or margarita bar, where volume and quantity trumped the flavor or quality of the serve, hence the bad rap.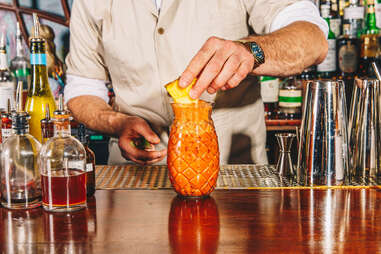 Blenders start whirring behind bars
Thankfully, as tropical flavors began to gain more acceptance among savvy mixologists in the mid 2000s, and programs such as Lani Kai, PKNY, and later Donna Cocktail Club's Brancocolada made drinking tropical safe again, the blended drink began to make a modest comeback.
When I was working on opening Gladys Caribbean in 2016, the owner didn't want blenders because of the noise, and initially balked at the price of the frozen machine and the maintenance that it would require to upkeep. I stuck to my guns and insisted that we needed to have frozen cocktails to round out the theme of the bar.
We struck a compromise, and agreed that one side would be dedicated to serving a Dark and Stormy (a drink he couldn't live without) and the other would rotate seasonally. The Dark and Slushie became our best-seller, an Instagram sensation, and an obsession for regulars and newcomers alike. Eventually, we ended up bringing in Hamilton Beach and not only were they relatively quiet, they cut the time of mixing a drink dramatically, allowing us to mix both drinks served up as well as drinks on crushed ice.
Meanwhile, other NYC bars were warming up to the trend. Donna's was among the first to serve tropical cocktails that incorporated bitters and amaro, and started doing brisk business with its frozens, as well. Brian Miller's magnum opus, The Polynesian, served a Blue Hawaiian, sometimes to a startlingly cute effect in mini hurricane glasses. Currently, at his new post at LES bar Lullaby, he serves a delicious (and dangerous!) Dole Whip.
Meanwhile, at Sunken Harbor Club, a nautical-themed bar tucked above Gage & Tollner, Garret Richard serves blended drinks that skirt the line between classic tropical and modern tiki. He offers up a few tips for blending your drinks properly at home.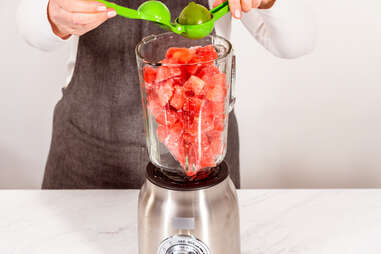 How to make frozen drinks at home
As the weather heats up and you are looking for a fun and easy way to cool off and serve a crowd with ease, there is no better place to turn than a frozen or blended cocktail. If you are new to making them, start with a simple classic that you already enjoy—be it a margarita, daiquiri, whiskey sour, or caipirinha. Experiment with adding fresh fruits or frozen purees to pump up the flavor—try Perfect Puree or Boiron, which both stock everything from conventional to exotic fruits such as assorted berries, bananas, guava, or even dragonfruit.
First things first, get your ice right. Crushed or pebbled ice is best, as it breaks down faster and more readily to freeze into a uniform product. The longer you run a blender, the more heat from the motor will transfer to the drink. Richard advises checking the recipe to make sure you are using the correct amount—most servers call for half a scoop, and may ask you to pour the mixture over additional crushed ice.
"If you don't own one of those fancy pellet machines and happen to live near a Sonic, then you may be in luck," Richard says. "Some locations sell bags of ice, which is a step up from what you can get at the deli or grocery store. It's a hack I picked up from a bartender while doing a pop up in Nashville. Don't tell them I sent you."
Similar to the "dry shake" used in cocktails that incorporate egg whites, blend your ingredients without ice first. "Certain frozen drinks will call for raw sugar, mint leaves, or fruit chunks," he says. "A dry blend will thoroughly incorporate these ingredients before the freezing process happens."
The whole point of a frozen drink is that it's frozen, and thus best enjoyed as cold as possible. With that in mind, everything involved in the drink should be super cold. Keep your glassware in the freezer. If you are incorporating berries or other fruit, freeze them beforehand. This will also minimize their water content, and help you avoid unwanted additional dilution—no one enjoys a watered down drink. Maybe most importantly, keep your spirits in the freezer, too, if you want a "tongue-stingily cold daiquiri."
Now that you are armed with a little background on how blended cocktails became a thing and are now back on the scene, and have a few expert tips on hand to work into your drink-making repertoire, you are all set for a summer of frozen drink bliss.