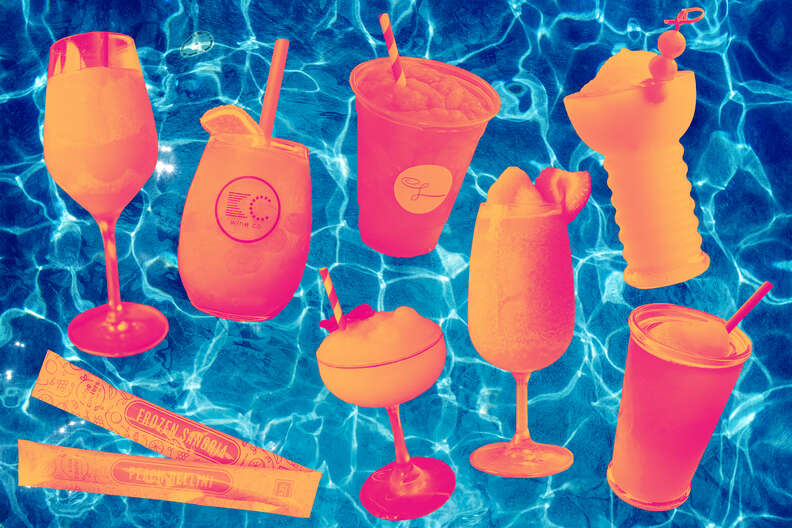 Design by Maggie Rossetti for Thrillist
Design by Maggie Rossetti for Thrillist
When frozen rosé, or frosé, hit the U.S. bar scene several years ago, it was like a pink tide that was seemingly never swept away. Ushered in by a collective love for the blush-tinted wine from which it's made, frosé became the unofficial beverage of the summer, with bartenders across the country throwing fruit into the mix, adding more booze, serving them in adult Capri Sun packs, and blending them up with peach liqueur.
For years, frosé has thrived in the frozen beverage scene without any apparent competition, but it may have finally met its match as bars and restaurants around the country step up their game—incorporating riesling, champagne, moscato, beaujolais, and more into a quickly forming new guard of refreshing, frozen wine beverages.
Perhaps the most crushable of the new frozen wine cocktail iterations is Thief's friesling, which is served in a ridged highball-esque glass with a skewer of frozen grapes that effectively mimic the look of a classic martini. While still looking thoroughly refreshing, the presentation is arguably more refined than that of your standard frosé.
"I just felt like I was seeing [frosé] everywhere," says John McNulty, who owns the Brooklyn, New York bar. "I'm not a frosé hater, but I just feel like it kind of got overdone and no one tried to do anything else. So, we had an idea—I thought riesling would be a really good kind of reprieve."
McNulty of Thief says that he was drawn towards using riesling for his new signature cocktail thanks to its unique aromatics, fruit forwardness, and a crisp, refreshing balance that it brings to the mix.
But there's some pretty stiff competition for the frozen wine crown, like at the recently unveiled Soda Club natural wine bar in Manhattan's East Village. There, two of the three frozen wine cocktails call upon alternative wines, like an orange creamsicle drink that utilizes orange wine syrup, peach, and coconut cream, or the sangria slushie with salted mango and banana.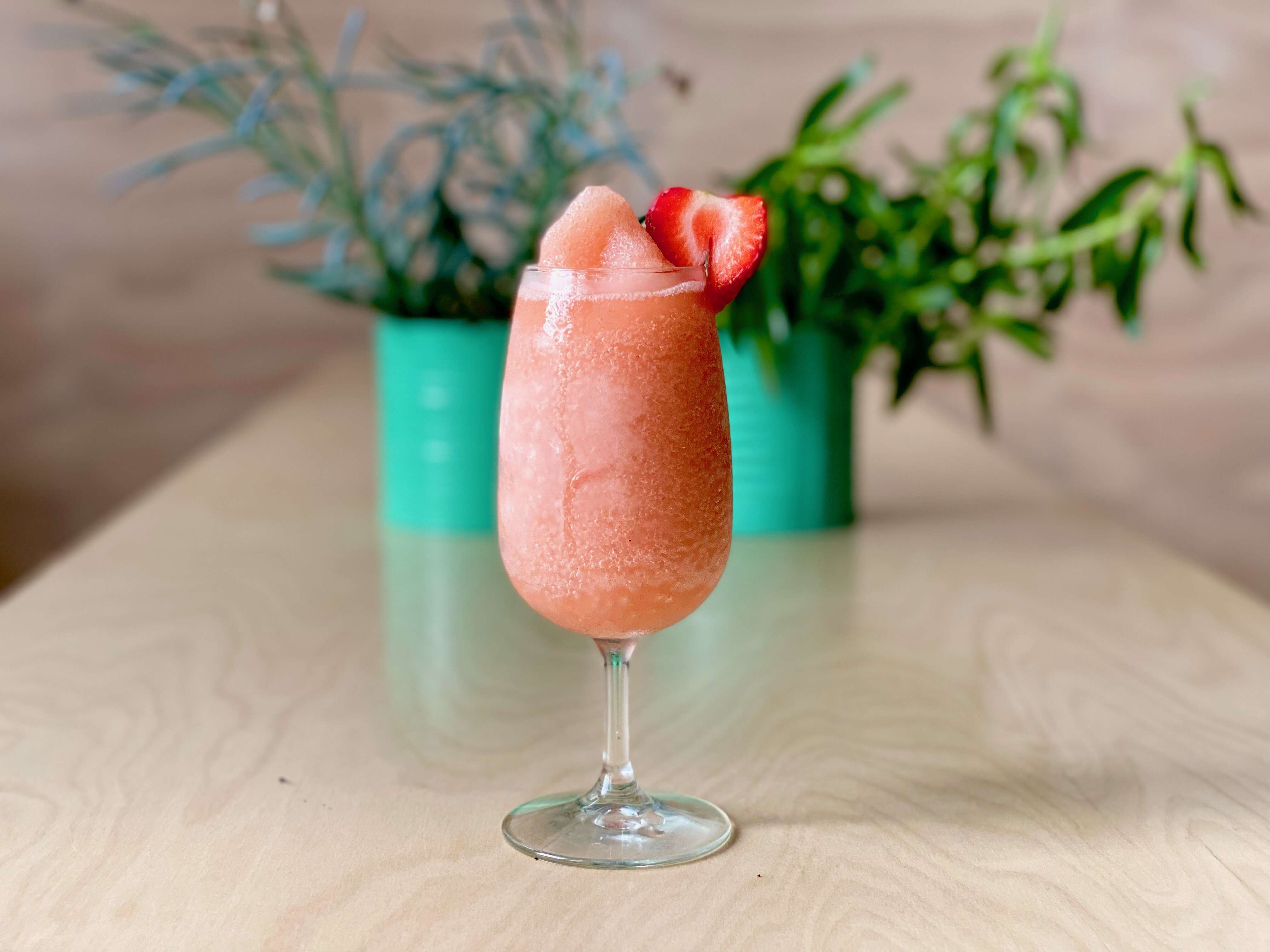 Another wine-based cocktail comes from beer and cocktail bar Wet City in Baltimore, where the slushie machine is so well-known, it has its own Instagram. When the team isn't brewing its own beer or curating one of the best sour lists around, they are experimenting with frozen drinks, like the most recent Strawberry French 75 Slushie with Broker's gin, sparkling wine, strawberry purée, fresh-squeezed lemon, simple syrup, and a strawberry garnish.
In Los Angeles, Pali Wine Company is combining their own wines with freshly squeezed juice for a slightly sweet and wholly refreshing summer beverage, and the good people at KC Vines in Kansas City are bringing nostalgia into the mix with what it's calling Vine Coolers. The adult equivalent of classic ice pops, two of their flavors incorporate vino: a fruity Frozen Sangria and the citrusy Winearita.
Speaking of childhood nostalgia—you can even wear your Mickey ears while enjoying a frozen wine cocktail now, thanks to Wine Bar George at the Walt Disney World Resort in Orlando, Florida. Try icy concoctions like the Freaujolais, made from French red wine, mixed with vodka and raspberries. Any real Disney aficionado will also freak at the chance to indulge in their signature Dole Whip in the form of frozcato and a Frozcato Mimosa, which is made with the utterly addicting pineapple whip and not one but two wines: moscato and prosecco.
If you can't get your hands on one of these refreshing slushies, try this at-home friesling recipe to blend up in your very own kitchen.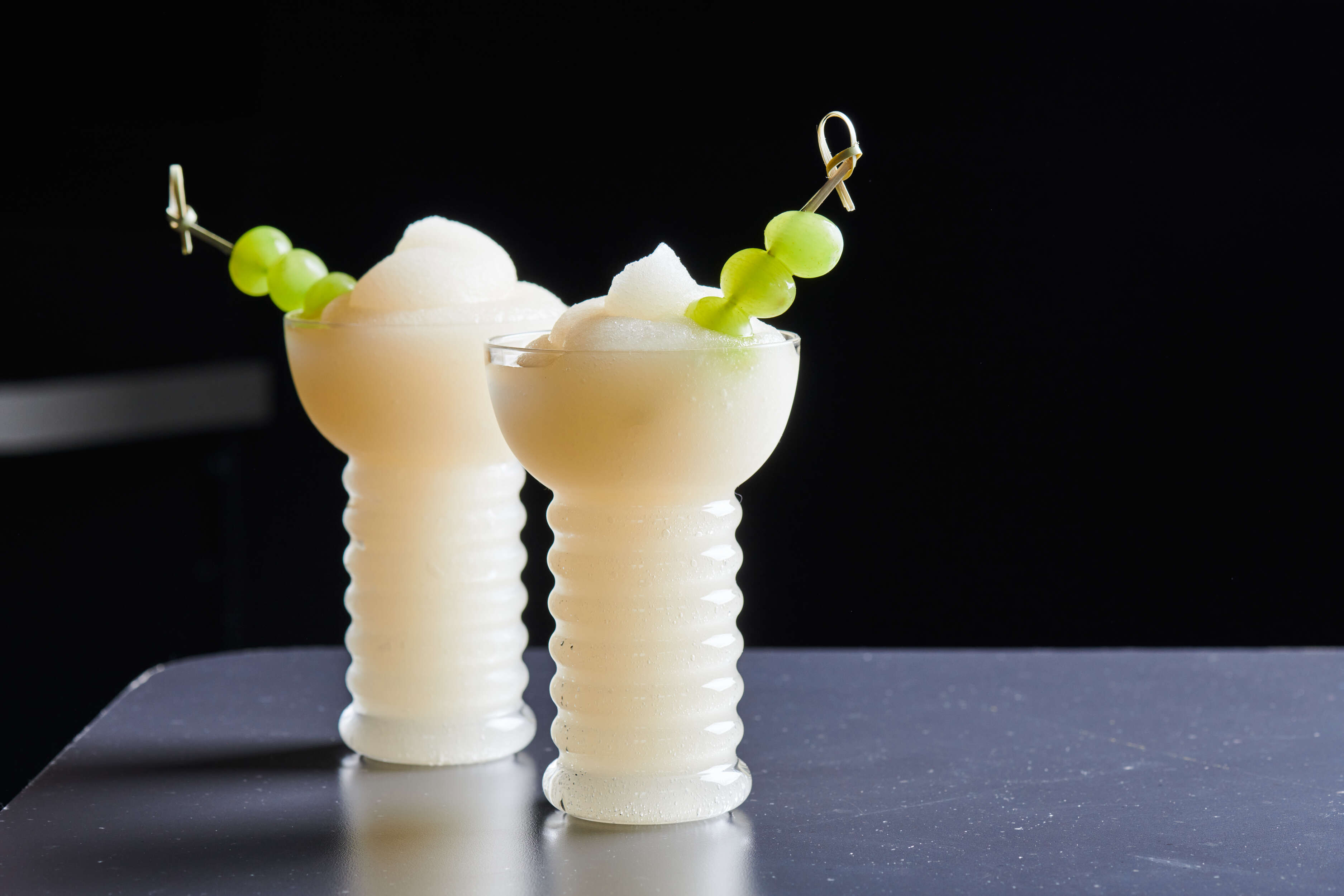 Thief's Friesling Cocktail Recipe
Serves 4-6
Ingredients:
1 bottle of riesling

6 ounces of Kelvin's Frosé Blanc Base

2.5 ounces of Rockey's Botanicals

6 ounces of white grape juice

4.5 ounces of vodka

0.5 ounces lemon juice

0.5 ounces lime juice

0.5 ounces orange juice

6 ounces water
Directions:
1. Freeze both water and grape juice into ice cubes.
2. Combine the ice cubes with all the rest of the ingredients in a blender until a slushy consistency occurs.
3. Pour into a tall glass and garnish with frozen green grapes on a skewer.