Cocktails Are Getting Juicy-Juicy in 2020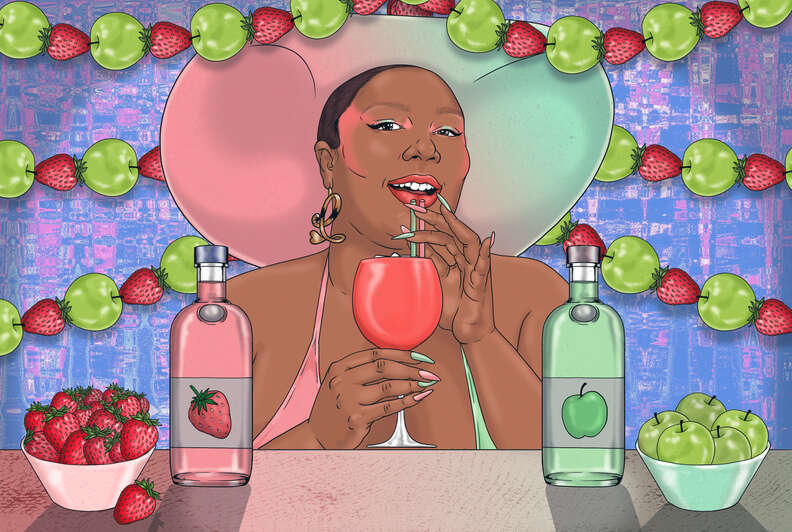 Danna Windsor/Thrillist
Danna Windsor/Thrillist
At first, there was fruit.

When flavored vodkas sprouted in the late 80s and 90s, tall crayon-hued fruit flavors dominated on backbars and liquor store shelves, ready to perfume vodka-sodas and the occasional Cosmopolitan, that iconic pink mix of cranberry, lime, and Absolut Citron (despite the term "flavored," they rarely offered much in terms of actual taste) with all its ersatz "Blueberi" or "Ohranj" glory.
Flash forward 30-plus years: expect fruit-toned spirits to return with a vengeance, say trend-watchers like Nielsen CGA, which tracks drinking habits at bars and restaurants, and Flavorman, which develops beverage flavors in its Willy Wonka-like Louisville laboratory. Catalyzed by the runaway success of White Claw and other spiked seltzers -- which seem to be offered exclusively in familiar fruity varieties like black cherry and lime -- and following the insistent drumbeat for "natural" drinks in pursuit of the wellness trend, booze producers are going back to basics: fruit.
Of course, things are a little different this time. People may be wearing scrunchies again, but it's not the 90s anymore. Think Absolut Juice, which includes a strawberry flavor made with 5% juice and is getting repped by Lizzo, as a key example of the flavored alcohol wave to come. Berries are at the top of Flavorman's 2019 trend list: "Because they can provide an indulgent profile (think shortcakes) as well as wellness benefits (like blueberry paired with other antioxidants), berry flavors are common identifiers in a variety of beverage segments," the flavor developer says.
How did we get here? "Flavored spirits" have existed pretty much since humans figured out how to distill their excess crops into alcohol, and countries with strong vodka cultures, notably Russia and Poland, have long histories of crafting infused vodkas.
Compared to traditional infusion methods, which involve steeping ingredients in distillate for lengthy periods of time, commercially seasoned vodkas have traditionally relied on chemical compounds: think fresh apple slices vs. artificial "apple flavor." Those concoctions may be shelf-stable, but rarely do they approach the real thing.
Swedish vodka producer Absolut lays claim to introducing the first commercially-available flavored vodka, Absolut Peppar, in 1986. Why pepper? According to the producer, "it seemed like a good idea to make things easier for the many Bloody Mary bars popping up in Boston, New York, and elsewhere at the time."
Basically, we are getting fed-up with the BS, and demanding better.
Yet, it was their Absolut Citron offering, which followed in 1988, that turned out to be the game-changer. Specifically, when then-Odeon bartender Toby Cecchini created his version of the Cosmo, it was with Absolut Citron firmly in mind, he says in his aptly-titled 2003 memoir, Cosmopolitan. He chose the lemon-spiked vodka "for no particular reason other than that it was the new, cool thing at the moment," and mingled it with fresh lime juice, Cointreau orange liqueur, and "just enough cranberry juice to give it a demure pink blush."
In the '90s and '00s, flavored vodkas began to pick up steam. At first, they stuck to the fruit family -- cherry, berry, lemon, and tropical fruit -- to please the vodka-soda crowd, but then they got crazier and crazier, as well as sweeter and stickier, venturing into unlikely tones like cupcake frosting or cotton candy. Looking back, Cinnabon-flavored vodka, introduced in 2013, was the moment that flavored vodka jumped the shark, most pros agree. Arguably, the shark jumped right over to whiskey, as Canada's cinnamon whiskey Fireball picked up steam in the US around the same time, stoking a flavored whiskey trend.
"At the time, it was very clear these treat flavors -- whipped cream, confections, or dessert flavors -- were concocted to get young women of drinking age [to consume these spirits] in clubs or bars," explains Kara Nielsen, a veteran food and beverage analyst, currently VP of trends and marketing at CCD Innovation. "They were intended to give them something approachable and fun that almost felt like a transition from teenagehood into adulthood." Of course this wasn't actually needed; plenty of young women were drinking whiskey neat and didn't require a candy-coated version.
While it would be disingenuous to argue that spirits marketing is now completely gender-blind, consumers are less tolerant about such blatant tactics -- and liquor companies seem to know better than to try to appeal in this direction right now.
"In a culture that's heavily inundated with marketing buzzwords, consumers are becoming more aware of obfuscating marketing tactics such as green-washing or rainbow-washing; the onus on brands is far higher to put their money where their mouth is," says Danielle Yoon, a brand ambassador for Absolut. "Basically, we -- millennials and Gen Z -- are getting fed-up with the bullshit, and demanding better; which is a development I can stand behind."
Today, we've (mostly) moved away from the artificial, candy-like characteristics that dominated a few years ago, and the pendulum has swung back to an emphasis on "natural" tones. In addition to berry, Flavorman also is predicting citrus flavors will dominate (including as a "toner" to enhance other flavors, such as orange-mango or lemon-ginger), along with watermelon and cucumber. So that Absolut Lime and Ketel One Grapefruit and Rose bottling is right on point.
Spirits are right back where they started: in the fruit basket.
Flavored rums, also, are on the rise, and seem to be taking a page from the vodka playbook: in general, these are white rums with some flavoring added, often mimicking the components of popular tropical drinks like coconut, pineapple, banana, or lime. In theory, the health-conscious drinker can mix a lower-sugar version of a Piña Colada or a low-maintenance Mojito with these bottlings. Online purveyor Drizly also notes an uptick in berry-flavored rums, ranging from classics like raspberry to alluring produce like "dragonberry," Bacardi's name for its mix of dragonfruit and strawberry. (Spiced rums, also a type of flavored rum, also continue apace.)
In addition, "flavored gins," a new category for US consumers, are on the ascent. It's already in full bloom in England; according to IWSR Drinks Market Analysis, a data analysis firm focused on the alcoholic beverages market, in 2018 the category had a 78% volume sales increase globally. While all gin is flavored with juniper, these are gins made with additional "natural flavorings," and may also include sugar. But flavored gins are just starting to emerge here in the US, with entrants like Sipsmith's Lemon Drizzle or Glendalough's floral, pink-tinged Rose Gin gaining space on liquor store shelves.
Meanwhile, the flavored whiskey boom started by Fireball hasn't abated. In general, the strategy has been to focus on flavors that already exist in whiskey -- vanilla, caramel, maple, spice -- and amp them up. Canada's Crown Royal has long been a leader in the space, rolling out toothsome flavors like salted caramel and "Texas Mesquite." American producers too are rolling out plenty of flavored whiskey -- think Knob Creek Smoked Maple, Wild Turkey's popular American Honey bottling, or Jim Beam's black cherry-flavored Red Stag.
And among flavored "moonshines" made with unaged whiskey, where the flavors naturally imparted by barrel aging aren't an issue, the game plan seems to be channeling dessert-like flavors: sweetened apple, cherry, or peach pies, for example.
Have crazy flavors disappeared altogether, washed away by a sea of "natural" fruit flavors? Absolutely not. Shock value holds as much power as ever -- consider new entrants such as Silver Spur Jalapeno Bacon Flavored Vodka (it's a corn-based vodka which alas, it doesn't taste like corn bread studded with chiles and smoky bacon, but mostly is just fiery), or luscious Skrewball Peanut Butter Whiskey, which has rightly scooped up medals at serious spirits competitions.
In fact, the possibility exists that the pendulum might swing back yet again to bolder flavors, though not right away. "While classical flavors are seeing a resurgence," Flavorman predicts, "Flavored seltzers will continue to grow and branch out with newer and trendier flavors." If spirits producers are hoping to entice White Claw drinkers, odds are they'll follow a similar flavor path. And while watermelon- or cucumber-flavored White Claw seems the more likely contender, it would be far more amusing to see a flavored vodka-style Cinnabon-Claw collab. Until then, spirits are right back where they started: in the fruit basket.
Sign up here for our daily Thrillist email, get Eatmail for more food coverage, and subscribe here for our YouTube channel to get your fix of the best in food/drink/fun.