You can now vote for the fourth Game of Thrones beer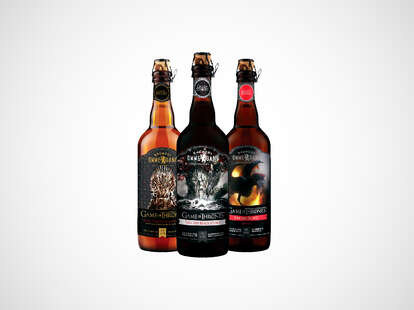 Game of Thrones
Game of Thrones
When you play the game of thrones, you win... or you're slightly bummed that your beer didn't get chosen -- either way, it's definitely not as bad as that sensationalist Cersei insists. But whichever way the good people of Westeros Earth make their oaths, we're all victorious when Ommegang releases its next (fourth) Game of Thrones beer sometime next Fall, and you can make your voice heard by voting for your favorite on the Game of Thrones Facebook page here. But do it soon -- it's only open for the next two days!
The options (which will join Fire and Blood, Take the Black Stout, and Iron Throne Blonde Ale) are:
Valar Morghulis Dubbel, which captures "the sweetness of revenge", and which Arya Stark is probably too young to drink.
Hand of the King Quadrupel, rich in both flavor and color... but not Master of Coin rich.
Seven Kingdoms Tripel, spicy and complex like the history of Westeros. There are as many ingredients in here as there are characters in the show. Scary.
Khal Quadrupel, the strongest of the beers, which might make you behave like you're at a Dothraki wedding.
So make sure you vote today! And if your beer doesn't get chosen, please don't lose your head.
Adam Lapetina is a food/drink staff writer at Thrillist, and was totally the person who introduced Pizza to Bagels back in the day. Read his musings on Twitter at @adamlapetina.