Generally, I don't make a habit of discussing drag performers' non-drag lives, but Gary Carmichael and I met in a way that was too good not to share. Since 2017 I have worked as an election day worker at my local polling site, and Gary (out of drag) has been my supervisor for almost every election I've worked.
As a drag performer, Gary is a pathbreaking king, passionately advocating for drag kings' rightful places in the spotlight, appearing in drag shows in all five boroughs, and even showing up in a queer photo book. I caught up with him over the phone on a bone-chilling Saturday afternoon to talk about what makes life different for a king, his extended drag family, and what keeps him going in the fight for acceptance.
JdB: I'm really curious to explore how the life of a drag king is different from that of a drag queen. But first, how did you get into drag to begin with?
Gary Carmichael: Well, I've been a longtime fan of drag and people like Lady Bunny, Mistress Formica, and I have a deep respect for drag as an art form. Back around 2003, one place in particular, Boots and Saddle on Christopher Street, was where my love of drag was rekindled.
Around the time of the third season of RuPaul's Drag Race, I met Venus D-Lite and I just fell in love with the artform again. After a while I started thinking to myself, I could do this. I'm like, as much as I love this, no matter where you go in the city, it's basically the same type of drag—the same songs being lip synched to. And then I started doing my research and realized that there aren't that many active kings in the city, at least at the time. I was told by a queen that no one would be interested in seeing a woman dressed up like a man, and I looked at her and said, "Thank you for your support." [Laughs]
JdB: Why do you think there's an idea that no one will want to see a drag king?
GC: Unfortunately, the perception is that drag kings aren't entertaining and we're not as flashy or creative as our queen counterparts. I am a Halloween king. I first started in drag Halloween 2013 and it was booked by my drag mother Princess Bytch.
JdB: You have a drag mother, but you also have drag sons, right?
GC: I am the head of my family and I do come from a lineage. Most kings have troupes or groups. I think I'm one of the very few that actually has a drag mother and I have three drag sons and one granddaughter and one grandson. I'm very proud of all of them.
My first drag son is Benjamin J Smash, but you can call him Benji for short. My second drag son is Theo Reginal and my third drag son lives in Seattle, Casare the Drag Prince. My grandson's name is Duncan Deep and my granddaughter is in the middle of changing her name.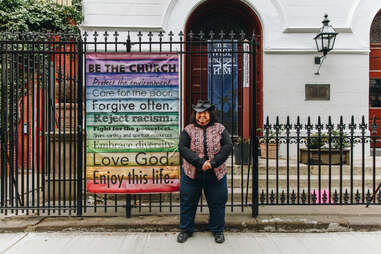 JdB: And who is Gary Carmichael?
GC: He's a sharp-dressed man. He's a gentleman. He likes to open doors for women. He treats women with respect. Gary is the perfect guy without all the toxic traits. Drag queens celebrate women, but then drag kings usually what they wind up doing is making fun of men, and that doesn't go over well with the general populace. But Gary is the type of guy that could exist, and probably does exist. Gary can also be whatever he wants to be, but he's always polished. He's always entertaining and he always gives 110% every time he steps on stage.
JdB: What's a Gary Carmichael show usually like?
GC: A lot of R&B and soul from the '70s. A lot of lip synching. He doesn't dance a lot. Even though I've been doing drag for seven years, I haven't had my own show. I've been booked in a lot of guest spots. I've been part of Bushwig.
But I've never had my own show, and I would think part of the reason why is that bar managers don't think they would be able to make money off a drag king show because unfortunately drag kings are still fighting for acceptance. We still haven't gotten the opportunities to shine that much. Some of them get discouraged and they only perform in certain areas of the city and in certain clubs and they don't branch out. I'm one of the few that regularly performs in Manhattan. I've also performed in the Bronx, Brooklyn, and Staten Island. Most of the kings only stay in Brooklyn because they feel safe.
And I can understand. But you also have to take risks and step into the lions. I did that a few times at Barracuda and one of those times a guy spat at me and said, "I'm more of a man than you are!" That was his nice little comment.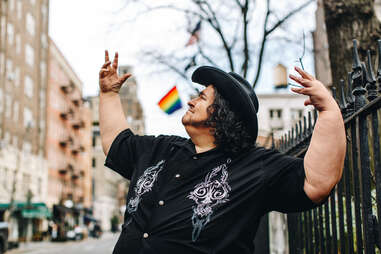 JdB: Wow.
GC: I could have stopped, but it only made me stronger. It made me more determined to carve my niche into the world of drag. I have to remind myself for every person who doesn't "get" what I do, there's someone who supports me and cheers for me and tips me and books me for shows.
JdB: What's something about being a drag king that you wish more people knew?
GC: Well, we're just as entertaining as our counterparts. We work on outfits and makeup just like queens. The general public mostly think of drag kings as gay women with short haircuts wearing a leather jacket, t-shirt, and jeans lip synching to Elvis Presley. We can do so much more. We're much more creative forces than the general public gives us credit for.
I compete regularly against drag queens because I wanted to show that a drag king can do anything a drag queen can do—and maybe better. I've taught my son the same thing: the only way you are going to be able to earn a drag queen's respect is to compete against them at a level playing field. There are no limitations to what a drag king can do. You're really only competing against yourself.
JdB: What are some of your goals for Gary in 2022?
GC: It seems we always take one step forward and two steps back. We get a little bit of the spotlight and then it dissipates and we gotta start over again. I've had some health issues that I've had to deal with which has prevented me from performing more. The last show I did was for last year's Pride. I was the only drag king there and the reception I got really did my heart good.
I want people to know that Gary's still around. My sons are not going anywhere. We still have our fingers on the pulse of the drag community. I just hope that RuPaul or Murray Hill or somebody would say "Hey, maybe we should have a competition for drag kings." I would be more than happy to send in an audition tape. It's our duty to go out there and perform as often as we can. You have to go out there and be seen and be heard in as many places as you can and if you don't feel it's a safe space, then try and make it a safe space.
John deBary
is a cocktail and bar expert with over a decade of experience working in award-winning New York City bars and restaurants. He is also the co-founder and president of the
Restaurant Workers' Community Foundation
, which is dedicated to improving the lives of hospitality industry professionals through advocacy, grantmaking, and impact investing. John is also the creator of
Proteau
, a line of non-alcoholic drinks.