Hot coffee is now being delivered by mail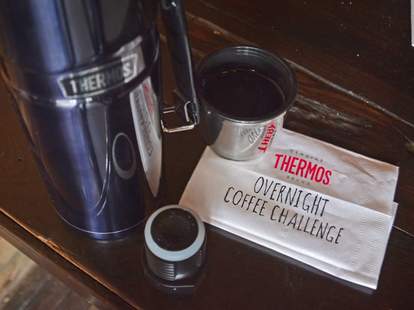 If you're tired of walking outside for coffee, Thermos has some exciting news for you, guy who might be Howard Hughes. Today, Genuine Thermos Brand launched a campaign to get fresh, hot coffee over-nighted to your pad, completely free of charge.
In an effort to show off the virtues of the 40oz Stainless King Beverage Bottle -- which is certainly not named after Henry VIII -- Thermos will ship a bunch of them filled with coffee from participating roasters to 25 "Overnight Coffee Challenge" contest winners. The first coffee shop up for grabs is San Francisco's Ritual Coffee Roasters. To become eligible to win one, simply "like" Thermos on Facebook and fill out a contest form. If you're lucky, that hot coffee will be delivered to your door, eliminating your need to interact with a crabby barista for a whole day.
Kristin Hunt is a food/drink staff writer for Thrillist, and would gladly accept a free Thermos of black tea. Follow her at @kristin_hunt.