German and Czech Beers That Changed the World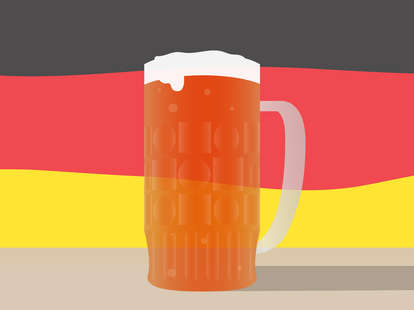 Oren Aks/Thrillist
Oren Aks/Thrillist
When you're talking about the things countries have contributed to beer, it would be hard to overstate what Germany and the Czech Republic have brought to the table. But like Shakespeare, the Bill of Rights, or the instructions on your cheap fireworks, simply knowing that something is important isn't the same as understanding exactly why. Or, you know, what the hell you're getting.
Being up on your German and Czech beer styles is fundamental to brew education, and even though getting started is as easy as ordering a stein or pint down at the biergarten, it helps to brush up a bit on your facts. Following the guidelines of the prestigious Beer Judge Certification Program, here's the skinny on the most influential German and Czech styles on the market.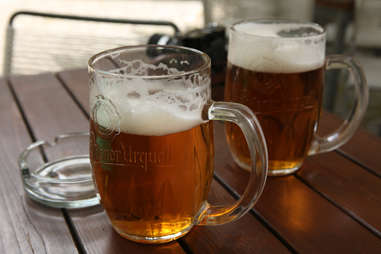 Czech Pilsner
Booze factor: Easy-drinking to medium (4.2-5.8%)
How's it taste: There's a clean, crisp, light body, with flavors of white bread or water crackers, but it's the use of spicy, herbal Saaz hops that makes this style a standout from any variations or imitators.
What you should know: The grandaddy of all commercial-beer success stories, Czech Pilsner is the pale lager that launched dozens of styles emulating it -- in fact, because of the pervasiveness of off-style imitations, the BJCP now technically calls this style "Czech Premium Pale Lager."
What you should eat with it: Being such a complex yet drinkable beer, this runs the takeout gamut like a champ: it's as good a match for drunken noodles as it is with katsu chicken curry or chana masala.
Prime examples: Pilsner Urquell, Staropramen Lager, Kelso Pilsner, Lakefront Klisch, Schlafly Pilsner, von Trapp Bohemian Pilsner, Green Flash East Village Pilsner
German Pilsner
Booze factor: Light-medium enough to make you say "Ach, ja!" (4.4-5.2%)
How's it taste: This light lager is a refreshingly dry and hop-forward style that's cut by just a touch of malty sweetness and a clean finish. Unlike Czech Pilsner, you shouldn't get any diacetyl (weirdly buttery) flavors.
What you should know: Unwilling to be second to anyone in anything ever, Germans came up with their own version of Pilsner as a response to the runaway success of its Czech grandaddy. Geographic origins aside, today making a German Pils means you're using assertive German noble hops instead of grassy Czech Saaz hops.
What you should eat with it: A straightforward, crowd-pleasing beer this refreshing ought not to be overpowered by intense food, but you'd be surprised to how much weight this can carry. It's great alongside everything from fresh goat cheese and simple salads to chicken gumbo.
Prime examples: Rothaus Pils, Victory Prima Pils, Firestone Walker Pivo Pils, Smuttynose Vunderbar!
Berliner weisse
Booze factor: Super light to light (2.8-3.8%)
How's it taste: Going against most German stereotypes, Berliner weisses are unabashedly vibrant and sour, with some showcasing funky, earthy Brettanomyces notes at the finish (though not all), all wrapped up with a dry finish.
What you should know: It's hard to believe that a beer once dubbed "the Champagne of the North" by Napoleon's troops would have come as close to the brink of death as many times as this style did, but newfound popularity has pretty much secured its place in the lineup for the foreseeable future. In Germany, it's often served alongside a shot of raspberry syrup that is poured into the beer to cut the tartness.
What you should eat with it: Berliner weisses can prove a bit challenging at mealtime because of the aggressive sourness, but you won't regret serving it alongside salads with grilled halloumi, apples, and Brie, or a bowl of fresh berries.
Prime examples: Bahnhof Berliner Weisse, Professor Fritz Briem 1809 Berliner Style Weisse, Evil Twin Nomader Weisse, Dogfish Head Festina Peche
Gose
Booze factor: Light-medium (4.2-4.8%)
How's it taste: Goses are defined by a tart sourness balanced out by perceivable (yet not overpowering) saltiness, which also has lemony notes and a dry finish.
What you should know: Even though its origins were in a town called Goslar, this historic style became incredibly popular in and around Leipzig. But like its sour-wheat cousin Berliner weisse, WWII took a toll on its production, and it actually completely disappeared from the mid-'60s until it was revived in the '80s. Today, it's enjoying astronomical popularity and revival through the craft beer explosion. (Also, don't confuse this beer with geuze, a very different style of blended lambic from Belgium, and pronounce it as "GOES-uh.")
What you should eat with it: Gose is a perfect opportunity to get some beer in with your fruit salad, Key lime pie, or even something just as simple as a ripe nectarine. In many cases it can work incredibly well with ceviches or poke dishes.
Prime examples: Bayerischer Bahnhof Leipziger Gose (the true OG and savior of the style), Ritterguts Gose, Westbrook Gose, Lost Nation Gose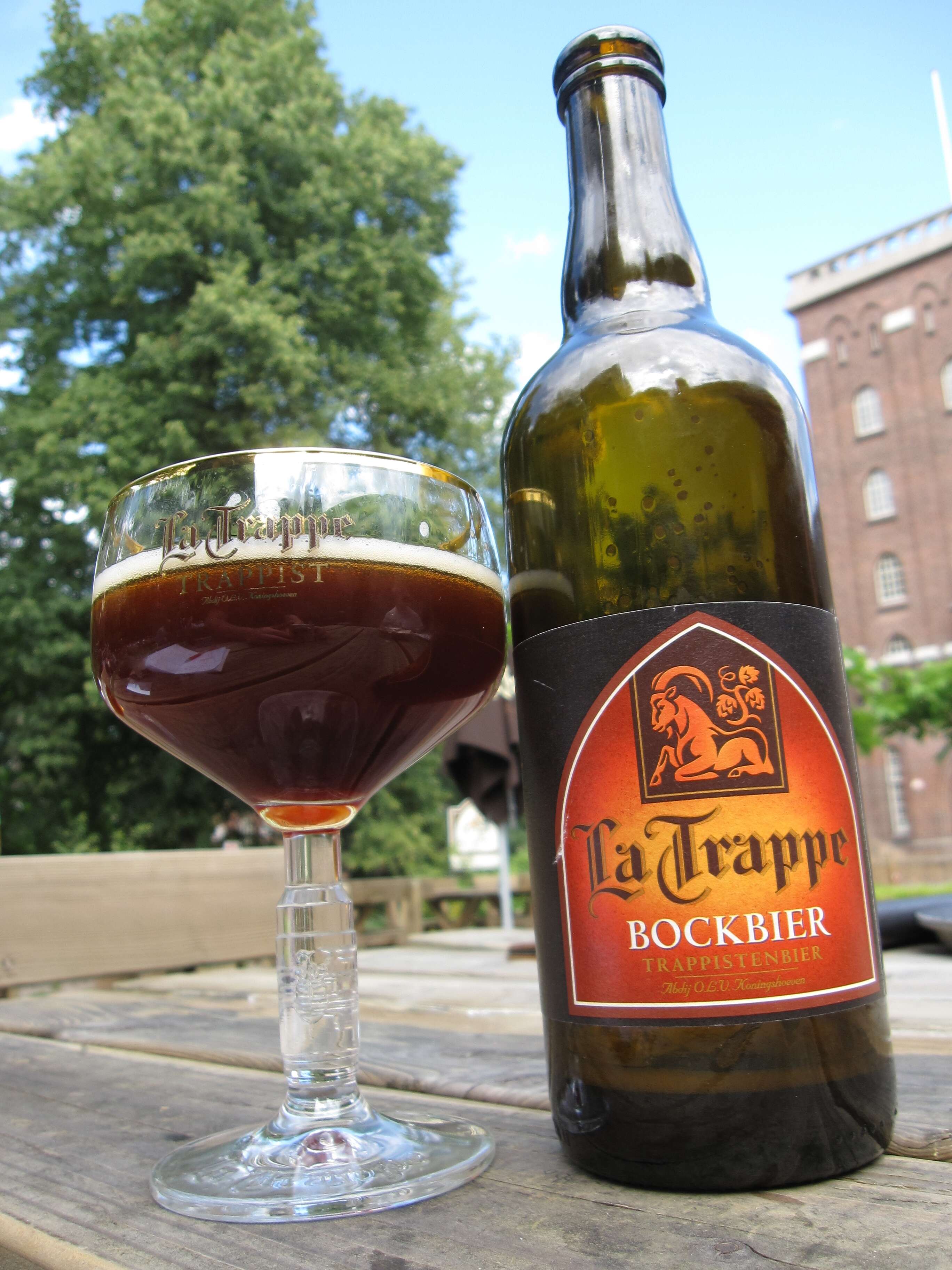 Dunkles bock
Booze factor: Subtly strong like a German masseuse (6.3-7.2%)
How's it taste: In the best examples of the style, a malty nose leads right into a richly malty flavor on the palate with toasty hints of dark fruit and caramel and an oh-so-subtly sweet, clean finish.
What you should know: An OG dark lager that's been popular since the Middle Ages, "bock" means "ram" in German, which is why you'll often see goats on the artwork. As a bonus, now you don't have to learn German to buy beer!
What you should eat with it: It's no secret that bocks are right at home with BBQ (especially simple stuff not soaked in sweet sauce), but don't be afraid to wash down rich stuff like chana masala or Cajun food with them, either.
Prime examples: Einbecker Ur-Bock Dunkel, La Trappe Bockbier, Jack's Abby Lashes Lager
Doppelbock
Booze factor: Medium-strong to strong like Dolph Lundgren (7-10%)
How's it taste: Doppelbock is the pumped-up version of dunkles bock: richer, maltier, and toastier. They've got dark fruit, molasses, and caramel notes, plus more palpable alcohol and barely there hops.
What you should know: In one of beer history's favorite anecdotes, doppelbock was invented by monks who needed a hefty liquid to sustain them through their Lenten fasting. An American journalist even recreated the experience a few years back, which takes the idea of a liquid lunch to an entirely new level. If you're ever in doubt, the suffix "-ator" in a beer's name is also a hint that you're dealing with a doppelbock.
What you should eat with it: Basically anything. Try it with pre-dinner cheese plates (the butterier, the better) or cheeseburgers. Or make like a monk and live exclusively on the stuff. Actually, maybe get that cheeseburger.
Prime examples: Ayinger Celebrator, Weihenstephaner Korbinian, Paulaner Salvator, Tröegs Troegenator, Ballast Point Navigator, Surly One
Munich helles/helles bock/maibock
Booze factor: Light-medium to medium (4.7-5.4%)
How's it taste: This crazy triumvirate of beer styles is similar to German Pilsners, but with less hop bitterness, a bright malt profile, and a very subtle, clean sweetness.
What you should know: You've probably noticed by now that a lot of the pale lagers were created to compete with the popularity of Pilsner. This is the Munich version, where the name comes from the German word for "light" (which, to an English speaker, is strangely "hell"). Higher-ABV versions are called "maibocks," as they're brewed over the winter and tapped come springtime.
What you should eat with it: Much like Pilsners, you can swing a wide variety when you've got a helles. Obvious German bierhaus staples like sausage and pretzels would feel like cheating if they didn't work so damn well.
Prime examples: Weihenstephaner Original, Lowenbrau Original, Cigar City Hotter Than Helles, Jack's Abby House Lager, Ninkasi Helles Belles (formerly Lux), Maui Brewing Company Bikini Blonde
Oktoberfest/Märzen/festbier
Booze factor: Light-medium to medium (4.8-6.3%)
How's it taste: Caramel and toasty notes are front and center here, with a subtle, restrained bitterness. If you're comparing styles, you could call it a beefed-up Vienna lager that was built to be drinkable.
What you should know: This beer was traditionally brewed in early spring at higher alcohol levels to make sure it would last through the warm summers without getting infected, which is why Märzen gets it's name from the German word for the month "March." In order to be called Oktoberfest, the beer must technically be brewed within Munich city limits (even though this rule is only really followed in Germany). If you're swinging a stein of amber liquid, this is probably what you've got in hand.
What you should eat with it: Obviously, Oktoberfest foods like white sausage and pretzels are a match made in heaven with their namesake style, but it also shines with the polar opposite to those kinds of foods, like chicken tacos and loaded nachos.
Prime examples: Ayinger Oktober Fest-Märzen, Weihenstephaner Oktoberfestbier, Flying Dog Dogtoberfest, Sly Fox Oktoberfest, Victory Festbier
Hefeweizen/weissbier
Booze factor: Light to medium-enough-to-say-you'll-have-another (4.3-5.6%)
How's it taste: A vibrant nose leads to a full-bodied palate bursting with notes of banana, clove, and bubblegum with plenty of carbonation to boot.
What you should know: In Germany, brewers must use at least 50% wheat in the malt bill (although some go up to 70%). Wheat has more protein than barley, which is what gives the beer its hazy appearance and thick, pillowy head. And don't let those banana, clove, and bubblegum flavors fool you: they're all from fruity esters created by the yeast during fermentation, not from brewers adding Bubblicious to the fermentor.
What you should eat with it: If you can find a more perfect pairing beer for brunch foods like pancakes, eggs Benedict, or quiche, let us know. It's also great with fruit salads. Or steamed mussels. Basically, we're calling this one of the more versatile options out there.
Prime examples: Franziskaner Hefe-Weisse, Kulmbacher Kapuziner Weissbier, Schneider Weisse Original, Funky Buddha Floridian Hefeweizen, Naparbier Hefeweizen
Dunkels weissbier/dunkelweizen
Booze factor: Light to medium (4.3-5.6%)
How's it taste: Imagine your favorite weissbier, but made with darker malts, maintaining the banana and clove flavors while adding bread crust and caramel to the palate.
What you should know: Even though the paler versions are popular today, darker wheat beers are historically what were more commonly drank throughout Germany.
What you should eat with it: BBQ and other roasty flavors love dark wheat beers, but it's a truly amazing complement to Mexican mole dishes. Trying it alongside banana bread should be on your beer bucket list.
Prime examples: Erdinger Weissbier Dunkel, Andechser Weissbier Dunkel, Ramstein Classic, Shiner Dunkelweiss
Weizenbock
Booze factor: Medium-strong to strong (6.5-9%)
How's it taste: A deeply malty beer with toasty and dark fruit notes, with the same banana and clove notes you expect from a weissbier. Some versions can be aged, too.
What you should know: Simply put, these are higher-octane dunkels weissbiers brewed up to doppelbock strength (thus, the name) to compete with their popularity in the early 20th century. These days, they're often released as winter seasonals or holiday beers, which coincidentally makes getting through those stressful family dinners so much easier!
What you should eat with it: If you forget to pop this alongside your holiday ham, you can still enjoy it with your Black Forest chocolate cake for dessert. Strength in versatility!
Prime examples: Schneider Weisse Tap 6 Unser Aventinus, Edelweiss Gamsbock, Le Trou du Diable Shawinigan Handshake, Southern Tier Goat Boy, Victory Moonglow Weizenbock
Kölsch
Booze factor: Light-medium to medium chill vibes (4.4-5.2%)
How's it taste: BJCP describes it best: "A clean, crisp, delicately-balanced beer usually with a subtle fruit and hop character," that's strikingly refreshing and with some white wine-like flavor qualities.
What you should know: This hybrid style is actually an ale that goes through a lagering process (similar to some American cream ales), which basically means it's kept for a few months at colder temperatures. It originated in Köln (Cologne), Germany, where they famously serve it in small glasses so it can be drank before it warms up. If you're ever in the market for a beer-heavy party that's a little more under the radar than Oktoberfest, consider checking Köln's Carnival celebration in spring.
What you should eat with it: Keep things simple for this delicate beer. It's great with pre-dinner fruit platters or salty finger foods like Marcona almonds and charcuterie.
Prime examples: Gaffel Kölsch, Reissdorf Kölsch, Captain Lawrence Captain's Kölsch, Cape Ann Brewing Company Fisherman's Ale, Original Pfaffen
Vienna lager
Booze factor: Light-medium to medium (4.5-5.5%)
How's it taste: Traditionally, this is a balanced, malt-driven lager with notes of caramel and a decently dry finish.
What you should know: Even though it was invented in Vienna in the 1840s, this style is now mostly produced in Mexico (where it was transplanted by Austrian immigrants) and through American craft brewers' takes on it. The BJCP openly bemoans that a lot of traditional examples of this have begun to swap out quality malt ingredients for syrups and cheap adjuncts, though, pushing them towards the sweeter side.
What you should eat with it: Malty beer craves spicy food, so order that insanely hot plate of Buffalo wings, pad Thai, or dan dan noodles. It also doesn't hurt with a little comte or fish tacos if you're not feeling the heat.
Prime examples: Heavy Seas Cutlass, Abita Amber, Sam Adams Boston Lager, Brooklyn Lager, Great Lakes Eliot Ness
Altbier
Booze factor: Light-medium to medium (4.3-5.5%)
How's it taste: This style is medium-bodied and copper in color, with more assertive hop bitterness... all while still maintaining a well-balanced malt profile and a clean finish.
What you should know: Similar to fellow Rhine Valley hybrid kölsch, altbier (which is the German word for "old") is a lagered ale native to Dusseldorf. The higher-alcohol version of this style is called sticke, but it's pretty hard to find those outside Germany. In fact, of all the things on this list, this is likely the one you've probably never heard of period, since so few brewers use the style's name when marketing their versions, though craft brewers are starting to resurrect the term.
What you should eat with it: The slightly amped-up hop profile means you can go for some heartier stews like Mexican pozole or cassoulet, but it's still mellow enough to go with something as light as a salmon roll.
Prime examples: Alaskan Amber, Long Trail Brewing Long Trail Ale, Ninkasi Sleigh'r Dark Doüble Alt Ale
Baltic porter
Booze factor: Medium-strong to strong (6.5-9.5%)
How's it taste: As dark and warm as midnight in Phoenix, with roasty malt, dark fruit, and tart cherry flavors, coupled with a full-bodied mouthfeel and a clean finish
What you should know: Traditionally speaking, this porter is actually made with lager yeast, although it can be done with cold-fermented ale yeast, but now we're just getting all nerdy and technical. That nerd-speak just means it has a clean flavor profile. Just like Russian imperial stout, it was originally developed with its higher strength to make it suitable for export and shipping across the North Sea to the Baltic countries (which should explain the name).
What you should eat with it: As with most dark beers, the experts are going to steer you toward grilled dishes, and that's a good idea! But replacing your iced coffee with Baltic porter alongside your bagel & lox is also definitely worth trying once.
Prime examples: Żywiec Porter, Jack's Abby Framinghammer, Smuttynose Baltic Porter, Uinta Crooked Line Sea Legs
Sign up here for our daily Thrillist email, and get your fix of the best in food/drink/fun.