Germany's Beer Purity Law Is Turning 500, and That's a Big, Boozy Deal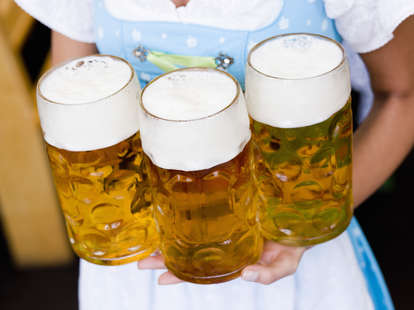 Brigitte Sporrer/collection/Getty Images
Brigitte Sporrer/collection/Getty Images
German beer -- bier, as you try to pronounce it at your neighborhood brewhaus -- is the definitive form of beer for many, evoking frosty mugs filled with crisp golden lagers topped with foam. And probably somebody in a frilly dress delivering nine of those mugs at once. And this year, well, it's kind of a big one for Germany's finest export.
On April 23rd beer drinkers and makers worldwide will be celebrating the 500th anniversary of the legendary German Beer Purity Law, the Reinheitsgebot, a piece of legislation that defined what German beer, and beer worldwide, is: barley, hops, and water. That's it. So why is something so simple such a big deal worthy of world-wide celebrations? We poured ourselves a boot, sat down, and found out.

What is the Reinheitsgebot?
"Furthermore, we wish to emphasize that in future in all cities, markets and in the country, the only ingredients used for the brewing of beer must be Barley, Hops and Water. Whosoever knowingly disregards or transgresses upon this ordinance, shall be punished by the Court authorities' confiscating such barrels of beer, without fail." -- The Reinheitsgebot, April 23, 1516
In English, Reinheitsgebot roughly translates to the German Beer Purity Law, which is a hell of a lot easier to say. Signed by the Bavarian co-rulers Duke Wilhelm IV and Duke Ludwig X into law on April 23rd, 1516, it stipulated that beer, by law, was only to be made with three ingredients: barley, hops, and water. Later, yeast was added to the list when its role in fermentation was discovered, and other ingredients were added still later, such as sugar in top fermenting beers. Still, the list was narrow.
The Reinheitsgebot also regulated beer prices. It's likely that the bill was not to protect beer as much as it was to protect bakers: wheat and rye were reserved for bread while barley, a terrible product for bread-making, was given to the brewers.
It's largely considered the oldest food law in the world today. There were plenty such laws in the past: ancient Egyptians had laws protecting certain fish from being eaten and Romans had laws limiting how much sumptuous food its elite could eat (it was a lot), but none of those laws are still recognized. Even though the Reinheitsgebot was repealed by the European Union in 1987, many German breweries still uphold it, and label their beers as such. It's a testament to the custom, and it's for more than just the label and sales -- it's a recognition and celebration of tradition.
Why does it still matter 500 years later?
The Reinheitsgebot has its detractors. It's been criticized as limiting what German bier makers can do, and those criticisms have merit: with less options for what can be put into beers, there's no room for fruit beers or lambics, sours or chocolate stouts. But these limitations forced brewers into perfecting the techniques that made their individual beers unique, to bring out the nuances and particularities of their beer. The restriction, many argue, elevated beer making into an art form.
"It's made German bier what it is, and German Bier is the symbol for beer around the world," says beer expert and Tasting Whiskey author Lew Bryson. "Germany has a huge national holiday for bier: It's iconic, more than any other beer, besides maybe Guinness. It's the beer that conquered the world."
This variation leads to beers you've had, but wouldn't necessarily know. The pilsner (or pilsener) style, though originally Czech, is the most popular style of German lager, and the most recognizable and popular style of beer in the world. It's the traditional pale lager that most people associate with a light beer. A Helles is similar, but with less hops. Styles like bocks and doppelbocks are darker, maltier lagers; it's cheating a bit, but the coloring made from malted barley still adheres to the law.
Beers made with top fermenting yeast -- like ales -- are also popular, though many are similar in flavor to lagers, due to their lower temperature maturation. For example, Kölsch is a remarkably light ale, easily mistaken for a lager. Altbier is similarly crafted, but darker and more recognizable as an ale while still being light-bodied.
You might recognize the green bottles of Beck's, the most popular German beer in the world. This mass-produced pilsener bears the label of Germany Purity Laws, as do the bottles from other popular breweries such as Bitburger, which also makes pilsners, and Ayinger which brews a variety of styles including doppelbocks. Krombacher -- the second-biggest selling German beer -- largely adheres to the law, even with its wheat ale, as the Reinheitsgebot eventually allowed wheat, but only for top-fermenting beers (like the sugar that's also allowed). Most German biers do. Even the top selling, cheapest bier in the country, Oettinger -- basically the PBR of Germany -- carries the mark of the Reinheitsgebot.
Over in the US, the tradition lives on, though most brewers will attest that compliant beers are among the hardest to brew consistently, and thus seldom outright claim Reinheitsgebot (that's why something might say "Kolsch-style" rather than just "Kolsch." Still, breweries like Gunpowder Falls Brewing in New Freedom, PA and Fort Hill Brewery are pretty staunch in their adherence to the German Purity laws. And Red Oak Brewing in Whitsett, NC Carolina not only conforms to the laws, but only the original four ingredients, so no wheat beers or added sugar for ales. Same with Olde Mecklenburg Brewery in Charlotte. The dirty south, it appears, is all about clean beer.
Party like it's 1516
"While St. Patricks Day, Cinco de Mayo, and Fat Tuesday are dates of importance in historical context that lead many to imbibing, this is a once in a lifetime opportunity to celebrate a significant moment in the history of bier with bier," says Dan Hart, owner of German beer halls Prost! and Stammtisch in Portland, OR. "Who wouldn't want to celebrate a moment from 500 years ago that had significant influence on something many of us enjoy in our day to day lives by raising a pint with our friends? I for one can't think of a better excuse."
Whether or not it's still in legal effect, the Reinheitsgebot is essential to German culture. And while Oktoberfest annually provides a celebration of bier, we have an additional opportunity to pound lagers with impunity with the 500th anniversary of Purity Laws.
Munich is celebrating later in the year, in July, with over 100 breweries gathering together to serve thousands of guests. Bamberg, a city in Northern Bavaria that claims to have passed a similar purity law 27 years earlier -- making Northern Bavaria the hipster Brooklyn of 16th century Germany -- is celebrating for three straight days over the weekend, with eight breweries participating in the town center.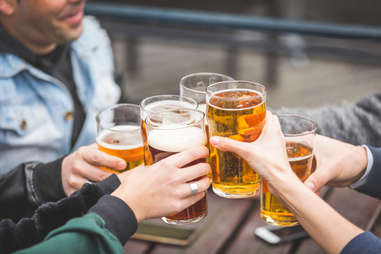 Berlin is also celebrating later in the year, using its 20th International Berlin Beer Festival as a chance to celebrate the 500th anniversary of German beer at the World's Longest Beer Garden. And Ingolstadt, the birthplace of the original bill, is throwing a massive party, with lectures, seminars, classes, and more, as well as providing special transportation in and out of the city, because you can't sit through a seminar about beer laws without a DD.
The US is never one to miss out on a party. Among the bigger throwdowns, the Hofbräuhaus of Pittsburgh has almost a week of $5 specials leading up to a massive party on the anniversary. The person buying the 500th liter that day wins a $500 gift basket to commemorate the event. In Portland, OR, German tap house Prost! is throwing a party, pouring special biers released for the holiday and roasting an entire 125lb pig with traditional sides. Laschet's Inn in Chicago is likewise celebrating with a special release: both Prost! and Laschet's are pouring the Weinhenstephaner 1516.
If there's any sort of German beer bar near you, odds are they're saying Prost! And if not, well, a little polka, some sausage, and a ton of helles will do the trick. But if you love beer, you owe it to yourself -- nay, to history! -- to celebrate.
Get ready for the long haul. This year, Oktoberfest starts in April.
Sign up here for our daily Thrillist email, and get your fix of the best in food/drink/fun.
Alex Frane is a food and drink writer and thinks this German bier stuff is pretty great. He's excited to celebrate 500 years of it. Follow his other musing at @franiacdrinks