German Beers Allegedly Contain Scary Amounts of Weed Killer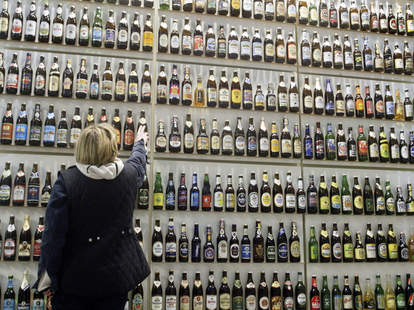 There's this palpable sense that European countries like Belgium, the Netherlands, and Germany just know what they're doing when it comes to producing beers. They produce the Lord's nectar for the pure sake of enjoyment, and their drinkers do just that. But a recent study suggests German beers aren't actually so pure -- in fact, they contain frightening levels of weed killer.
According to a report by the Munich Environmental Institute, all of Germany's 14 most popular beers contain higher traces of glysophate than what regulations permit for regular drinking water. If you're unfamiliar with glysophate (i.e. you're a normal person), it's the chemical in Roundup that kills the dandelions that grow between cracks in your grandparents' driveway. And if you're unfamiliar with the permissible amount of glysophate in drinking water (i.e. you're a normal person), it's  0.1 micrograms per liter. If you're unfamiliar with what a microgram is, I can't help you.
As for the scary amounts of weed killer in beer, the Munich Environmental Institute's analysis found Hasseroeder, a brew owned by Anheuser Busch Inbev, contained 29.74 micrograms per liter -- nearly 300 times what's deemed safe for drinking water. Even at the low end of the spectrum, Munich-brewed Augustiner beer contained 0.46 micrograms per liter -- four times what's deemed safe. Yikes.
Beers Americans are more familiar with didn't fair much better. Warsteiner came in at 20.73 micrograms per liter, third-worst among all 14 beers; while Radeberger came in at 12.01 micgrams/liter; Bitburger and Beck's came in at the lower end, with Bitburger at 0.55 micrograms/liter and Beck's at 0.50 micrograms/liter. Still, all these beers were well above the allowable 0.1 threshold.
Of course, the German government and beer industry were quick to counter the study's findings, according to Reuters.
"An adult would have to drink around 1,000 liters (264 U.S. gallons) of beer a day to ingest enough quantities to be harmful for health," Germany's Federal Institute for Risk assessment said in a statement.
Meanwhile, the brewers behind many of the beers included in the study questioned the findings altogether, with AB Inbev calling the findings "absurd and completely unfounded."
Obviously, this battle is just beginning to bubble, and more back-and-forth about glysophate seeping into beer appears to be brewing, as Germany is Europe's largest beer producer, with more than 1,300 breweries and 5,000 different beers. Beer pun.

Sign up here for our daily Thrillist email, and get your fix of the best in food/drink/fun.
Ryan Craggs is Thrillist's Senior News Editor. He likely drank dangerous levels of glysoophate while hanging out in Munich and Berlin, if this study proves true. Follow him @ryanrcraggs.