Get Ready To Celebrate -- It's Jack Daniel's 150th Anniversary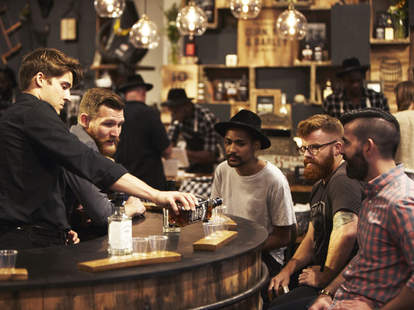 To celebrate the 150th anniversary of this iconic American whiskey, Jack Daniel's is inviting everyone to a huge, week-long Pop-Up in three cities -- New York, Chicago, and Miami. Walk off the street and enter the historic Lynchburg, Tennessee General Store where it all started to learn about the life and times of a one Mr. Jack Daniel. With goodies like whiskey-infused desserts, a virtual reality tour of Lynchburg, surprise musical performances, an old-timey barber shop, and of course, Jack Daniel's Old No. 7, how can anyone say no? Go ahead and get the anniversary celebration started with this homage to Jack and all its smooth, barrel-aged history below.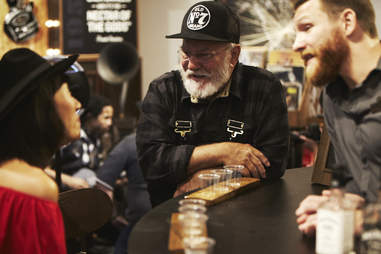 John Dougherty/Thrillist
First, meet your host, the man behind the whiskey
While he's spoiled everyone with 150 years of the good stuff, the majority of people are a little overdue for an introduction with Jack Daniel himself, the Tennessee-born hot-head with a flair for whiskey and kicking safes (we'll get back to that). Oh yes, don't let the jolly mustache or his 5'2 stature fool you -- Daniel was stubborn, but that just meant better whiskey for all. See, when his whiskey-distilling contemporaries switched to cheaper methods, Jack insisted on filtering his whiskey drop by drop through ten feet of sugar maple charcoal. He knew that this time-consuming and costly charcoal mellowing process made for the best product, and is today one of the things that makes Jack Daniel's a Tennessee Whiskey and not a bourbon.
Jack was the type of guy to roll up to the 1904 St. Louis World's Fair with his sipping whiskey and come back with a gold medal for world's finest whiskey. Taking into account this level of tenacity and ambition, it makes sense that Mr. Daniel had the foresight to register his distillery right away when the government began regulating and taxing whiskey, making his the oldest registered distillery in the United States. Isn't history great?
John Dougherty/Thrillist
Then give it up for his hometown -- Lynchburg, Tennessee
There's a reason they say, "If you get a person to Lynchburg for a day, they will be a Jack Daniel's drinker for life." (Not that you can actually drink Jack Daniel's in Lynchburg -- the township is dry, ironically!) The town's identity is defined by its history with the Daniel family, from its 150-year-old distillery, the Lynchburg Hardware & General store that helped the Daniel's family make a living during Prohibition, and the grave of Jack himself.
And while the whiskey had an impact on the town's history, the town itself quite literally had an effect on the whiskey. Mr. Daniel chose the land on which he built the distillery because of its access to the Cave Spring Hollow, the town's greatest natural resource. Not only does the pure spring water contain minerals that help shape the whiskey's distinct flavor, the limestone in the cave filters out iron, which would make for a gross-tasting finished product. If you can't get down to Lynchburg for a day, the least Jack Daniel's can do is to invite you to come down to the General Store Pop-Up for a virtual reality tour of the town. The best part is -- these towns ain't dry.
John Dougherty/Thrillist
Sample the stuff that made him famous -- and learn why it's so smooth
One could say they spent 150 years perfecting it -- but the people behind Jack Daniel's got it right the first time. Every facet that goes into that first sip of amber is carefully thought out. There's the iron-free water from the Cave Springs of Lynchburg. Then there are the barrels -- yes, the barrels help account for taste -- that are hand-made from fresh-cut White American oak. The folks at Jack Daniel's are the only ones to toast them on the inside in order to break down the vanillins in the wood, bringing out the distinct flavor of Jack. Don't believe it? See for yourself. Kevin "The Barrel Man" Sanders will be hosting barrel-making demonstrations at the General Store Pop-Up.
John Dougherty/Thrillist
Last but not least, Jack Daniel's filters its clear, unaged whiskey through ten feet of hard sugar maple charcoal that they make themselves in the aforementioned charcoal mellowing process. The slow drip of whiskey through the charcoal removes any impurities and imparts that distinct flavor you've come to know as the one and only Jack Daniel's. There's a reason they call this bit "the extra blessing." Make sure to get #blessed at the Charcoal Mellowing Tasting Station so you can sample the difference for yourself.
Remember that Jack ain't just for drinking
If you haven't glazed a rack of ribs with Jack and cola, what are you even doing with your life? Yeah, it's no surprise that Jack works just as well in food as it does in your mixed drink or simply taking center stage neat. For you carnivores looking for new ways to marinate burgers, steaks, and meatballs, heat up Jack on the stove to get the glaze started and then it's up to you which way you want to take it -- honey barbecue or sweet chili?
And Jack of course isn't just for the savory; the whiskey, which naturally has notes of vanilla thanks to its particularly-made barrels and barrel-aging process, is right at home in pecan pies and cupcakes. In fact, if you're timid about your own cooking prowess, the General Store Pop Up will be hosting a bakery stand offering treats like cornbread and chess squares infused with Jack Daniel's so you can see for yourself.
John Dougherty/Thrillist
Learn why Jack is pretty much distilled Rock 'n' Roll in a bottle
When isn't good 'ol Jack on a World Tour? Jack's 150-year-old history is deeply rooted in the music world. Mr. Daniel himself used music to promote his whiskey, setting up a 10-piece traveling band that he sent on tour for over 20 years, believing, rightly, that good music and good whiskey go hand-in-hand. Today, you can either catch Jack on tour at music festivals all over the country with the Jack Daniel's Experience, or watch hand-picked musicians tear up the stage at the Lynchburg Pop Up General Store in your city. (Do check out General Store's Music Shop in between sets.)