Top-Secret Spirits You Can Only Get at the Airport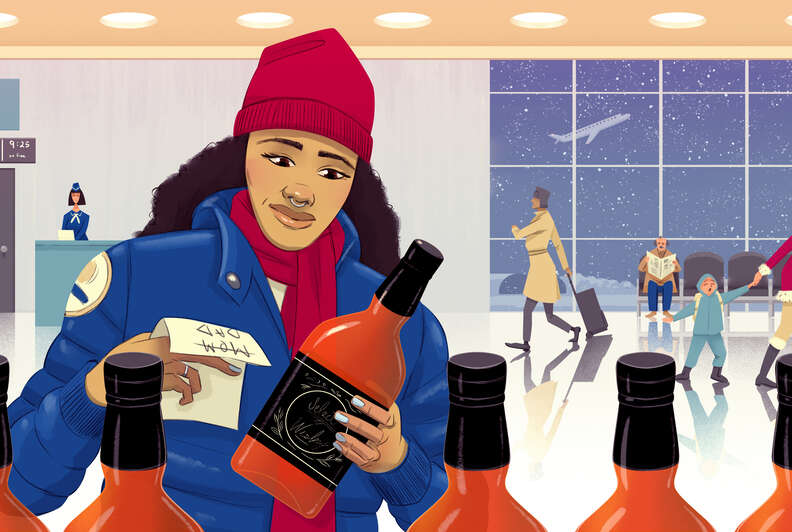 Jason Hoffman/Thrillist
Jason Hoffman/Thrillist
As if you needed an excuse to leave holiday shopping until the absolutely, positively very last minute, here's your new strategy: As you're jetting out of town, shop at the airport for special bottles of liquor.
Most likely, you already know that duty-free stores at international airports offer a modest 10% to 20% discount on bottles, because they're priced without the tax (aka the "duty" in duty free).
But you may not realize that spirits producers – even some hyper-local craft distilleries – release special bottles that are only available at the airport, a category known as Global Travel Retail (GTR).
Among these, local craft spirits may be your best bet for scooping up a truly unique bottle that can't be procured anywhere else. For example, it was a rude awakening for me to spot Allen Katz, founder of New York Distilling Company, posing on social media with bottles of his cask-strength Ragtime Rye and Perry's Tot Rose-infused overproof gin …. at Terminal 4 at JFK's duty-free shop.
There's not much made by the Brooklyn distillery that I haven't tried. For sure I've quaffed my share of Dorothy Parker gin martinis, many sitting at the distillery's Shanty bar.
But I'd never seen these bottles anywhere else in New York – and I wasn't going to, Katz explained: these were strictly Travel Retail exclusives. "[It] creates a link to our home base here in New York," he told me. But the offerings aren't meant for the home team.
"Global Travel Retail is like its own island," Katz notes. "It's not New York or Buffalo or Paris-based. It has its own audience, for a finite period of time." And those duty-free shoppers are there for one specific reason, to pick gifts (possibly even for themselves). "So it's about what would make something a unique gift, or make it stand out."
Duty-free shops came into existence shortly after the end of World War II, when European countries were sorely in need of revenue. At Ireland's Shannon airport, an active hub for stop-overs between North America and Europe, Brendan O'Regan, an employee of the airport, wanted to use tax-free shopping to lure travelers into spending just a wee bit more on their way. So he asked Ireland's government to declare the Shannon airport technically outside of the country, and thus the first duty-free shop opened in 1947. (The argument was that having passed passport control, a passenger had already left the country, and therefore the duties/taxes of that country became invalid – a radical idea.) It took until the 1960s for duty-free shops to arrive in the US, starting in Hawaii.
I looks like O'Regan's idea worked, especially for alcoholic beverage companies. Today, the GTR market is on the ascent, according to data and intelligence firm IWSR: in 2018, spirits volume grew 2.5% in the channel, reaching a total value of $9.2 billion sold. Another 2% uptick is predicted over the next five years as well. And by 2023, the retail value of spirits in duty-free is estimated to reach almost $10.4 billion.
Many spirits producers regard GTR as one of the most important sales channels. Tequila maker Patrón, for example, says duty-free is the second-largest source of sales volume for the brand globally, comprising 500 outlets around the world. In other words, if duty-free were a country, it would be the second-largest market for Patrón, behind the United States.
Knowing this, spirits producers go out of their way to give duty-free the white-glove experience. What can you expect? For Patrón, it's about offering limited releases and "innovations" in small volumes, says Adrian Parker, Global VP of Marketing. Right now, that includes Patrón's Añejo Lot 221 bottling (a blend of tequilas aged for more than a year in French, Hungarian, and American oak – a different bottling will be offered in 2020) and Cask Collection Sherry Añejo, a tequila aged for two years in ex-Oloroso Sherry barrels.
Expect to find Japanese whisky, which is scarce elsewhere right now. Gin, Scotch, and US whiskey are also top sellers at airports. In terms of brands, it's all about Johnnie Walker. In fact, the blended Scotch has been the top-selling brand in GTR for more than 30 years. Rounding out the rest of the top five: Jack Daniels, Chivas Scotch, Absolut Vodka, and Hennessy Cognac.
After disembarking a flight at JFK, I let my checked luggage take a few extra spins around the baggage carousel as I wandered the duty-free aisles. Sure enough, there was Johnnie Walker Black Origin Series, a limited-edition quartet that paid homage to the various regions of Scotland (Speyside, Islay, etc.) that contributed components to the blended Scotch. A couple of aisles over, a Jack Daniels Single Barrel, bottled at 100 proof beckoned.
Sometimes the liquid inside the bottle is the same, but it's about fancy packaging: witness Grey Goose "Voyage Exclusif," encased within a summery, Riviera-inspired deep blue-and-white wave-patterned gift pack designed in collaboration with Parisian fashion label Maison Labiche. Similarly, Absolut offers a rotating array of vodka bottles wrapped in colorful seasonal paper, ready to shove into a suitcase now and chuck under the tree later.
Intrigued? here are a few tips from the experts on how to finesse the duty-free experience.
1. Know where to go
This may seem like basic advice, but be aware that not all airports offer duty-free shops. And for that matter, not all duty-free shops are within airports. Here's a list of duty-free locations within the US.
2. Think local
Although it may not always be an option, many duty-frees have small batch or craft spirits selections, which can be an affordable gifting option. When in doubt, Katz says, he opts for a local or unusual gin, preferably made with local botanicals. "The point is to buy something as unique as possible," he sums up.
3. Plan ahead
"Just like the rest of the travel experience, pre-planning can uncover great finds," Parker advises. Scan duty-free concessions online in the market where you're traveling to see what's available. He also urges shoppers to "build in extra time to check out the on-site offerings to ensure they have covered all the territory they need." When in doubt, ask a clerk if the store's spirits specialist is available to help you uncover the most interesting new offerings.
4. Be spontaneous
While many "Duty-Free Hunters" strategize ahead of time to find rare bottles, sometimes it pays to look around on the fly and be open to what's on the shelf during a random layover. "The global retail market is smash-and-grab," Katz observes. "Usually, there's not a lot of contemplation."
Sign up here for our daily Thrillist email, get Eatmail for more food coverage, and subscribe here for our YouTube channel to get your fix of the best in food/drink/fun.