The Goose Island Barrel-Aged Beers You Aren't Drinking (But Should Be)
If you're a craft beer drinker, odds are you've at least heard of Goose Island's highly coveted Bourbon County Stout. Despite an infection recall that impacted last year's batch, these barrel-aged beauties are the kind of beer that nerds like me snatch up and stash away each November so we can bring them to nerd gatherings and nerd out over them the way nerds just love to do. Needless to say, Goose Island basically leads the pack when it comes to the world of whiskey-soaked wood.
But have you ever tried one of Goose's "Sour Sisters"? If not, you should definitely get on that. This tart, incredibly complex fleet contains, hands down, some of the company's tastiest brews. They're loaded with fresh fruit sourced from the same Michigan farm and aged in all sorts of barrels -- including wine and tequila -- which makes for very distinctive flavors and mouthfeels. All the mouthfeels.
I recently stopped by GI's insanely massive barrel house -- like, football field massive -- in Chicago to check out the space, meet the folks behind the casks, and, of course, sip on some damn fine beer. GI brewer A.J. Platt took me around, poured me a few, and gave me the inside scoop on those tasty, tasty Sour Sisters.
Meredith Heil/Thrillist
Hombre Secreto
Belgian strong pale ale, 9% ABV
"The base beer is a Belgian saison aged in tequila barrels with Brett Brux," Platt explained. "There are ultimately going to be four variations on this. For the second, we took 34 casks of the original and recirculated it with 2,700lbs of mango -- that's the Hombre Secreto Mango. There's also another coming up with prickly pear, where we put in 25lbs of pear puree, 10lbs of chayote pepper, and fresh-squeezed lime juice into each cask."
The Hombre Secreto, if you can get your hands on it, is f-ing amazing. It's got a great sweet-tart balance going on, some funk from the Brett, grassiness from the tequila, and a whole lot of perfumey notes on the nose. And, as if that wasn't enough to draw you in, the tequila dries out the finish beautifully and adds just a bit of boozy bite. This is Beach Beer 101, waaay better than those sugary frozen margs, and at 8% ABV, almost as potent.
"This is pretty small-batch stuff," he continued. "It's funny -- I say small batch, I have to keep perspective, but I mean 188 casks or something. For us, though, that's just a small project."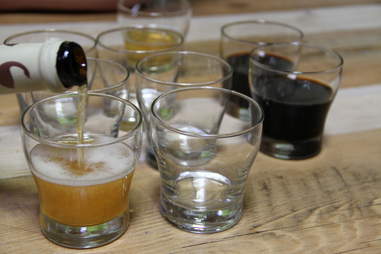 Meredith Heil/Thrillist
Juliet
American wild ale, 8% ABV
"So when we started our sour program -- I actually call them fruit or tart beers -- back in 2007, Juliet was the first," Platt told me. "At that time, there were 50lbs of blackberries going into every cask -- I think we only ordered a couple thousand pounds of fruit. And now we're sourcing about a quarter-million pounds of fruit every single year."
Juliet's a wild one -- literally. This pretty brew is fermented with wild yeast and aged in wine barrels on a whole bunch of blackberries. The result is a super-jammy, amazingly complex brew bursting with deep, luscious fruit notes, hearty spice, and tannins. It drinks like a puckery, effervescent version of a medium-bodied red wine, and sure knows how to complement a good steak.
Halia
Farmhouse ale, 7.5% ABV
"We've got about 700 white-wine barrels of Halia aging right now for 2017, each with about 50lbs of whole white peaches inside," Platt said, touring me around the barrel house's ample souring section. "It takes a long time, too, anywhere between eight and 12 months for the yeast to really eat through all those sugars."
Haia, a fruit-forward, slightly funky Bretted farmhouse ale, feels like biting into a ripe, late-summer peach, brimming with soft bubbles and just a touch of sour at the finish. If you're a fruit fan, you definitely don't want to miss out on this one. White-wine drinkers are guaranteed to love it, too.
"What's fun is there's all these little stories behind the names of the beer," added Platt. "One of our former brewers, Brian Taylor -- who recently opened his own brewery, Whiner, down on the South Side -- he named it after a good friend who passed away. His friend was Hawaiian, and Halia means 'in remembrance of' in Hawaiian."
Meredith Heil/Thrillist
Gillian
Saison, 9.5% ABV
Gillian is a beast of a beer. This Belgian saison is chock-full of strawberries (40lbs per cask, in fact), spiked with Brett Brux to even out the berries' sugar factor, then dosed with 50g of white pepper, 25lbs of Illinois honey, and some Champagne yeast for a lasting, tingly, lip-smacking finish.
"Last year Halia was my favorite, this year Gillian's my favorite," said Platt. "I get the dryness from Champagne, the tartness from the strawberries. Also the honey, that's definitely present -- I think I placed an order for 40,000lbs of honey, if you can imagine. And it's all from the same honey farm."
As it turns out, the bottle's deep-red label is quite fitting. According to company lore, it's an homage to a very special redheaded FBI Agent.
"There's some people that would say that the inspiration behind the beer is Scully from The X-Files," Platt said with a smile. "They named it after Gillian Anderson -- she used to work at the Clybourn brewery. And this year for her birthday, we Photoshopped a picture of her with the beer and wrote, 'Happy Birthday, Scully.' She ended up signing a bottle, taking her own photo with it, and tweeting it back at us. We were so excited."
Madame Rose
Belgian-style brown ale, 9% ABV
The richest of all the sisters, Mme. Rose is just as sophisticated as her lofty name implies. It's classified as a Belgian-style brown ale, and it tastes somewhere between a kriek (a Belgian sour brewed with cherry juice) and a tradition Flanders Oud Bruin,aka an old-school sour brown. This one's fermented with a whole slew of yeast and bacteria then stashed in wine barrels full of whole cherries for an entire year. The process really brings out all those elegant, earthy flavors you'd find in a big, bold Bordeaux. And it's malty as all get out, with so many layers of cherry-fueled intensity you'll swear you're digging into a fat slice of tart cherry pie.
"Madame Rose is a real pain in the butt. We spent over two weeks cramming pitted cherries into about 500 casks to make this beer," said Platt. "Sometimes I get so angry at her. I'm just like, 'Why are you such a headache?' But then you crack one open, and you drink it, and it's just like, 'Ah, this is why. This is why I love you.'"
Sign up here for our daily Thrillist email, and get your fix of the best in food/drink/fun.  
Meredith Heil is a staff writer for Thrillist. "Who has the answers?" she wonders. She turns to her sow-wahs -- they aged and experienced, but they can't even tell yas. Send wise bottles to @mereditto.