Yep, the grape juice thing ain't a joke, even though it's on shelves in 26 states starting April Fool's Day. Instead of wondering if your state's been lucky enough to be selected, just tweet your state at me and I'll tell you. Promise!
So what's the deal with this beer?
It's a Belgian-style ale that clocks in at an 8.2% ABV. Great Divide describes it as a "big [beer] without being brutish". It uses Viognier grape juice, which is also the varietal found in white wine.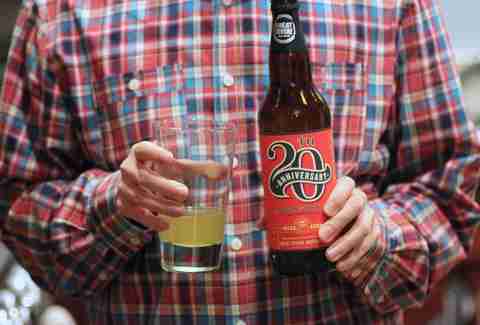 What's it taste like?
On the first few sips, you get some definite grape juice notes in the finish, but those notes largely dissipate the more you drink it. There are many features here you'd expect from a Belgian beer: a yeasty aroma, floral and fruity notes. But it deviates from the Belgian formula in other ways: this is not sessionable, like a witbier. It's heavily carbonated. You've gotta take your time with it.
CONCLUSION
That plaid shirt I'm wearing in the photo does not fit me. Also, if you're buying this expecting it to taste like a bottle of grape juice someone spilled beer into, look elsewhere. If you're looking for an unusual, bold Belgian beer: hit up the liquor store soonish. This won't be on shelves long.
Lee Breslouer writes about food and drink for Thrillist, and thinks the best grape juice in the world is Manischewitz. Follow him @LeeBreslouer, because you can't make up a name that good.