Firestone Walker Brewing Co.
Welcome to Tapped, where the brightest minds in beer pour out their suds-soaked knowledge. Drink it all in, right this way.
Denver legend Great Divide's mascot is the Yeti, a hairy mythical beast who lives in the woods and presumably makes a living selling jerky on TV. GD recently celebrated its 22nd year of craft beer-making excellence, throwing a party at its Barrel Bar in Denver, CO by pouring old favorites and new ones alike. Among the new beers is the hibiscus-driven and extraordinarily summery Nadia Kali saison, which is now available in cans. But before you go pick up Nadia, find out which five craft beers Great Divide's founder Brian Dunn is currently drinking.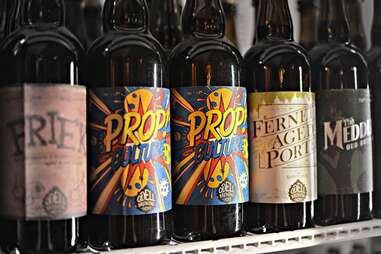 Saison, 7.1%
Fort Collins, CO
"We had this at an outdoor concert, and it went great with big cheeses and dried sausages. It's a saison brewed with a blend of different Belgian yeast cultures, including Brett. I taste pineapple, mango, banana, and clove. The beer finishes dry and is super drinkable."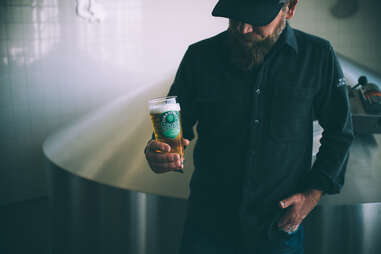 IPA, 5.9%
Paso Robles, CA
"It has a sweet fruit aroma of pineapple and mango with a nice grapefruit flavor. The clean finish really allows the hops to show their stuff. This beer is done really well, and I look forward to having more of these."
Pale ale, 5.8%
Decorah, IA
"Hailing from Decorah IA, this single-hop Citra American pale ale is under 6% and really enjoyable. The beer has a citrus and mango hop profile and makes a point. The four I had in the fridge [were gone] in a couple days, so it's safe to say I liked this one."
Belgian, 10.2%
Westvleteren, West-Vlaanderen Belgium
"This beer is in the house because my kids and I visited the tasting room at the monastery a year and a half ago when the boys were in Belgium racing bikes. Wow, this beer is a treat every time I have it. It has big notes of brown sugar, raisin, and spice with a fairly high level of carbonation; it's pretty boozy at a 10.2% ABV. This beer is all-around incredible."
IPA, 7.5%
Jackson Hole, WY
"These guys are brewing great beers! The IPA has a nice hop profile with citrus notes, and some fruity aroma (mango), but the fruit character is not over the top. Finishes dry with a good bitterness. Really enjoyable."
Sign up here for our daily Thrillist email, and get your fix of the best in food/drink/fun.
Lee Breslouer is a senior writer for Thrillist, and is gonna buy some Melvin the next time he sees it. Follow him to nerdy names: @LeeBreslouer.