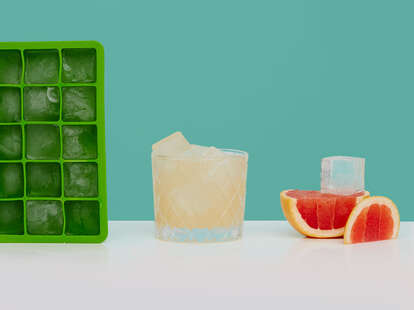 Matthew Kelly / Supercall
The Greyhound was the O.G. Gin and Juice. While the concept of mixing gin with grapefruit juice goes back as long as gin and grapefruit juice have existed in the same temporal plane, Harry Craddock was first to publish a recipe for something like the Greyhound in his Savoy Cocktail Book in 1930. It called for gin, grapefruit juice and ice. In 1945, Harper's magazine published a similar recipe, swapping out gin for vodka, and calling the drink a Greyhound. The magazine attributed the cocktail to a chain of restaurants owned by the Greyhound bus line—hence the name. Today, Greyhounds can be made with either vodka or gin, but vodka is the most commonly used spirit.
Greyhound
INGREDIENTS
2 oz

Vodka

4 oz

Grapefruit Juice

Lemon Twist
INSTRUCTIONS
Step two
Garnish with a twist and serve.
Contributed by Supercall
Mix It Up!
Try making the drink with other spirits instead of vodka. Not only does gin pair well with grapefruit juice, but tequila and mezcal are excellent too.
Recommended Vodka: Tito's, Industry Standard, Smirnoff, Stolichnaya