Guinness The 1759 is basically the best holiday gift ever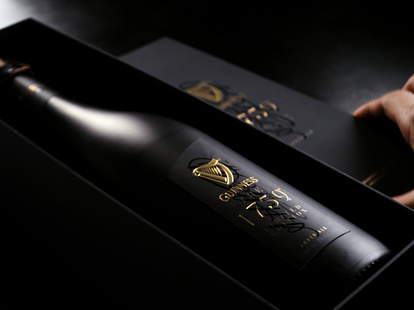 How many times, after struggling to fill out your holiday gift list, have you thought, "I wish I could just buy these people a beer."? If you were holding off on that very sensible plan because you couldn't find a beer worthy enough, your wait is over with the release of Guinness The 1759. To illustrate this large-format amber ale's gifting versatility, we laid out unassailable rationales for why you should get it for pretty much everyone you know. Well not everyone, but everyone you actually like.
 
Your Dad
Is your father a history buff? Of course he is, what dad isn't? Yours will delight in the backstory behind the beer's amber style, which reflects what Arthur Guinness would've been brewing in Guinness's earliest days. Imagine one of your dad's friends saying "I thought Guinness was a stout," only to have your dad correct him with "Actually, stouts and porters didn't come into vogue until several decades after Guinness's founding -- this beer is much closer to the original formula." He's going to be so happy you've given him this opportunity to be The Man With The Knowledge.
Your Boss
Nobody loves the art of the deal more than your boss, and nobody will appreciate more than him the significance of "1759" -- the year Arthur Guinness took out a 9000-year lease on St. James's Gate in Dublin. Move over The Donald, there's a new real estate mogul in town. Well actually an old real estate mogul, but still…
 
Your Whiskey-Loving Friend
When you hand him this 750ml bottle, his first reaction might be, "But I'm a whiskey lover… it's like you don't even know me anymore." That's when you inform him that The 1759 was brewed with peated malt sourced from centuries-old Irish distilleries in order to bring out the mellow, caramel flavor believed to have been an important element of those first batches of Guinness. After that you guys can hug.
 
Your Beer-Loving Brother
Unconventional use of slightly smoky peat, expertly tempered hoppiness, and an ancient hint of caramel? Dude's going to be indebted to you for life.
 
Your Highly Competitive Colleague
The 1759 is a very limited edition, so you'll be giving him that special "I have something nobody else has" feeling, and it's the first offering in Guinness's Signature Series, which will base all styles on important dates in the brewery's history -- so sometime in the future when everyone's enjoying a later installment in the series, he can tell people, "Yeah, but I was there for 1759."

Much like your rippling abs, this release won't last forever. Buy a bottle here for whoever deserves one most. Check the Guinness site to see where to buy in stores, or head here to buy online.
Please Drink Responsibly
GUINNESS The 1759 Limited Edition Amber Ale. ©2014 Guinness & Co.Imported by DIAGEO – Guinness USA, Norwalk, CT.