Guinness is going "craft", launching two new beers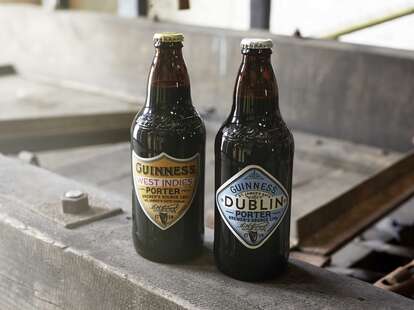 Diageo
Diageo
Guinness has been happy to stake its name on iconic stouts -- and some record-setting weirdos with freakish fingernails -- for centuries. But it appears the company is now looking to seriously diversify. Mere weeks after announcing their Blonde American Ale, they're touting two new porters set to hit Ireland later this month. Brace yourself, because even more Irish brews are coming.
Apparently inspired by dusty brewers' diaries from the 18th and 19th centuries, the West Indies Porter and Dublin Porter are part of a new project at Guinness's St. James's Gate brewery that aims to bring a slew of new brews to life. Whereas the "sweet and smooth" West Indies Porter has dark caramel notes and a surprisingly low 3.8% ABV, the Dublin Porter is repping notes of toffee and chocolate, as well as a 6% ABV. They'll be in select pubs and retailers in Ireland starting in mid-September, and are reportedly just the "first taste of what's to come".
This is pretty big news for Guinness. While the brewery has certainly looked beyond its trademark brews, the new project sounds like a serious effort to tap into the insatiable, ever-growing craft beer market -- and it could produce some wildly different stuff. Start adjusting now, because pretty soon, you might be cracking open a Guinness elderberry saison.
Kristin Hunt is a food/drink staff writer for Thrillist, and would like to read the more gossipy sections of those brewers' journals. Follow her to Irish secrets at @kristin_hunt.