4 cocktails made from hangover cures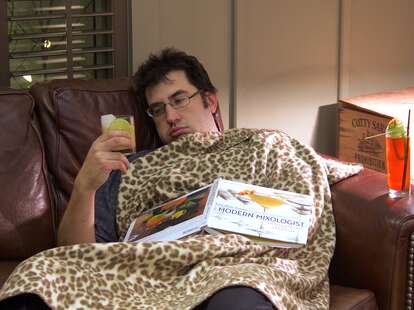 Everybody's got their go-to hangover cure, whether it's coconut water, greasy diner food, or just watching She's The Man on repeat while weeping. And a little hair of the dog always does the trick! Actually, dietitians argue that you're setting yourself up for a compound hangover by drinking your morning-after breakfast.
We suggest you ignore the dietitians and combine booze with your favorite hangover-busting cures, just like in these kick-ass cocktails. We tasked Dave Shenaut -- former Oregon Bartenders Guild president and current bar director at Raven & Rose -- with doing just that. Behold, a boozy breakfast in a glass, Gatorade Pimm's, and other miracles of medical bartending.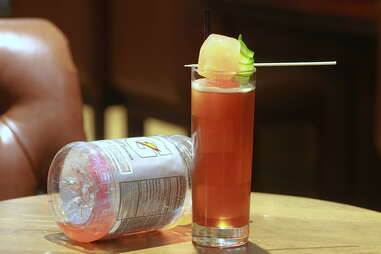 Replenish lost electrolytes while feeling particularly British with this Michael Jordan-approved (Ed note: Michael Jordan did not approve this) take on a classic.

Watermelon Pimm's Cup
INGREDIENTS:
2 ounces Pimm's
1/2 ounce lemon juice
1/2 ounce simple syrup
4-5 Watermelon Gatorade ice cubes
Ginger ale
DIRECTIONS:
Throw Pimm's (go ahead, call it "pimp's"), lemon juice, and simple syrup into a shaker of ice, then double-strain it into a highball glass full of Gatorade ice cubes.
Fill the rest with ginger ale.
Dave recommends garnishing it with another ice cube, plus a little spice (he used a cucumber/chili flag, which we're sure you have lying around).
Hitting some of the essentials of an after-drinking breakfast -- minus the grease and waiting in line with a bunch of hipsters -- this bad boy's got protein, sugar, and beer. Basically the cornerstones of any first meal.

Black Car Flip
INGREDIENTS:
3/4 ounce brandy
3/4 ounce 151-proof rum
1/2 ounce simple syrup
1/4 ounce amaretto
1 egg
Chocolate stout
DIRECTIONS:
Dump the brandy, 151, simple, amaretto, and a whole egg (no shell, dumbass) into a shaker of ice and jostle it for a while, so it disperses and thickens.
Then double-strain it over ice, and hit the top with a nice chocolate stout like Sammy Smith.
If you're a breakfast completist, it pairs exceptionally well with bacon, so maybe do that too.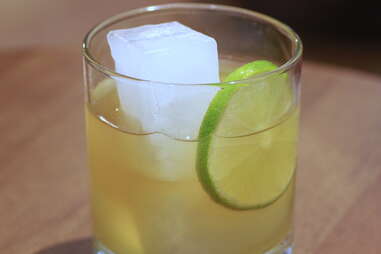 Named for a legendary Portland bartender and not a crazed Bavarian monarch, this sucker offers a tropical take on electrolyte replenishment and hydration... plus a little Caribbean flavor. It'll start as a stiff and tasty drink before mellowing and inspiring you to put on some Lee Scratch Perry.

Ludwig's Folly
INGREDIENTS:
2 ounces Jamaican rum (Smith & Cross recommended)
1/2 ounce lime juice
1/2 ounce pineapple juice
2 dashes Angostura bitters
3 coconut water ice cubes
DIRECTIONS:
Basically, just throw everything in a glass and stir it.
Then stir it every time you take a sip, allowing the coconut water to infiltrate it and transform its flavor.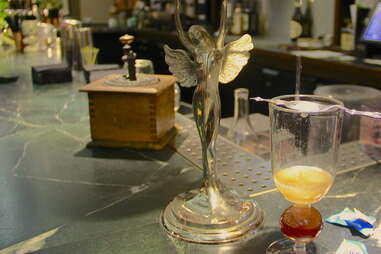 Face it: unless you live with a nurse or work in a hospital, your chances of getting a hangover-busting IV drip are small. But the Sloe Drip makes up for it, because few hospitals serve absinthe.

The Sloe Drip
INGREDIENTS:
1 ounce sloe gin
1/2 ounce absinthe
1 tablet of Alka-Seltzer Gold
DIRECTIONS:
Put your sloe gin and absinthe in a glass, then slowly drip cold water over an Alka-Seltzer atop an absinthe spoon (usually used for sugar) and let it drain into the booze.
Don't have a fancy, slow-dripping cold water dealy? Plebeian. But hey, you can always just toss an Alka-Seltzer in a little ice water, pour it in, and drink up.