If you've spent any time in liquor or beer stores lately, you've noticed that one of your favorite childhood beverages (not these ones) is coming back in a big way as an adult option. Hard root beer has seen a huge spike in sales in the past year -- stores can barely keep it stocked across the country -- and many brewers are cashing in on the trend. To make sure you can go out there and make the right decisions, we got our hands on some of the most popular versions in the country to see what all the hype was about. Grab some vanilla ice cream: things are 'bout to get real.
Not Your Father's Root Beer
Small Town Brewery (address and info)
Wauconda, IL
The sales numbers for this product mean that there's a good chance this is the first hard root beer you tried. There's no denying that it's really, really sweet… but this is borderline dangerous. Is there alcohol in this? Oh wait, it's 5.8% ABV?! If you can get past the syrupy mouthfeel and the metallic finish, it's not hard to see why this is becoming a go-to for the masses. If you're sold on this, there's also a 19.5% ABV version that is hard to track down, but very popular if rating message boards are to be believed.
Hard Root Beer
Coney Island Brewing Co. (address and info)
Brooklyn, NY
I was pretty convinced that this was going to be my favorite of the group while I was nosing this one. The scent of vanilla bean and sarsaparilla is bright and abundant, which probably has to do with the fact that this likely has a shorter brewery-to-shelf time than other hard root beers. On the first sip, things immediately change, with a rich body and an almost syrupy finish. It's the "boozy adult version of a soft drink" many are expecting, without the slightly tinny aftertaste that a few hard root beers seem to be unable to shake. It tips the scales well into the sweet category, which could cause you to forget it's 5.8% alcohol, but for those with a sweet tooth, this is a great option.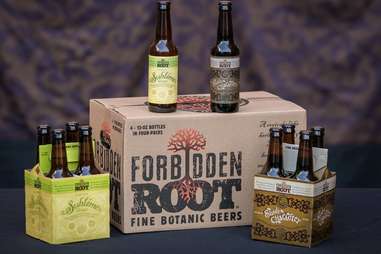 Forbidden Root
Forbidden Root (address and info)
Chicago, IL
If boozy root beers were people, Forbidden Root's 4.2% take would be the refined older brother who went to culinary school and knows how to use a spice cabinet. Forbidden Root seems to have found the perfect blend of ingredients to get the aromatics right without having to knock your palate out with a sugar bomb. It's soft and subtle, and, when tasting it side-by-side, makes the others taste like candy. It also makes sense that this was developed by a brewery that was partially founded by the beer-taster maestro himself, Randy Mosher (his book Tasting Beer is a must-read for beer lovers). There's not even a hint of syrupy sweetness here -- just a beautiful bouquet and a dry finish that makes it much easier to savor again and again.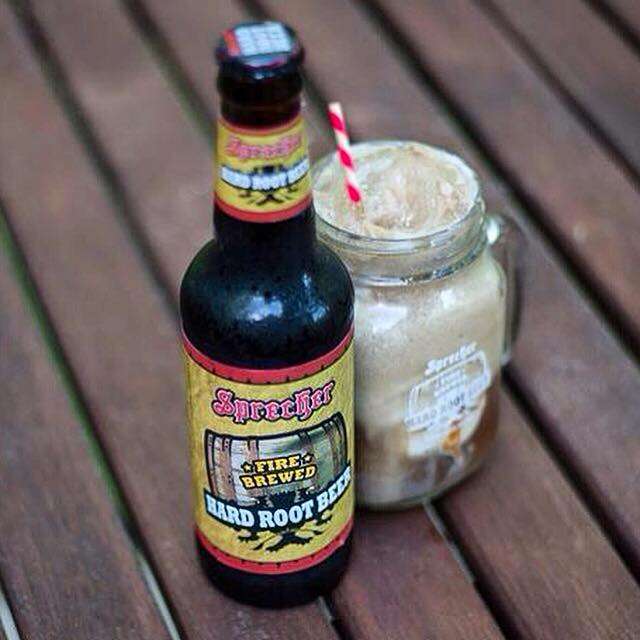 Sprecher Fire Brewed Hard Root Beer
Sprecher Brewing Company (address and info)
Glendale, WI
It's not surprising that Sprecher has a solid hard root beer, given that it's the sole brewery on this list that already produces a very popular soft root beer (of which I'm a big fan). The booze is definitely more noticeable in this than the others sampled, though: the finish has a decent amount alcoholic heat, and a lack of balance away from sugar is almost the last thing you'd expect from a company that produces a soda. I was able to sample a draft version months ago that tasted much better (maybe due to the carbonation being more lively). This is very much still something that tastes like root beer with a shot of something in it, and the drop in sweetness can make it easier to get into for those without a strong sweet tooth. One big upside is the slightly lower alcohol content (5%), which has me thinking I can use this as the base to some creative cocktails.
Mission Hard Root Beer
Mission Brewery (address and info)
San Diego, CA
Oh boy. When a root beer clocks in at 7.5% and the vanilla, caramelized sugar, and sarsaparilla flavors are so integrated that you can't even tell how boozy it is as it hits your lips, you may be in trouble. The finish to this is sugary and spicy enough to cut the heat, and your tongue is none the wiser. But it feels just barely less syrupy on the tongue than most others on this list, which makes it feel much less root beer-y. In a toss-up with the other root beers in this category, I think this one wins for the best to use for boozy root beer floats for that reason.
Author's Note: We reached out to Missouri's Root Sellers for a sample of Row Hard, as one of the higher-rated hard root beers on the market despite very limited availability. Unfortunately, the sample has yet to arrive at press time, but we will update you if it ends up making the cut.
Sign up here for our daily Thrillist email, and get your fix of the best in food/drink/fun.
Zach Mack is Thrillist's contributing beer writer, the owner of Alphabet City Beer Co. in NYC, a newly minted cicerone, and nothing else. Follow him @zmack.