Every day, you'll find Maurice Kanbar having a martini with his lunch. After all, the longtime entrepreneur deserves it. Following the sale of his first vodka brand, which allowed him to donate millions to charity, Kanbar is in the honeymoon period of his latest win: Blue Angel Vodka.
But for the 89-year-old Kanbar, Blue Angel Vodka is different. It's a sort of victory lap that both stands up in a martini and donates to arts and philanthropy groups around Blue Angel's hometown, San Francisco.
That's because the brand's core ethos is centered around giving back. From the initial capital raised to start the brand, Blue Angel Vodka is donating $100,000 to charitable organizations in their community, like the USBG National Charity Foundation, the San Francisco Film Festival, the Caley J Brown Foundation, and Guide Dogs for the Blind. "Usually when companies give away money they take it from their revenue," says Tsach Gilboa, the COO of Blue Angel Vodka. "But we wanted to have funds from the start that we donated to philanthropy -- even before we were financially successful."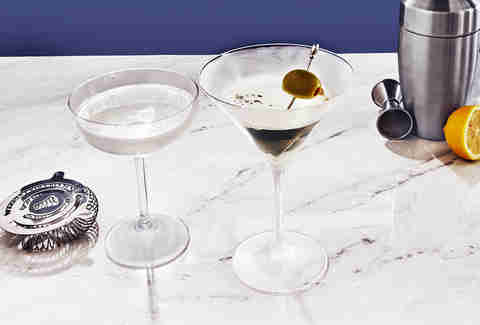 Although Blue Angel Vodka has plans to contribute to charities outside of the Bay Area in the future, the company followed Kanbar's lead with a plan to give the majority of its initial funds to organizations in the city where it's based. "Blue Angel Vodka is one of the few spirits produced in the Bay Area," Gilboa says. "Not only does Kanbar have ties to those charitable organizations personally through his own philanthropy, he wanted Blue Angel Vodka to have those ties to their community as well."
Kanbar has a long history of using his success to fund good causes, including a number of LGBT organizations, like the San Francisco Gay Men's Chorus. Kanbar's mission with Blue Angel Vodka is to give back to the city he has called home since 1984, while creating a highly drinkable, smooth vodka that appeals to everyone (including critics: Blue Angel Vodka won double gold at the San Francisco World Spirits Competition).
"It's an added incentive," Gilboa says. "If you're going to have a drink already, you might as well make it a drink that gives to a good cause. Our motto is drink responsibly, drink altruistically."
If you're looking for a way to have a delicious drink and help those in need at the same time, here are four cocktails you need to try.
Blue Angel Martini
Ingredients:
3 ounces Blue Angel Vodka
3 dashes Dry Vermouth
1 or 3 olives, for garnish
Directions:
Add vodka and dry vermouth to a shaker tin with ice and shake
Strain into a chilled Martini glass
Garnish with one or three olives -- never two (it's bad luck)
Blue BAM
Ingredients:
3 ounces Blue Angel Vodka
A splash of blue Curaçao
Lemon twist, for garnish
Directions:
Add Blue Angel Vodka and blue Curaçao to a shaker tin with ice. Shake.
Strain into a chilled Martini glass
Garnish with a lemon twist
Blue Angel Vodka Soda
Ingredients:
1 1/2 ounces Blue Angel Vodka
3 dashes Bitter Truth's olive bitters
Soda water, to top
Directions:
Add cubed ice to a highball glass
Add the bitters and vodka to the glass and top with soda water
Stir with a bar spoon to incorporate
Blue Angel Mule
Ingredients:
1 1/2 ounces Blue Angel Vodka
1/2 ounces lime juice
4 ounces ginger beer
1 lime wedge
Directions:
Combine Blue Angel Vodka and lime juice and pour over ice in copper mug
Add ginger beer
Garnish with lime wedge