Hide a ton of booze in this famous chain's smoothies
You could wait until you vacation on a alarmingly inexpensive cruise ship tropical island to enjoy smoothies packed with liquor, but it's way more fun to go to the nearest Jamba Juice on a lunch break and recreate those boozy tropical drinks by spiking the smoothies right there. To help us, we tapped bartender/ GM/ evil genius Burton Daniel from Colorado cocktail joint The Bitter Bar to create liquor-filled fruit concoctions using Jamba's juiciest creations.
Smoothie: Pomegranate
The Cocktail Our Booze-Filled Version Is Based On: Mexican Firing Squad
How To Booze It Up: First off, dump a fifth of the smoothie out, as you'll need room to add booze. Using the real pomegranate in the smoothie to sub for the grenadine present in the original, he added 3.5oz of Suerte Reposado Tequila (or any reposado will do), .5oz of allspice, and 8 dashes of Old Fashioned bitters. It's a "Winter-style cocktail" that has some definite X-mas flavors.

Smoothie: OJ, Strawberries, Bananas, Fro-Yo
The Cocktail Our Booze-Filled Version Is Based On: Harvey Wallbanger
How To Booze It Up: Like the Naked Gun movies, there's already plenty of OJ in this, so there's no need to add any more -- just 3oz of vodka (they prefer the fancy Reyka Icelandic stuff), and 1oz of Galliano.

Smoothie: Blueberry, Strawberry, Raspberry Sherbert
The Cocktail Our Booze-Filled Version Is Based On: A Super Fruity Wheat Beer
How To Booze It Up: Wheat beers have banana esters in them, so we're simply working with the naturally occurring "bready, banana flavors" of brews like the Firestone Walker Solace (any other German-style hefe will do) by adding 4oz of beer to the smoothie. After taking sips of it, Daniel commented that it'll "get you intoxicated" because you can't even taste the booze.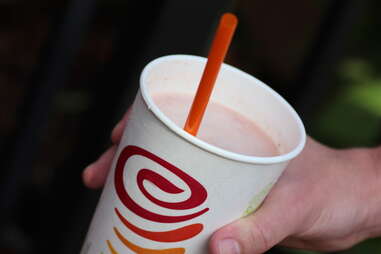 Smoothie: Orange Sherbert, Strawberry, Peach, Passionfruit Juice
The Cocktail Our Booze-Filled Version Is Based On: Hurricane
How To Booze It Up: Unless you primarily drink in bars in the French Quarter, it's tough to find a watering hole that stocks the passionfruit juice that's key to a proper Hurricane. Luckily, Jamba Juice did it for you by including it in the smoothie; simply add 2oz of both Bacardi Silver and Lemon Hart 151 Demerara Rum, and you're all set.
Smoothie: Pineapple Sherbert, Bananas, Strawberries
The Cocktail Our Booze-Filled Version Is Based On: Singapore Sling
How To Booze It Up: Find a gin that's "light and on the floral side" like Caprock Gin/ Hendrick's/ G'Vine, and pour in 4oz. Then add 2oz of Cherry Heering liquor and 8 dashes of bitters. Boom: now your mouth's on vacation.

Smoothie: Strawberries, Peaches, Lemonade
The Cocktail Our Booze-Filled Version Is Based On: Every Single Shot Popular With Sorority Girls
How To Booze It Up: To make a drink that Daniel says "smells like college", pour in 2oz of Branca Menta (this replaces Jager, and adds "heavier mint" flavors), 1oz of Pierre Ferrand Dry Curacao, and 1oz of Reyka Vodka. He's nicknamed it Redheaded Ninja Surfer Sluts On Acid, aka the sort of name you come up with after suffering brain freeze from drinking too many boozy smoothies.