3 festive cocktails to help you survive the holidays
Surviving the holiday marathon is like playing Zelda: Ocarina of Time and trying to defeat Ganondorf without the Master Sword. IT'S HARD. But boozy winter drinks help. If you want to mix these up and then lock yourself in your childhood bedroom and pull your old N64 out of the closet, we won't judge. Survival is hard.
Greg Rice
Figgy Pudding Fizz

Yield: 1 drink
INGREDIENTS:
2 ounces Plymouth Gin
1 ounce fig syrup (ingredients below)
1/4 ounce fresh-squeezed orange juice
1/2 ounce fresh-squeezed lemon juice
1/4 ounce allspice liqueur
1 egg white
1 ounce heavy cream
Club soda
DIRECTIONS:
Simmer fig syrup ingredients until sugar is completely dissolved, about 3 minutes. Let cool.
Add all ingredients except club soda to a mixing glass, and dry shake for 10-30 seconds. 
Open the shaker and add ice, then shake vigorously.
Pour into a highball glass with no ice, gradually adding splashes of club soda to "inflate" the level of foam at the top.
Greg Rice
Appleberry G&T

Yield: 1 drink
INGREDIENTS:
1¾ ounces Beefeater Gin
1/4 ounce Lejay Crème de Cassis
1 ounce cloudy apple juice
Fever-Tree Elderflower Tonic Water
1 dash orange bitters
DIRECTIONS:
Build over ice in a highball glass, and stir.
Garnish with a lemon wedge and two currant berries.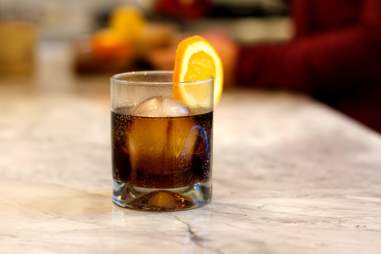 Monkey Rum
Monkey Business

Yield: 1 drink
INGREDIENTS:
1 ounce Monkey Spiced Rum
1/2 ounce Monkey Coconut Rum
Cola
2 dashes Angostura bitters
Lime
Orange slice, for garnish
DIRECTIONS:
Combine rums in a highball glass over ice, and top with cola.
Add bitters, and squeeze lime wedge over.
Stir to combine, and garnish with orange slice.