Forget presents. For us, the holidays are all about cozy hot cocktails and festive après ski libations. And it seems that our favorite bartenders are on the same page—they've been busy mixing spiced takes on the classics or signature drinks infused with seasonal flavors. Whether you're throwing a holiday bash or simply want to unwind after a long day with something festive in hand, take some inspiration from these eight bartenders' favorite holiday drinks.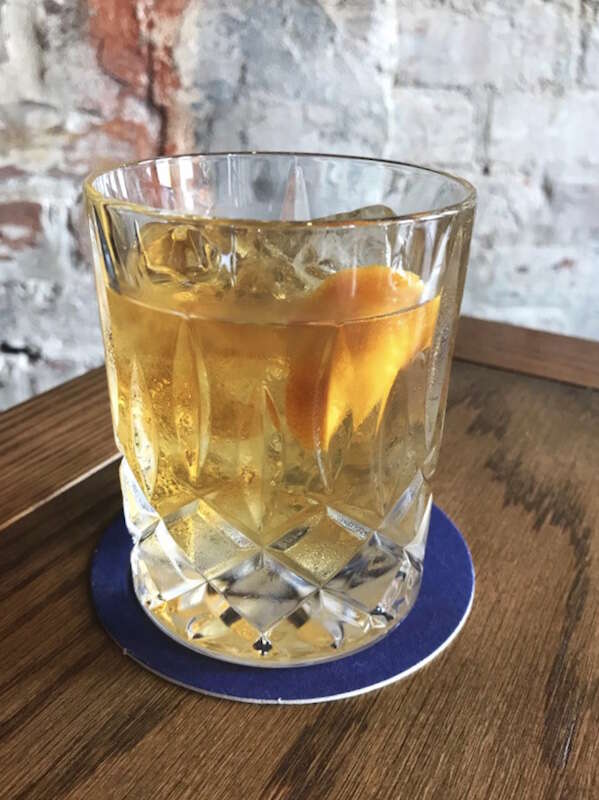 "I love making ginger Old Fashioneds for the holidays. This one is named for my favorite Wilco song that often puts me in a cheerful holiday spirit."
Heavy Metal Drummer
• 2 ounces bourbon
• .25 ounce ginger syrup or ginger liqueur
• 2 dashes each of orange and Angostura bitters
Stir with ice and garnish with a flamed orange peel and cherry. Rock and roll!
"I'm from North Louisiana where everything comes in a casserole dish, particularly around the holidays. We use bourbon in our sweet potato casserole, and just the smell of it cooking is delightful. I got to thinking: If it's that good cooked in a casserole, it has to be great in a glass."
Casserole Cocktail
• 2 ounces bourbon
• .5 ounce dry orange curaçao
• .5 ounce fresh lemon juice
• 1 ounce sweet potato syrup (see below)
• Grated nutmeg, for garnish
Combine all ingredients in a cocktail shaker filled with ice.
Shake hard and pour entire contents into a large rocks glass.
Garnish with grated nutmeg.
Sweet Potato Syrup
• 2 pounds sweet potatoes or Louisiana yams
• 6 cups water
• .5 cup whole cloves
• .2 cup grated nutmeg
• 2 cups dark brown sugar
• 1 cup bourbon
1. Roast unpeeled sweet potatoes, uncovered, in a 400 °F oven until tender. Allow sweet potatoes to cool, and then peel.
2. Cut potatoes into 3-inch pieces.
2. Place sweet potatoes in a large pot or Dutch oven, add 6 cups of water, cloves and nutmeg. Bring to a rolling boil and add dark brown sugar. Reduce heat to a simmer and allow to cook for 1.5 hours.
3. Allow mixture to cool and strain through a chinois. Allow syrup to completely cool.
4. Stir bourbon into syrup and store in glass bottles. Keep refrigerated for up to three weeks.
"The Jack and Sally is the perfect drink for the fall/winter season. I love mezcal, and I wanted to marry it with pumpkin, seeing as how you can find pumpkin in pretty much everything besides cocktails these days. It's a well-balanced sour that hits all of those fall flavor notes."

Jack and Sally
• 1.5 ounces mezcal
• .75 ounce fresh lime juice
• .5 ounce cinnamon syrup
• 1 bar spoon pumpkin butter (Soto uses Trader Joe's)
• 1 egg white

1. Combine the mezcal, lime juice, cinnamon syrup, pumpkin butter and egg white into a cocktail shaker and dry shake for 10 seconds to foam the egg white.
2. Add ice and shake vigorously.
3. Double strain into a coupe glass and garnish with freshly grated nutmeg.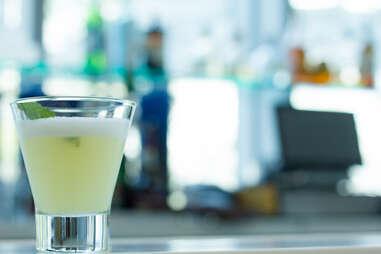 "Not only is the Pisco Sour my favorite holiday drink, I think Pisco is becoming the latest darling of the bar set. It's versatile, exciting and a fine spirit distilled from select grapes. With this love for the Pisco Sour in mind, I created a unique version for Atton Brickell Miami."
Atton Pisco Sour
• 2 ounces Pisco
• 1 ounce fresh lime juice
• 1 ounce simple syrup
• .5-1 ounce egg whites
• 1 drop Angostura bitters
1. In shaker with 5 large ice cubes, combine liquids, adding egg white last. Do not add the bitters to the mix.
2. Shake vigorously for 10 to 20 seconds and immediately strain into a rocks glass. Be careful not to allow any ice to pour into the cocktail—too much ice is the enemy of a great Pisco Sour because it will melt and dilute the cocktail.
3. Garnish with a single drop of Angostura bitters in the middle of the cocktail.

"The first thing that comes to mind when thinking about imbibing around the holidays is whiskey, usually neat. Between family obligations, parties and presents, a drink that's quick and stiff is probably in order. But when I do have time to sit down and relax with a nice mixed drink, there are two classics I always return to: the Hot Toddy and Mulled Wine. The former is simple and warming with no frills needed to make it excellent. I also love a good Mulled Wine—this is a fun one to do for family gatherings because you can make a big batch to share."

Mulled Wine
• 1 750-ml bottle dry red wine
• 1 cup apple cider
• 1 orange, sliced into rounds
• .25 cup brandy
• .25 cup oloroso sherry
• .25 cup honey
• 8 whole cloves
• 2 cinnamon sticks
• 2 star anise
1. Combine all ingredients in a pot and bring to a boil. Allow to simmer for 10 minutes until flavors incorporate fully.
2. Ladle into mugs and garnish each a with cinnamon stick, orange slice and star anise. Get cozy!

"The Jack Frost is an original meant to evoke all the beauty of winter and the holidays. The warmth of the whiskey and the astringent piney aromatics awaken the senses and arouse good cheer."

Jack Frost
• 2 ounces rye whiskey
• .75 oz Bonal Gentian-Quina
• .25 oz Elisir Novasalus Amaro
• 1 bar spoon Clear Creek Douglas Fir Eau de Vie

1. In a chilled Nick and Nora cocktail glass, drizzle the eau de vie over crushed ice and let rest.
2. In a separate mixing glass, add the Rittenhouse, Bonal and Elisir Novasalus. Add ice cubes and stir 60 revolutions.
3. Dump ice from Nick and Nora leaving the Douglas Fir rinse in glass, and strain contents from mixing glass into the rinsed glass. Garnish with mirth.
"As a kid, I always enjoyed Eggnog as a seasonal treat. But as an adult, I discovered that many of my friends didn't enjoy the flavor or consistency of Eggnog. Luckily I discovered Flip cocktails. Essentially, a Flip is homemade Eggnog that utilizes a whole egg to give the drink its rich creaminess. The addition of allspice dram, maple syrup and freshly grated winter spices provide the perfect holiday flavor profile. As a whiskey lover, it satisfies my craving for an after-dinner drink and dessert at the same time."
Bourbon Flip
• 2 ounces bourbon
• .5 ounce bourbon barrel-aged maple syrup
• 1 whole egg
• 1 bar spoon Allspice Dram
• 1 oz half and half (optional)
• Grated nutmeg and cinnamon, for garnish
1. Place all ingredients into a cocktail shaker and dry shake.
2. Add ice to the shaker and vigorously shake again.
3. Strain the cocktail over crushed ice. Garnish with grated cinnamon and nutmeg.
"The Tom & Jerry is one of those things that you just have to make once a year, and hopefully you have some people to share it with as it does take a bit to prepare the batter. Some will remember the '50s style 'instant' Tom & Jerrys that were just sugar and preservative and fake egg and spices. This version will warm you to the core after shoveling/skating/grilling outside."

Tom & Jerry
• 18 egg yolks
• 12 egg whites
• About 3 cups sugar (to taste, should be quite sweet)
• 2.5 teaspoons ground cinnamon
• 1.5 teaspoons ground allspice
• .5 teaspoon ground clove
• Half of a nutmeg, grated
• Half of a vanilla bean, scraped
• .75 ounce orange liqueur
• 2 dashes Angostura bitters
• Whiskey, rum, or brandy
• Whole milk, to top

1. Add the yolks to a bowl and beat the sugar into them. It should start to get grainy, but not be too paste-like. If you can't feel the sugar between your teeth, it's not enough. If it looks like more sugar than egg and doesn't want to stir, it's too much. (I always end up adjusting to desired sweetness level. It will need to be very sweet as this will have to carry the sugar for the whole final drink.)
2. Add all of your spices, then slowly add the orange liqueur and the Angostura bitters. Separately whip the whites to stiff peaks, then fold them into the mix to make your batter. If you can leave this covered in your fridge, it will taste better the next day.
3. To make the drink, warm mugs by filling them with boiling water (then dump). Place whole milk on the stove and simmer gently so it doesn't scald. Add 2 ounces of batter and 2 ounces of preferred spirit (I like mine with whiskey, but rum or brandy is also delicious) to your warmed mug.
4. Finish with the hot milk, adding bit by bit, always stirring (if not, you will get a mug of scrambled eggs). Garnish with some more freshly grated nutmeg.