11 Home Bar Essentials You Need to Own
Having a home bar is fast becoming like owning a home refrigerator -- you're just expected to have one, and calling it "home" is getting weird. Thankfully, building your own bar is way easier than building your own fridge. All you need is a few essentials tools and an indispensable spirit -- like Lunazul Tequila. We talked to Greg Boehm, owner and founder of Cocktail Kingdom, to get recos on where to start.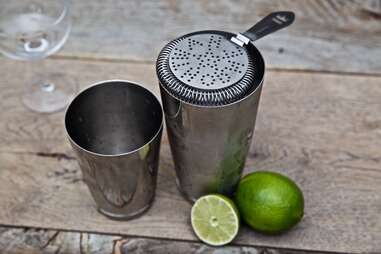 Koriko Large Weighted Shaking Tin, $8.95
Koriko Small Weighted Shaking Tin, $7.95
"For shaking, I like using two tins -- 28oz. and 18oz. -- that you can smash together," says Boehm. "There's plenty of volume in that so you can make two or three drinks at a time, which is an advantage."

Koriko Hawthorne Strainer, $14.95
Lots of necessary, yet not texturally tasty, ingredients go in a shaker. Boehm recommends a Hawthorne strainer for your post-shake pour: "If it's got a nice coil, it'll keep the ice shards out, the lemon seeds, and pulp as well."
Leopold Jigger, $18.95
Eye-balling measurements is fine for basic drinks, but even pros measure carefully for complicated cocktails. "You want a basic but well-made jigger," says Boehm. And this is definitely a case of getting what you pay for. "A lot of inexpensive jiggers just aren't accurate," he adds. The easiest way to check is to pour out the booze you've just jiggered and measure the weight independently. If it doesn't jive with the jigger's measurements, you've been bamboozled.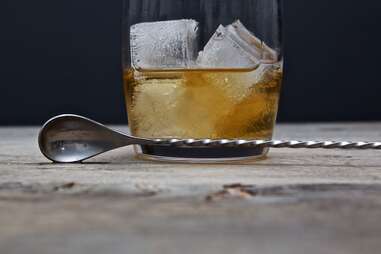 Hoffman Barspoon, $19.95
Here it's mostly about the aesthetic. Do you look like a super cool dude stirring drinks with this bar spoon? Then it's good. Bonus simple tip: if the drink has citrus or cloudy ingredients, shake it. Clear? That's a stir. Yes, that means Bond has been screwing up martinis for like 60 years. Got the difference between shaken and stirred down? Test your skills when you make these seven original Lunazul Tequila cocktails.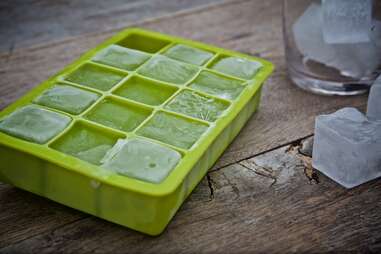 Two 1.25in Square Ice Cube Trays, $6.95 each
Ice is as much an ingredient in a good drink as anything else. "You need to get proper dilution plus the actual cooling," says Boehm. For the truly obsessive, even the proper temperature of your cocktail is key. Boehm recommends a frost of -6 or -7 degrees celsius for tasty town.
Mexican Queen Beehive Juicer, $19.95
Making drinks is as much of a performance as cooking. And like Boehm says, "It's really fun to use a Mexican elbow juicer. It's all about the theater of it." They're good for lemons and limes, just make sure you get one big enough to handle your larger lemons, as having two of these contraptions is a bit of a waste… though on the other hand you'll be able to say, "I dual wield Mexican elbow juicers."
Danuta Double Rocks Glass 4-Pack, $31.95
Not sure what kind of fancy goblet to pour your drink? If it's got ice in it, you're good with a rocks glass. As Boehm notes, "There are a ton of different varieties and styles." So go with what suits your sensibilities best, even if it's anime dragons -- you do you, friend.
Leopold Coupe Glass 6-Pack, $41.95
Cocktail doesn't have ice? That calls for a coupe glass -- for margaritas and martinis. "The conical martini glass was short-lived, thankfully," says Boehm. While it looks cool, the relic of the '80s is highly impractical and the inevitable spillage is good booze down the drain (or your pants). Lunazul is not to be wasted.

Two Beveled Bitters Bottles, $19.95 each
This is just for the sake of saving time and looking cool. But, super important: do not leave your simple syrup and other low-to-no-alcohol mixers on the bar. All that sugar attracts funky mold and bacteria, and without a significant ABV, no liquid can fight that gunk off. Keep them in the fridge until company arrives.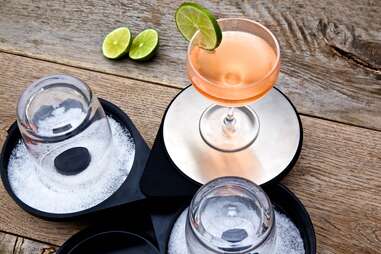 Salt Rimmer, $15
While not one of Boehm's must-haves, this is a Thrillist pick that's essential to a good margarita. But it goes way beyond salt, a crunchy ring of sugar or other fine grains can be easily applied with the help of this simple device. Sure, doing it by hand is an option, but only if you want to be caked with whatever you're using all night.

Asanoha Carafe, $14.95
So much of drink slinging is performance. And though Boehm didn't add these to his list, serving batch cocktails or a fine añejo from a carafe like some Gatsby-ish baller is kickass.
Warehouse Trolley Bar Cart, $795

Ok. So you've got your bar tools covered, but where exactly are you going to keep them? Are you going to just throw them in your kitchen cabinet next to the pots and pans you never use? No way. You need a super luxe bar cart to up your home bar game. Now, THAT'S setting the bar.