Food & Drink
Sponsored by

These Iconic LA Dive Bars Preserve Their Past Through Wall Art
Sponsored by

A good dive bar usually has the same things: cash-only signs, a decent jukebox, maybe a pool table. But a great dive bar wears its stories like service medals, with the best tales hidden in plain sight, whether in a series of fraying photographs or as an enormous mural depicting decades of American history.
To tell these stories, we dove into the beautifully cool, occasionally bizarre history of three beloved Los Angeles bars -- Hinano Cafe, The Frolic Room, and Tonga Hut -- each featuring their own renowned relics hanging on the walls. From Prohibition days to the height of Tiki culture in the '60s, prepare for run-ins with Frank Sinatra, a makeshift wall of fame, and what might have been a shark with an axe to grind.
Street sharks and a trip to Tahiti
When civil engineer and sailor Mark Vangessel roller-bladed into Hinano Cafe nearly 25 years ago for a drink near the Venice boardwalk, he heard the bar was up for sale. He knew he needed to jump on the chance to save everything that made Hinano the perfect dive: sawdust on the floor, a free popcorn machine, and a grainy photo of a lost shark swimming in the bar's parking lot.
"The other person who wanted to try to buy it wanted to gut it and make it fancy," Vangessel says. "I'm like, 'Would I be able to come in roller blades and hang out?' The guy says, 'Well, no, it'd be too nice.' I'm like, 'Well you can't have that.'"
Besides saving Hinano's anti-fancy sawdust aesthetic, Vangessel also saved a staple artifact from the old owner: A series of photos near the entrance capturing the January 1983 flooding of Washington Square. Hinano was under about five feet of water (the waterline is still visible on the wall). And yes, one of those images shows an outline of what many patrons believe to be a lost shark swimming around just outside the bar.
"When the water finally receded, there ended up being a shark stuck there," Vangessel's wife Addie claims.
Since Mark and Addie did not own the bar at the time, they can't confirm the shark visit. But we wouldn't be surprised if it were true: As Vangessel tells it, Hinano's original owner, Joe Oarson, started Hinano in 1962 after taking a long, strange trip to Tahiti in 1959. The story goes that Oarson was bartending on Catalina Island when he ran into sailors who were looking for a third shipmate to sail to Tahiti. Oarson joined the crew, went to Tahiti, and wound up frequenting a dive on the island called Bar Hinano -- during which he was cast in a Marlon Brando film.
"When [Joe] was over in Tahiti he ended up being an extra on [the Marlon Brando film] ​Mutiny on the Bounty," Vangessel says. "And that's how he saved his money, came back to the US, and had enough money to start a bar. He wanted to start a bar with that kind of island feel and theme, and that's how Hinano got started."
Beachgoers who come in to shoot pool or listen to live music might not realize the wandering life of a seaman is still all around Hinano. There's a captain's sign that was once a rudder from an old boat. High-top tables are lined with hatches and thick rope. Hell, just take a look down at the bartop beneath your frosty beer glass and LA-famous cheeseburger: The bar itself is made from old wood from a boat deck, and it's original to when Hinano opened.
Stars like Jim Morrison and Billy Idol used to frequent the bar and even play a few random sets. It's also where Jane Fonda and Jack Lemon shot a scene for the 1979 flick China Syndrome (and the fireplace they were in front of is still there). But you won't see guitar picks or photos showing off any celebrities who've come to soak up its laid-back charm. That's Hinano code: What happens in Hinano, stays in Hinano.
Advertisement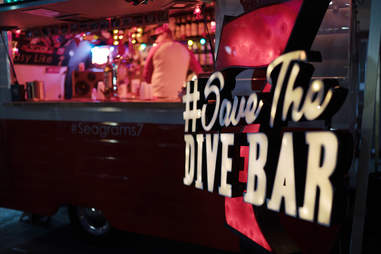 Courtesy of Seagram's 7
Everyone has a story that took place in a dive bar. Sometimes those stories live on in photos. Sometimes they make a cameo in the bar's verbal history. No matter how they live on, it's dive bars we have to thank for being a history book of the neighborhood -- and no one knows that better than Seagram's 7. So on July 7 -- National Dive Bar Day -- celebrate where your stories take place with a Seagram's 7 and 7. It's smooth and easy, just like the dives that have served it for decades.
Sylvie Krekow/Thrillist
Old Hollywood comes to life
Like other speakeasies that survived through Prohibition, The Frolic Room announced its above-board opening in 1934, kicking off an almost 90-year history as one of Hollywood's most famous dive bars. But almost more famous than the bar itself is Frolic Room's artwork: A landmark, floor-to-ceiling, celebrity-saturated mural that transports patrons back to the Golden Age of Hollywood.
"It's not that I haven't changed [the bar]," Robert Nunley says, who has owned the bar since 1982. "I've upgraded things. But you can't change the décor. People love [the mural]. People come in and take pictures of it all the time."
Depicting over 25 pop culture darlings (think Marilyn Monroe, Clark Gable, Albert Einstein, and Groucho Marx), it's widely believed the mural is an original Al Hirschfeld piece. Nunley confirmed it's actually a recreation, but even so, the mural depicts the most iconic personalities from an era of Hollywood that, for the most part, rose to prominence right next door at The Pantages Theater. The mural reflected a natural evolution: Once Howard Hughes bought the Pantages in 1949, turning it to the site of the Academy Awards until 1960, The Frolic Room became the closest watering hole for celebrity spillover. If you wanted to catch Frank Sinatra chatting up Judy Garland after a long night of award ceremonies, The Frolic Room would've been the place.
Even though he didn't make it into the storied mural, it's well documented by Charles Bukowski fanatics that the dive was one of the writer's favorite watering holes in the city. Which brings us to The Frolic Room's second most-famous artifact: The mysterious photo of Bukowski himself.
"That photo was there when I bought the bar," Nunley says about the black-and-white portrait of the writer hanging above the cash register. "I heard he always came here and had cocktails, and he used to go to Musso and Frank up the street."
Amid a neighborhood that's facing continued commercial development, The Frolic Room has managed to survive and thrive for nine decades. So Bukowski probably won't be the last famous icon sipping a dirty martini at the bar.
Maybe Neil Patrick Harris put it best, after his star was laid down on The Hollywood Walk of Fame in front of the dive in 2011: "This won't be the first time I've been plastered on the sidewalk in front of the Frolic Room."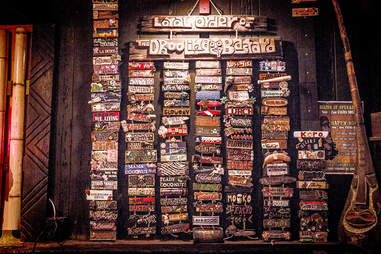 Courtesy of Tonga Hut
"The Loyal Order of the Drooling Bastard"
Lady coconut, Dr. Tiki M.D., Tonga Tom, Mojita Lolita -- more than 200 wood plaques with nicknames adorn a wall at Tonga Hut, the oldest surviving Tiki bar in LA. But the plaques aren't just kitschy pieces to match a bar already decked out in retro fountains, bamboo, and Tiki gods. The plaques are all made by hand from those whose names adorn them -- those who belong to the Loyal Order of the Drooling Bastard.
For patrons to make it into the prestigious Order, they need to embark on a year-long quest through 78 complex Tiki cocktails.
"What I tell people when they start their journey on the Grog Log is that it's cocktail archeology," says general manager Marie King, who has worked at Tonga Hut since 2012. "There's a lot of flavors in this book that they probably don't understand, or don't know, or have never been exposed to. So they get to learn."
The "Grog Log" was written in 1998 by Jeff "Beachbum" Berry -- and it features every cocktail you'll need to drink to make the Loyal Order. Berry spent years tracking down vintage recipes from the heydey of Tiki and Polynesian culture to build up this exotic tropical cocktail bible. So, by "Grog Logging" your way through each elixir featured in the book, like a Chief Lapu Lapu (orange juice, sweet and sour mix, passion fruit syrup, dark Jamaican rum, light Puerto Rican rum), you're time traveling not just through Tonga Hut's history, but Tiki history at large.
The height of Tiki was in full, tropical force in 1958 when brothers Ace and Ed Libby opened Tonga Hut in North Hollywood. Flaming Scorpions were on every menu and tiny umbrellas were in every cocktail. But as the '70s took over, the elaborate Tiki cocktails and the scene that came with them washed away.
While battling the kind of ups and downs that plague most bars, including the addition of sports TVs and a 'Pub Golf' game, the Hut came under new ownership. In 2005, the bar was restored to its Tiki glory just as the Tiki trend boomeranged back around. After fixing the fountains that had remained in the background of the bar for 40-plus years, The Loyal Order of the Drooling Bastard was officially awakened.
Since the competition started in 2010, around 600 people have completed their Grog Log journeys, creating a community of Tiki lovers along the way while celebrating the regulars who've visited Tonga Hut for decades.
"People will pick a day because they like a bartender and make that their regular day to come in after work and work on a couple Grog Log drinks," King says. "People love challenges, and it creates a kind of camaraderie to the people that are here and doing it together, you know? It's good to have goals in life, I guess."