How to Build a Home Bar: A Step-By-Step Guide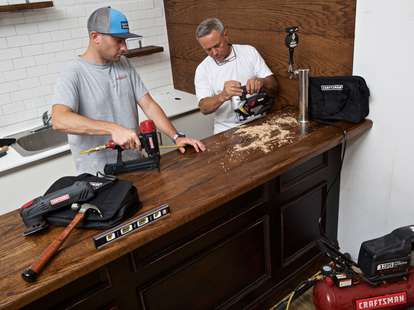 Anthony Humphreys/Thrillist
Anthony Humphreys/Thrillist
Editor's note: DIY projects range from the practical to the insane, but there's only one project you can really call essential: building your own bar. We tapped the carpentry team of Crisp & Son -- professional home renovators who also happened to build two of our favorite New York drinking spots, Whiskey Tavern & Whiskey Brooklyn -- to give us a layman-friendly, step-by-step guide to erecting a bar in your very own home, apartment, or dilapidated shack. Because when you have a bar, who cares what the rest of your place looks like?
We are building our new, home-watering hole to be 8' long and 24" deep. You can customize your own to fit most comfortably in the mancave, basement, nursery, garage, or whatever room your roommate/significant other allows. Standard bar height is 42" from the floor and depth is 24". Options for shape and size are virtually unlimited, but it's important to maintain the standardized height and depth. We've chosen a peninsula style, where our bar extends perpendicularly from an adjacent wall.
Rough Construction
Or framing, of your new work of (p)art(y). It's important to pay close attention to all measurements to ensure clean cuts, seams, and finishes. As Grampa always said, "Measure twice, cut once."
Tools You'll Need: Table, circular, and chop saws; impact screw gun; caulk/adhesive gun.
Materials You'll Need:​ 3 sheets of ¾" cabinet-grade plywood; 5 lbs box of 1⅝" coarse drywall screws; construction adhesive of your choosing.
Using a table and circular saw, cut your plywood sheets to the following dimensions: (1) to 87" x 40½" as barface, (2) to 40½" x 13¼" as barface ends, and (1) to 96" x 22" as bar top. You'll be taking the overlap dimension of the barrail into account when cutting your bartop piece, planning for the overall depth dimension to be 24". You're also allowing for another ¾" of height to be added by the hardwood finish material you'll eventually add to the bartop.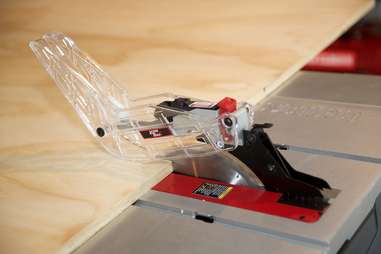 Trim & Dressing
Like the beard and hardpart on this masterpiece. This is where you make it your own. We have chosen a clean, classic hardwood top and rail, while our barface will be distressed picture moldings -- classy, with an edge. Oversized, colonial base moulding will round out the look.
Tools You'll Need: ​chop saw, finish-nail gun, air compressor and hose, caulk/adhesive gun, impact screwgun, random orbital sander, regular screwgun and drill bits.
Materials You'll Need:​ 12' of oak barrail; 8 x 8' pieces of standard, PFJ basecap; 1 bundle of gunstock, oak flooring; 1 x 12' piece of 5½" baseboard molding; construction adhesive of your choosing; small box of 1¼" finish-gun nails; 1⅝" drywall screws; 36" piece of 2" angle-iron.
Before installing your super-professional barrail, you want to lay out a few courses of the oak flooring and the barrail on the bartop to establish your stopping point. In the case of our selected barrail, six full courses of oak will bring where we need to be.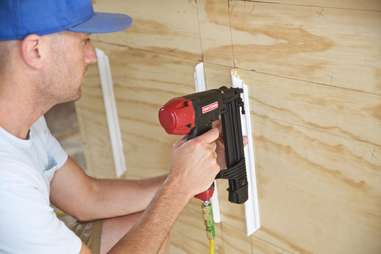 Standard 5½" colonial base molding along the bottom edge of your barfront will add classic character and subtle finish. Use a 45° mitre cut on the outside corner of the barfront. We're going with box mouldings on the barfront, a la your favorite Irish pub.
Start by laying out your boxes in a preferred pattern and spacing; this is totally based on personal preference. We are using standard PFJ basecap as the moulding for our boxes, but you should select whatever detail-moulding profile tickles your fancy.

Finishes
We're using an acrylic, honey-colored stain for the classic hardwood top and red and black water-based paints for the barface distressing. Over both the top and face finishes, we will apply multiple layers of an acrylic clearcoat to protect this beauty from any late-night, warm-buzz shenanigans.
Tools You'll Need: ​2 ½" angled-tip paintbrush, ​shop rags.
Materials You'll Need:​ 1 quart each of black and red, interior eggshell water-based paints; 1 quart of satin-finish, acrylic clearcoat; black pipe and fittings as per your footrail layout.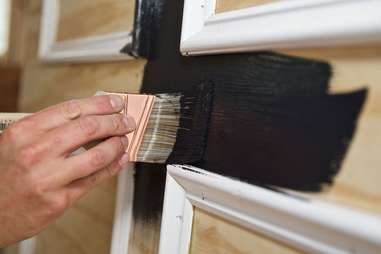 Accessorize your bar how you see fit. We went with a single kegerator set-up. We installed our tap handle on our bar top, which adds a killer element of authenticity. You can add bar mats, napkin holders, a garnish tray, mini umbrellas, tiny hula dancers -- you get it.
Your bar's foot rail should be 6" from both the floor and the barfront, and can be constructed from a variety of materials. For resilience and look, we're using standard gas pipe, fittings, and flanges to make ours.
Black pipe and fittings are available at your local home-improvement store. Remember to bring a tape measure along when you go to select your lengths and fittings; there is a lot of adjustment cushion in black pipe connections, which will help make spacing and symmetrical assembly pretty easy.
Now lace-up an apron, roll up your sleeves, and get your Brian Flanagan on. You've built yourself a kickass bar, and there's only one way to enjoy. Cheers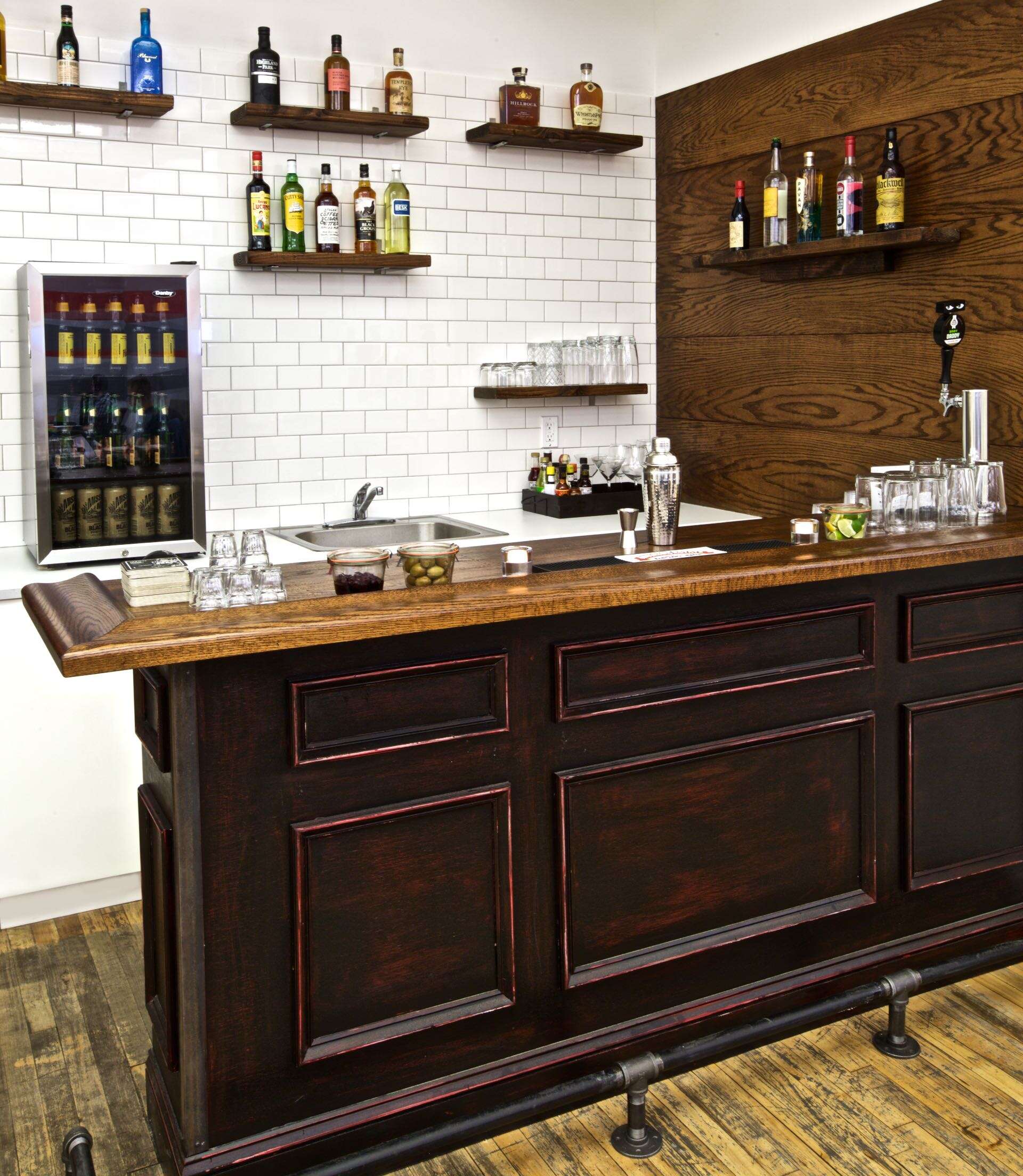 Need a quick refresher? Check out this time lapse video.