This should be America's newest drinking game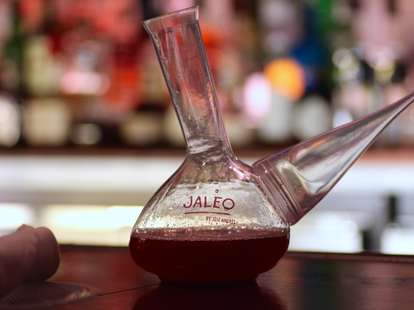 In certain parts of Spain, the porron -- a large glass pitcher with a long spout usually filled with wine or cider -- is used in drinking games, where the object is to gracefully pour wine into your mouth from as far away as possible without spilling everywhere. Essentially, this is Spain's ultra-classy beer bong. America is the country that invented beer pong, so how did we miss this?
Good news: Famed chef José Andrés' Jaleo restaurant in Las Vegas has introduced the walking porron, a plastic version of the drinking vessel that's designed to be used on the streets of Sin City. But using one is not easy to master, as we found out when we tried it out for ourselves.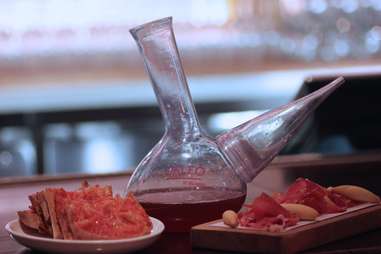 Lee Breslouer
What to drink from a porron
The walking porron is an exact replica of the traditional glass porron, but made of plastic. It still packs in 32oz of whatever you want to pour into it. If you're a billionaire, feel free to use it as a watering can.
They recommend filling it with porrones de cava (Spanish sparkling wine), porrones de clara (a shandy-like drink with beer and rosemary lemonade), or what I tried -- the refreshing porrones de sidre, a combo of dry Spanish cider (that's nothing like the hard cider here), housemade grenadine, and lemon juice.
Lee Breslouer
How to drink from a porron
This is the GM of Jaleo demonstrating for me how to drink from the porron. It's much easier than it looks, as you'll soon see. He recommends starting with it close to your mouth and then slowly pulling away and tilting your head back.
Gina Park
How not to drink from a porron
Do I look nervous in this photo? I am. But then I figured, how hard can it be? Just open wide and let the cider pour into your mouth. Within no time, I figured I'd be pouring this off the top of a building and then running down 10 flights of stairs to catch it in my mouth.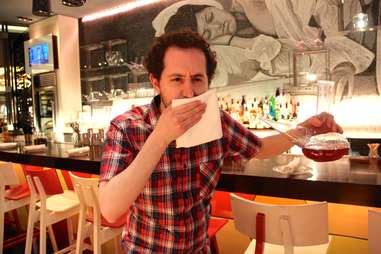 Gina Park
I spilled the not-uncheap cocktail all over myself on my first attempt. Bring along a napkin when you do this, because if you screw up, whatever you're drinking will end up all over your face.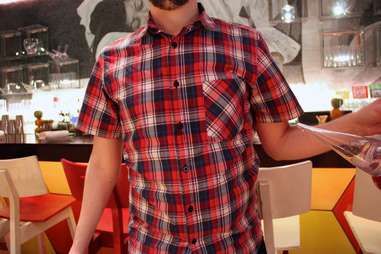 Gina Park
I'd also recommend wearing a red plaid shirt when trying to drink from a porron, because then it doesn't look like you need a bib to go out drinking.
Gina Park
I improvised a bib for my second try. Notice all the people in the background can't even look at me while I'm doing this. They were embarrassed on my behalf.
Gina Park
The porron didn't get this much farther from my face for the 15-20 minutes I tested it out. I was horrible, no doubt. Don't let my amateur attempt dissuade you, this is one of those things you can suck at and still have fun doing.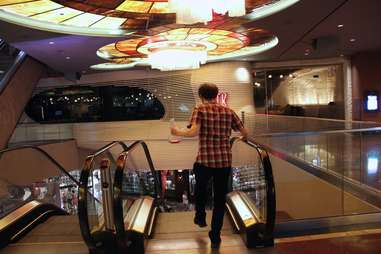 Gina Park
Remember, the whole idea is that you can get this thing to go and drink it anywhere -- that way the staff at Jaleo won't remember you as "that guy without the basic motor skills who spilled cider all over our very expensive floors".
While it's possible to drink an entire porron by yourself, your best bet is to grab some friends, set up shop on the Strip somewhere, and see who can drink from it the longest, and from the farthest away. Bring a bib.
Lee Breslouer writes about food and drink for Thrillist, and thinks drinking at 12:30pm "for an article" is the best excuse to day drink. Follow him at @LeeBreslouer, because you can't make up a name that good.