How to Drink Like a Boss: Scotch
At some point during our paths to adulthood, each of us will wake up one day with the distinct realization that Scotch is the epitome of sophistication. I'm talking real-deal, owning-more-than-two-good-suits sophistication. It's like when you discover that coffee doesn't actually taste like dirt, or when you finally figure out the appeal of televised golf (still waiting on that one). One day you're drinking cheap longnecks and slamming Fireball, and the next you're envying a silver fox down the bar, eyes glued to his amber-hued rocks glass with a million questions in your newly grown-up brain. I'm with you, bro -- between its smooth-AF rep and storied history, getting into Scotch can feel like a whirlwind of smoke and peat -- and that's exactly why we're about to tackle it.
While it might occasionally pose as a members-only club, the Scotch industry is actually booming stateside. In 2015, the Distilled Spirits Council of the United States reported that sales of single-malt Scotch had risen 134% since 2002 -- and the single-malt style only accounts for 20% of US Scotch imports. So if all you know about Scotch is that it comes from Scotland, there's no better time than the now to dive headfirst into those gorgeous Scotchy waters (insert Ron Burgundy joke here).
TL;DR: Scotch is kind of a big deal, as are the people that drink it. Stick with me, and that will soon include you.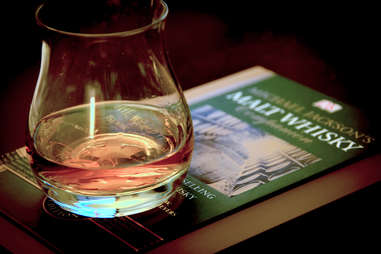 Here's the difference between single malts and blends
Long story short, Scotch is split into two relatively straightforward categories: single malts and blends.
Single malts must come from a single distillery
Distilled from 100% malted barley, single malts are aged in oak barrels for at least three years before being released. Although it all comes from one distillery, the juice in the bottle may come from different batches of whisky all swimming around together. The age on the bottle refers to the youngest whisky in the mix (i.e., all the liquor going into a bottle of Macallan 12 was aged for at least 12 years, but some of the whisky has been aged for longer).
If you're interested in dipping a toe into the single-malt waters, start with something smooth and fruity like Macallan 12, Glenfiddich 15, or Glenmorangie 10 before working your way up to the ridiculously peaty euphoria that is Laphroaig. These bottles usually fall on the pricier end of things, but they're often more flavorful and complex than your average bear, with clearer, beefed-up flavors.
Blends are made with a mixture of single malts and grain whisky from different distilleries
Although single malts dominate the scene nowadays, blends were actually the only kind of Scotch sold in the US up until the '70s. Here, a master blender mixes different single malts from various distilleries with a bit of grain whisky (which, unlike single-malt Scotch, is not 100% malted barley) in order to create a specific flavor profile. And, lucky for you blend boys, they're usually a bit kinder on the wallet than the singles.
Some killer, easy-to-find blended Scotches include Chivas Regal 18 and Dewar's 18, both awarded 96 points by Wine Enthusiast, as well as Johnnie Walker Platinum Label, which scored 94 points, and Cutty Sark Prohibition Edition, a 90-pointer that goes for a measly $30 a bottle (get on this, stat). Single-malt fanatics sometimes dismiss these brands for not distilling their own whisky and adding grain alcohol to the mix. But, truth be told, a lot of blends -- i.e., the ones listed above -- are actually very skillfully produced, scoring well against single malts in blind taste-tests, and should definitely not be slept on (though, they may make you sleepy).
Some Scotches are smoky, some are mellow, and that's often based on the region
If we're talking liquor origin stories, saying Scotch is from Scotland is barely scratching the surface. Scotch is only produced in five regions throughout the nation and each has a specific terroir (that's fancy-speak for the specific environment in which it's produced).
Speyside
Named after the River Spey, this region is often referred to as the heart of whisky-making in Scotland and is home to more than 50% of all the country's distilleries. Most Speyside whisky, like Macallan and Glenfiddich, is as complex as it is refined, with sweet caramel or crisp, nutty notes balancing out full-bodied richness, though some are drier and more delicate, like Glenlivet, which is as flowery as your grandma's wall paper and in much, much better taste. Speyside also makes blended whisky, Johnnie Walker and Chivas Regal being among the most popular.
The Highlands
Speyside is actually part of another whisky region, the Highlands, which is also the largest area-wise. The geographical diversity results in a range of flavor profiles: leathery, spicy, punch-packing whiskys (Glenmorangie, Oban), as well as lighter, fruitier versions (Edradour, Highland Park).
Campbeltown
This obscure Scotch region -- known for its pungent, peaty, and slightly briny whiskys -- was a distilling powerhouse more than a century ago. But today, only three distilleries are in operation: Springbank, Glen Scotia, and Glengyle. Whomp, whomp.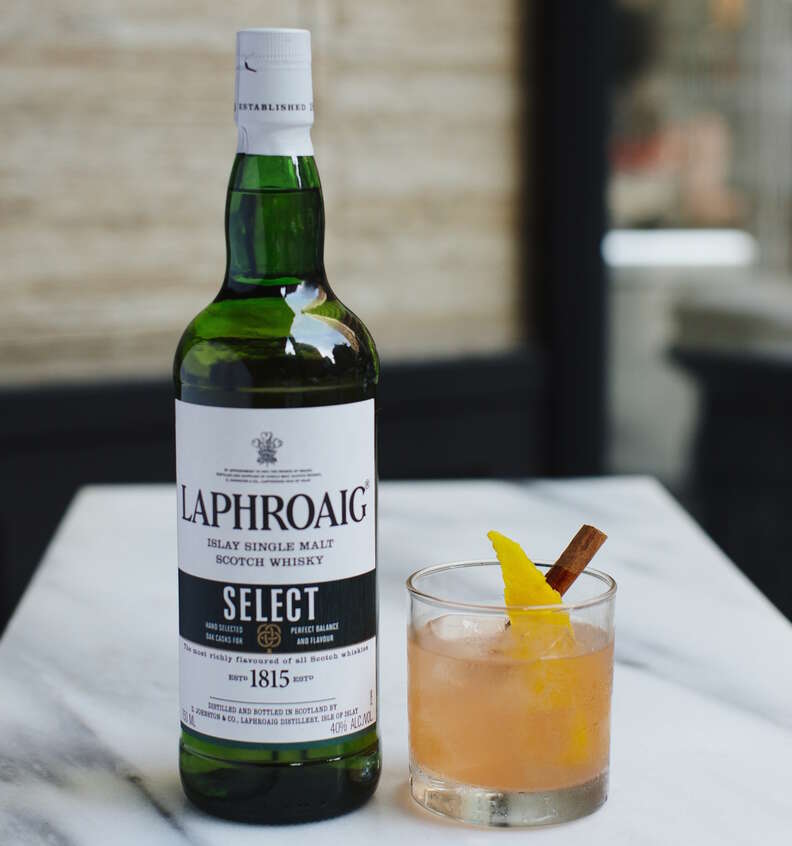 The Isle of Islay
Pronounced "eye-luh" (you're welcome), the Isle, which is the smallest of the bunch, is known for the extra-smoky, kick-in-the-pants-level intensity associated with Laphroaig, Bowmore, and Ardbeg. Proceed with caution here. But do proceed.
The Lowlands
Located in the center of Scotland, this region only has three working distilleries left: Auchentoshan, Bladnoch, and Glenkinchie. They're whiskys are often triple-distilled, which is why they have the reputation for lighter, softer flavors.
Why some people spell "whiskey" as "whisky"
Unbeknownst to many of us Yanks, only Americans and Irish folk add an "E" to whisky's last syllable. The rest of the world, including distilling hotbeds like Japan, Canada, and, um, Scotland, leaves the "E" out of it. When the word first came into play way back in the 15th century, the Scots and the Irish Gaelic came up with slightly different ways of spelling it -- uisce beatha in Scottish, uisge beatha for the Irish -- and that ancient distinction lives on in the form of the controversial "E.: Today, we statesiders also use the "E" because it was Irish immigrants that first brought the glories of whisky to our fair shores, God bless 'em.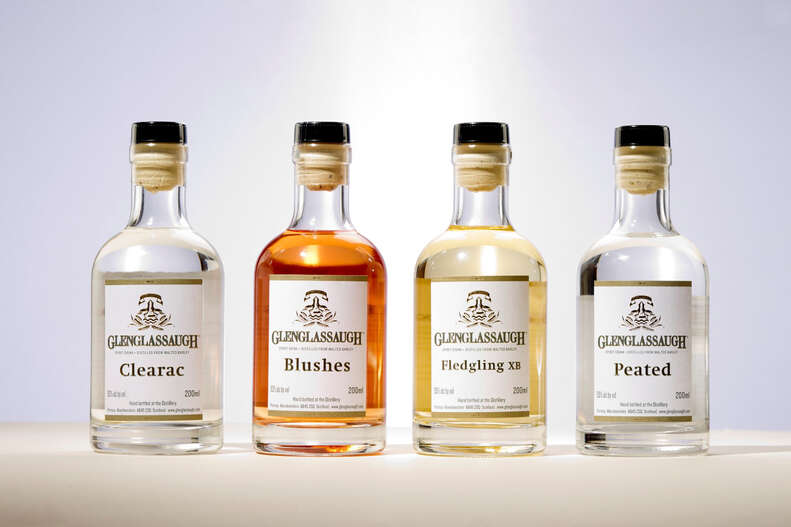 Why "peaty" means "smoky"
Odds are you've overheard Grandpa Frank puttering on about "peat" between sips of his Laphroaig 15 before, but, believe it or not, he wasn't talking about your deadbeat Uncle Peter (I'm guessing).
Scotland is virtually covered in bogs, peat bogs to be precise, which are basically layers upon layers of plant life that's been slowly decomposing over thousands of years. Scottish distillers extract vegetation from these bogs, dry it out like hay, light it on fire, and spread damp malted barley over it to dry. This process infuses the malt with a strong smokiness, and later, when distillation magically turns the malt to alcohol, this characteristic is imparted into the final product: old Franky's beloved whisky. So, even though this means your favorite Scotch is basically mud-flavored, it's always been done this way, people like it, and thus, peatiness is a thing.
To chill or not to chill?
If you're planning to drink your Scotch mixer-free, there are two main ways to do that. The first, neat, is as easy-peasy as it gets -- a couple of ounces just poured into a glass, preferably a tulip-shaped whisky glass or a brandy snifter. These glasses both feature full, rounded bowls that taper towards the rim, which works to showcase the liquor's color, body, smell, taste, and finish. If it's a particularly fancy bottle, those in the know also recommend adding a few drops of water to bring out flavors that otherwise might have been masked by the liquor's boozy punch.
The second way Scotch heads do it up is on ice, handed over in a heavy-bottomed rocks glass. Truthfully, the icy effect actually does little to show off the whisky itself -- some people just prefer to drink their drinks in sub-zero form. Neat devotees poo-poo this choice since freezing temperatures tend to mute flavor and melting ice results in watery alcohol, but if that's how you like it, you do you, partner. If it's a nicer whisky, try for one of those massive ice blocks trendy cocktail bars are so fond of -- the cube's broad surface area and solid composition will slow down that whole melting thing.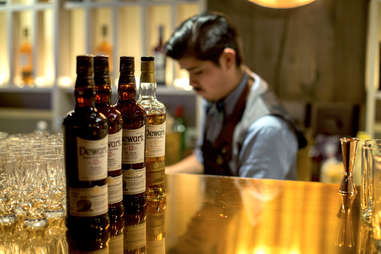 Some Scotch cocktails
If neat, rocks, and your basic Scotch-and-soda/Scotch-and-water combos aren't exactly doing it for you, try one of these six top-notch Scotch-tails on for size.
The Godfather
Brando wannabes could do worse than order up this sultry, old-school tipple. Two parts Scotch and two parts Amaretto liqueur, poured into a heavy-bottomed glass over ice and briefly stirred, is all it takes to whip up the Don's right-hand cocktail.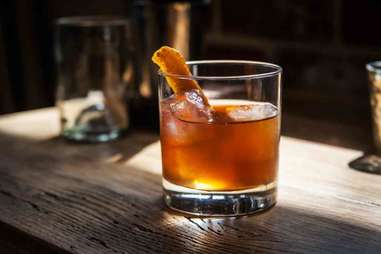 Rusty Nail
This timeless beaut ain't just for the geriatric crowd anymore, with plays on this earthy, herbaceous slow-sipper popping up around the country's best cocktail bars. Pour ¾oz Drambuie and 1 ½oz Scotch into a rocks glass over ice. Stir gently, top with a lemon twist, and enjoy.
Rob Roy
A simple mix of sweet vermouth and Scotch, the Rob Roy is basically the Manhattan's more sophisticated older brother, the one that went to law school and now makes six figures while little Manhattan's still maxing out credit cards at Nordstrom. Add 1 ½oz Scotch and ⅚oz sweet vermouth to a mixing glass, top with ice, and stir until thoroughly chilled. Strain into a cocktail glass, shake in a dash or two of Angostura bitters, and leave your student loans behind you.
Presbyterian
Don't let the name fool you -- there's nothing puritanical about this fizzy-lifting drink. Pour 2oz blended Scotch into an ice-filled Collins glass, fill with equal amounts sweet ginger ale and bubbly club soda, stir, sip, and repeat.
Penicillin
This one's a newfangled sort, created in 2005 by New York bartender Sam Ross of Attaboy and the late, great Milk & Honey (RIP). Combine 2oz blended Scotch, ¾oz fresh lemon juice, and ¾oz honey-ginger syrup in a cocktail shaker. Fill the shaker with ice, shake hard, and strain over a giant ice cube into a rocks glass. Finish off with a floater of 1 ½oz of peaty single malt, garnish with a bit of candied ginger, drink two, and call me in the morning.
Blood and Sand
This bizarrely delectable, richly seductive cocktail might be a bit of a doozy, but its gorgeous deep-purple color makes it sexy as all get out. Combine ¾oz blood orange juice, ¾oz sweet vermouth, ¾oz Cherry Heering, and ¾oz blended Scotch into a Collins glass, fill with ice, and top with an extra splash of OJ.
Sign up here for our daily Thrillist email, and get your fix of the best in food/drink/fun.
Meredith Heil is a staff writer for Thrillist. She spilled whiskey on her shirt, she gonna have to get it cleaned. She been going way too hard, someone has to intervene. Pour @mereditto a stiff one.