How to enjoy your favorite whiskey outside a bar
Sure, drinking whiskey in a bar is as easy as ordering a glass of whiskey, putting said glass of whiskey to your lips, and then swallowing that whiskey, putting the glass down, and winking at the person next to you, but how can you best enjoy the boozy nectar of the gods while at home sitting on your very expensive futon couch?
Well, we spoke to Colin Spoelman, the master distiller of Kings County Distillery in Brooklyn, and a guy who literally co-wrote the book on how to drink the brown water in the Guide to Urban Moonshining: How to Make and Drink Whiskey, to find out. So do these three things, then go back to that futon:
Drew Tyson
Buy these bottles for your home bar
In order to be a true whiskey connoisseur, it's not enough to frequent whiskey bars. You must also have a bottle collection. Colin says for a mainstream classic bourbon, he likes Woodford Reserve. For a mainstream rye, go for Bulleit Rye.
From there, his selections get unconventional. While he's clearly a fan of Kentucky's best export, he says they offer a "traditional, but homogenous" style of whiskey. He suggests you fill out your home bar with his own Kings County Moonshine (a classic corn whiskey), the inexpensive Mellow Corn Bottled-In-Bond Corn Whiskey, and from Anchor Brewing Company's distillery, Old Potrero Straight Rye Whiskey, the taste of which differs from KY whiskey because it's aged in uncharred barrels.
Learn how to make the best whiskey cocktails
Sure, you could pay nearly $40 to drink a professional craft cocktail made by a bartender, but you should know how to do it yourself, as well. Colin's pick is a modern take on the julep, a Southern cocktail known for its sweetness. He suggests taking sugar out of the equation, and making one with three simple ingredients: bourbon, mint, and seltzer.
And of course, there are other classic whiskey cocktails you need to know how to make: an Old Fashioned, a Manhattan, a Cherry Bounce, and hot and cold toddies. Solid recipes for those cocktails can be found in that book we told you about earlier.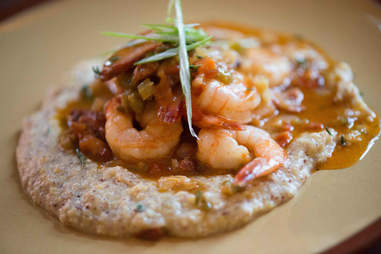 Joe Starkey
Stop drinking it for a second and cook with it
First step: Buy cheap bourbon. He says it's a shame when people waste perfectly good bourbon that'll get burned up in the cooking process anyways. But once you have an inexpensive bottle at hand, use it in the kitchen.
Some of the recipes he recommends adding bourbon to are bourbon-soaked maple syrup and pancakes, bourbon shrimp & grits, and bourbon chocolate cookies. In the shrimp & grits' case, it's as easy as adding whiskey to your shrimp just before they're cooked through.
Lee Breslouerwrites about food and drink for Thrillist, and thinks an Old Fashioned a day keeps the doctor away. Follow him at @LeeBreslouer, because you can't make up a name that good.