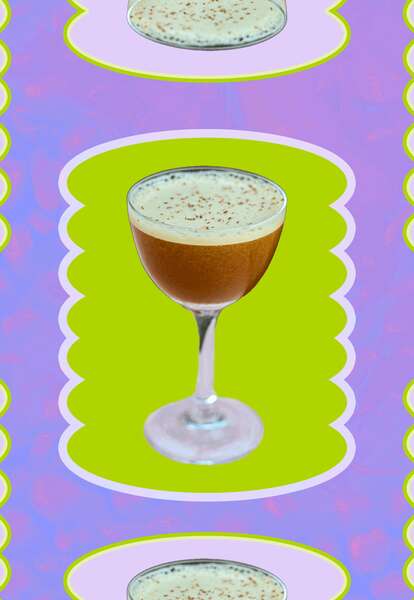 Photo: Dillon Keeler; Image: Chineme Elobuike for Thrillist
Photo: Dillon Keeler; Image: Chineme Elobuike for Thrillist
The resurgence of the espresso martini continues to live on. Timothee Chalamet and Larry David were recently photographed tossing a few back in New York City. The drink is flourishing on TikTok. There's even a spreadable espresso martini out on the market right now.
"With the espresso martini, I think there's this desire to be out later and stay up, which stands in contrast to the sedentary lifestyle that we all had during quarantine," says Dillon Keeler, lead bartender at Mexican restaurant Suerte in Austin.
But the possibilities for coffee cocktails do not stop at the espresso martini. In fact, many caffeinated digestifs existed long before the espresso martini's invention in the 1980s. There's the Irish coffee, the Norwegian karsk, and of course, the White Russian.
But one drink in particular, the Spanish carajillo, has been making its way back alongside the espresso martini—only south of the border. In the last few years, Mexico City has reinvigorated the age-old cocktail, making it a fixture at trendy cantinas.
And Keeler has brought this Mexican specialty to the menu at Suerte. His carajillo-inspired Madrugada is a Jamaican black rum cocktail with Licor 43, café del fuego, cold brew, horchata orgeat, toasted pecan, and a dark chocolate garnish.
"I wanted to focus on bringing a drink that marries the espresso martini with Mexican flavors, specifically horchata," he says.
Lore has it that the first carajillo dates back to when Cuba was a Spanish province. Spanish troops combined coffee with rum to give indentured servants courage, or coraje, to get through the day. Eventually, it became a spiked morning coffee for working class Spaniards, and once Mexico got its hands on it, a party drink.
The carajillo went from hot to cold, day to night. "The carajillo is a very popular pick-me-up drink in Mexico and it's actually starting to spread to the US," Keeler says. Licor 43, the Spanish liqueur that defines the Mexican carajillo, has increased its marketing across the South. "There are billboards that say things like, 'Stay up with carajillo.' They make it all sexy and really focus on the coffee aspect."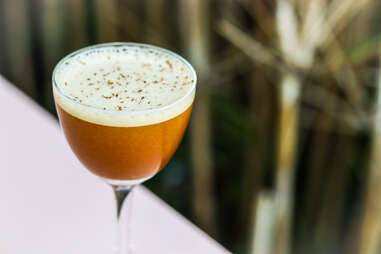 "Madrugada" is one of Keeler's favorite words. "It translates to early morning, but it's usually specifically referring to that 1 am to 5 am time, right before sunrise—that weird crossover where people that are still out want to be out and people that are waking up in the morning are going to work."
The Madrugada consists of a homemade orgeat that mimics the flavor profile of horchata. Orgeats are nut or seed-based syrups, typically made from almonds. But Keeler makes his own version, with rice milk and toasted pecan. And instead of espresso, the team at Suerte makes a bitter cold brew concentrate by soaking a pound of coffee beans overnight.
Making the pecan orgeat is a multi-step endeavor that might not be easily accomplished at home, but the good news is that it can be substituted with horchata. "What's fun is the drink can be as sweet as you want," Keeler says. His trick is to include shaved, 80% dark chocolate at the top to balance out the sweetness.
"In coffee cocktails, the garnish isn't always super important, but here you can really change the way the cocktail works by adding that final ingredient. I've made a couple coffee cocktails in the past with chili and orange," Keeler says. "Really thinking about what you like out of coffee and translating that into a drink can lead to some fun creations."
Coffee drinks, it seems, are here to stay. "I haven't heard anybody ask for a Vodka Red Bull in forever," Keeler jokes.
Madrugada Recipe
Ingredients:
¾ ounce rum
¼ ounce Licor 43
½ ounce coffee liqueur (Caffe del Fuego)
1 ounce espresso/cold brew
½ ounce Pecan Orgeat (or horchata)
1 dash of Chicory Pecan Bitters
Directions:
1. Hard shake
2. Fine strain
3. Top with chocolate shavings