How to make The Only Manhattan You'll Ever Need
If you ask 10 different bartenders how to make a drink, you'll likely get 10 different answers. Which is why you should just listen to us, and our man Joaquín Simó, the face of NYC's Pouring Ribbons, who was named nothing less than Bartender of the Year at Tales of the Cocktail 2012. This time we're taking on one of the classic-est of classics -- prepare to get step-by-stepped through the Only Manhattan You'll Ever Need.
Make sure you've got the ingredients: Rye whiskey, sweet vermouth, bitters, ice.
Now you'll need the proper barware to get things going: mixing glass, large double jigger, bar spoon, strainer, cocktail glass.

First step: acquire not as much booze as you maybe thought you'd have to acquire. Just whiskey, vermouth, and bitters.
In go the bitters -- two dashes. There's all sorts of ways to mess around, but Joaquín assures us that classic Angostura will do perfectly here.


Since your pour-count skills are probably not the greatest, you could use a: Large Double Jigger, plus a Seamless Yarai Mixing Glass
Next, 1oz sweet vermouth. Carpano Antica Formula is absolutely delicious, and not for babies. Except European ones.
Joaquín knows you need a big, beastly whiskey to stand up to the Carpano, and so he's recommending Rittenhouse 100 Rye. 2oz of that, into the stirring glass.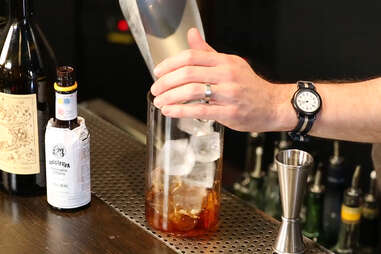 Fill that sucker up with ice that the guys from Cool Runnings would be terrified of.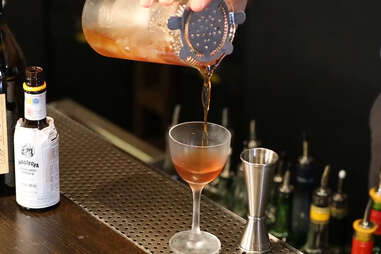 And, after giving it a taste to make sure everything's in the right place, pop the strainer on top and pour into your creation into your stemmed cocktail glass.
You DO want to be a pour boy: True Fabrications 2-Prong Cocktail Strainer