How to make The Only Martini You'll Ever Need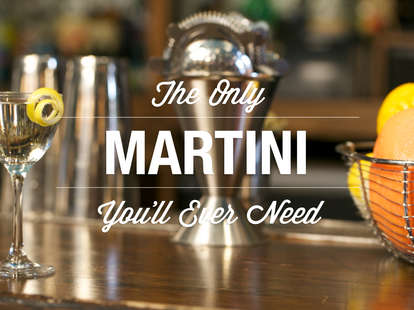 With people like James Bond out there giving dubious advice about how to make a martini, we thought it'd be best to clear the air a little bit -- without using some sort of futuristic air-clearing doohickey from Q. Enter our main bartending man, Joaquín Simó, of New York City's Pouring Ribbons, who was not only named Tales of the Cocktail 2012's Bartender of the Year, but who's also got the perfect recipe for the most refreshing martini you'll ever taste. Sit back, relax, and watch the master at work -- this is The Only Martini You'll Ever Need.
Make sure you've got the ingredients: Gin, dry vermouth, orange bitters, ice.
Now you'll need the proper barware to get things going: mixing glass, large double jigger, bar spoon, strainer, martini glass.

The ingredient list's super-simple: gin, vermouth, and bitters.
First, shake a couple healthy dashes of bitters in. Joaquín prefers Regan's Orange Bitters for his perfect martini, and that means you should, too.
Next goes the dry vermouth -- 1oz of Dolin. Joaquín is making a wet martini here, meaning there's more vermouth. A dry martini will just have a hint of vermouth, and actually does still contain liquid, despite its misleading name.
As for gin, Joaquín stresses that any type will do, but to him, a classic London dry is ideal. So in it goes -- 2oz of Beefeater.
Since your pour-count skills are probably not the greatest, you could use a: Large Double Jigger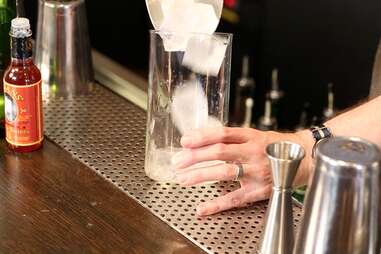 Now it's time to add ice -- a heaping helping of the stuff, which should remind you of a much more geometrically uniform avalanche.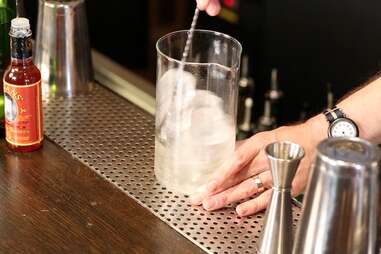 Stir that sucker up good, because you want your martini to be "blindingly cold", in the words of Joaquín. The best martinis will be velvety and thick, much to the chagrin of that no-good shaken martini-preferrer James Bond.
Stir it up: True Fabrications Bar Spoon
Hit it up with some citrus oil by expressly peeling a bit of lemon. Then you can wrap the rind around your stirring spoon for a garnish that's sure to impress any Bond girl/henchwoman/whatever you're into.
For the perfect martini, serve in a Midtown glass: Libbey Midtown Martini Glasses
And there you have it -- The Only Martini You'll Ever Need.