Weekend Project: How to Make the Perfect Shochu High Ball
The best beverage to fuel a night of karaoke is ice-cold chūhi.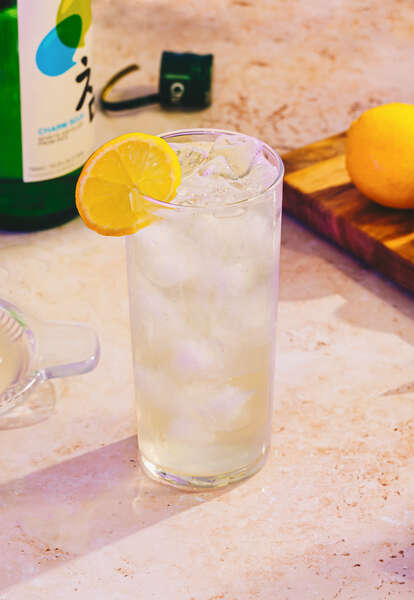 Cole Saladino/Thrillist
Cole Saladino/Thrillist
What's the best drink for a night of karaoke? If you're a doctor, you might recommend a bottle of room temperature water. If you're a karaoke expert, you might swear by a cup of warm herbal tea. If you're Mariah Carey, you might drink a glass of champagne with a dollop of honey. But, if you're me -- someone who is decidedly not a doctor, vocalist or Mariah Carey -- there's only one drink for a good night of karaoke: a can of ice-cold chūhi.
In Japan, chuhis -- shochu highballs made from club soda, shochu, and a splash of anything from grapefruit juice to a salty pickled ume -- are something akin to a national cocktail. Born during the postwar whisky craze in Japan, chuhis (shorthand for "shochu highball") were invented and popularized by izakayas in Tokyo's working-class Sanya district as "the common man's highball." Today, chuhis live up to that legacy: visit any convenience store in Japan and you'll find walls of brightly lit refrigerated displays stacked with affordable canned chuhis from Japan's oldest and largest beverage companies, such as Suntory, Kirin, Sapporo, and Asahi. In restaurants and izakayas across Japan, chuhis continue to be a staple drink menu item, often served DIY-style with a half slice of grapefruit and a juicer.
Canned chuhis have become a phenomenon in their own right, produced in a wide variety of flavors, from classic grapefruit and lemon flavors, to seasonal ones like acerola and pineapple, and a range of ABVs, from 3% to 9%. And, true to their working class roots, they're insanely affordable, with some sold at 107 yen (~$1) per 350ml can. It's no wonder that some have dubbed chuhis "welfare you can drink." Whenever my friends and I rent out a karaoke room in Tokyo, we always defy the drink menu and make sure to buy a couple cans of liquid courage from the convenience store to sneak in our bags. Some high ABV chuhis, like Suntory's infamously deadly 9% "Strong Zero," can be deceptively smooth and sweet—all of which is to say, you'll be belting "Fantasy" before you know it.
But, while chuhis are a cultural force in Japan, regularly besting beer in yearly malt beverage sales, they're a rare sight in the United States. In my desperate search for chuhis stateside, I've only been able to find two brands that sell it premixed: Sangaria and Takara Sake.
With no end in sight for the coronavirus pandemic, and with no way to travel back to Japan anytime soon, I consulted with Yamato Miura, a sake consultant for Nihon Sakari, the fifth largest sake brewery in Japan, and the owner of Benten Ramen in San Gabriel, dtla Ramen in downtown Los Angeles, and Izakaya Tonchinkan in Arcadia on how to sooth my homesickness and recreate some of my favorite chuhi drinks at home.
Choosing your Shochu
One of the first decisions you need to make when making chuhi is choosing a shochu—the distilled spirit that makes the base of the cocktail.
Miura told me that there are two types of shochu to consider when making a chuhi: korui (甲類) and otsurui (乙類). "Korui and otsurui shochu are made differently and have different flavor profiles," he said. Otsurui shochus, per Miura, are distilled from specific ingredients like sweet potato, shiso, barley, or even wasabi with the help of koji-kin (aspergillus oryzae) spores, and each have distinct, unique flavors. While you can technically use otsurui shochus to make chuhis, Miura suggested drinking it "on ice or with water to enjoy the full flavor."
Then, there's korui shochu, which Miura recommended for its clean taste. Korui shochus, unlike their otsurui counterpart, are distilled multiple times using an industrial method introduced to Japan by Great Britain in the late 1800s. "Korui shochus don't have a distinct flavor or accent, so it's perfect for making chuhis," he said. "Plus, it's more affordable." Miura recommended using Takara Shochu's base korui shochu, which he uses at his flagship izakaya restaurant in Arcadia, Izakaya Tonchinkan. I managed to find a 750 ml bottle of Takara Shochu's Yokaichi Kome shochu at my local Hmart, but you can find other shochus at your local Japanese market as well.
If you're inclined to help restaurants out during the pandemic, Miura suggested buying your shochu and sake directly from Japanese restaurants. "When it comes to shochu and sake, the Japanese supermarkets' selection can be limited, but Japanese restaurants often have unique selections because some breweries make seasonal sake specifically for restaurant-use. We often have sake and shochu that people can't buy at the supermarket, so that's one small way that customers can help us during this crisis."
Choosing your flavor
There isn't one clear-cut way to make a chuhi. If anything, part of what makes chuhi such a popular drink is its versatility and customizability. Miura agreed. "I think one of the appeals behind chuhis is that you can make your own flavor, adjust the sweetness and customize it to your liking," he said. "It's really all up to you."
The DIY spirit behind chuhi is also tied to its postwar, working class origins in Sanya, Tokyo. According to writer Hiromi Kudo, chuhis first became popular in downtown izakayas in the 1950s among factory workers and laborers as an affordable alternative to whiskey highballs. Simply put, korui shochu was cheaper and taxed lower than whiskey. Izakayas, at the time, used whatever they had on hand -- such as citric acid, lemon fragrance and sugar -- to mask the taste of low-grade shochu and replicate American highballs, which came to Japan by way of the American occupying forces after World War II. "The whiskey heyday of postwar Japan was created by a raging new wave of American culture," Kudo wrote. "Chuhis are embodiment of the 'shadow of America' that defined postwar Japan."Today, chuhis come in every flavor imaginable. I personally like citrus-based chuhis, such as grapefruit, lemon, lime and yuzu, but Miura says that Calpico sours -- chuhis made from the tart, lactic Japanese soft drink and shochu -- are a popular choice at his restaurants too. Miura has also had success using cocktail syrups, like Lychee, for chuhis as well. If you're looking for a non-sweet alternative, you can also ditch the sparkling water and mix your shochu with green tea to make a ryokucha-hi, or oolong tea for a oolong-hi. Miura said that ratio is everything in making a good chuhi, especially in the United States, where trade regulations limit the alcohol content of shochu.
"In Japan, when they make chuhi, they use shochus with higher ABVs, like 30%, so it's concentrated and stronger." he said. "In the US, because of regulations, all of the shochu sold here is below 24%, so you might have to put a little more shochu to balance it out. This makes it difficult to keep the carbonation because we have to put in a lot of shochu and it's watered down, so that's definitely something you want to adjust to taste too."
For this specific weekend project, I asked Miura for guidance on making a lemon sour -- one of my favorite chuhi cocktails and, apparently, the most popular canned chuhi-type drink in Japan. "Lemon sour is booming in Japan," he said.
His recipe for a lemon sour is simple:
4 oz shochu
Half a lemon
Ice
Sparkling water
Simple syrup, to taste
Fill your cup with ⅓ ice.
Pour the 4 oz of shochu and squeezed lemon juice in.
Top off your glass with sparkling water.
Add simple syrup to taste.
After our interview, I made a beeline to Hmart and bought a bottle of shochu, along with some lemons, grapefruits, sparkling water and a bottle of Calpico, for some variety. For simple syrup, I enlisted some help from my grandmother, who boiled a half cup of sugar and water together until it was clear.
Out of the three chuhis that we made -- lemon, grapefruit, and Calpico -- I'd definitely say my favorite was the lemon sour, which my grandmother described as "tart, but perky." I like my lemon sours non-sweet, but if it's too tart, adding two tablespoons of simple syrup helps mellow it out. Both the grapefruit and Calpico chuhis were nothing special -- to be honest, the grapefruit was bland compared to the lemon sour. And, as Miura warned, both the lemon juice and shochu diluted the carbonation in the sparkling water, leaving my drink flat. If I were to do it again, I'd probably opt for using a larger beer mug like they do in Japan to even it out.
Sign up here for our daily Thrillist email and subscribe here for our YouTube channel to get your fix of the best in food/drink/fun.
Anthony Berteaux is a Thrillist contributor.