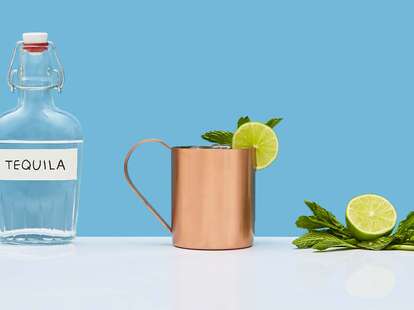 Photo by Marisa Chafetz for Thrillist
Photo by Marisa Chafetz for Thrillist
The Moscow Mule was invented because a vodka distributor and a Los Angeles bartender were each having trouble pushing a different product. The year was 1941, and John Martin—who worked for a distributor that sold Smirnoff—realized that Americans loved their whiskey and wanted nothing to do with vodka. He paid a visit to the Cock 'n Bull bar on Sunset Boulevard where the owner Jack Morgan lamented that he couldn't sell his proprietary ginger beer. The two put their heads together and the Moscow Mule was born. As with any classic, different variations began to pop up through the years as folks realized they could swap vodka for other spirits. Hence, the Tequila Mule came to be.
Tequila's earthy, grassy flavor brightens up the Mule and complements the spicy bite of the ginger beer and acidic tang of the lime juice. If you're still getting used to ginger beer's sweet piquancy, tequila is actually the way to go because it tempers the flavor better than vodka does. When choosing a tequila, you don't need to splurge on anything too fancy, but you should definitely look for a quality blanco bottling. For this drink, we're fans of Cimarrón, Calle 23 Blanco, and Olmeca Altos Tequila Plata. If you're a whiskey fan and want to give the drink a deeper, richer flavor, experiment with a reposado tequila when mixing this drink (we like Pueblo Viejo Reposado and Espolon Reposado).
To make the Tequila Mule as tasty as possible, always use fresh lime juice and a high quality ginger beer. If you're looking for recommendations, we always reach for Reed's, Fever-Tree, Gosling's and Ginger People.
Tequila Mule
INGREDIENTS
2 oz

tequila

.5 oz

lime juice

lime

mint
INSTRUCTIONS
Step one
Add all ingredients, save for the garnishes, to a copper mug with ice.
Step two
Stir it a few times with a bar spoon.
Step three
Garnish with a lime wheel and mint sprig.
Contributed by Supercall