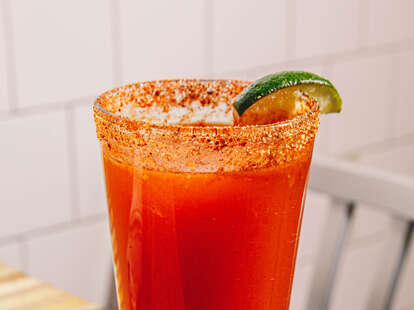 Michelada

| Photo by Cole Saladino for Thrillist
Michelada

| Photo by Cole Saladino for Thrillist
Today, just about any flavored beer a person could dream up already exists in a can, from micheladas to shandies to, yes, pickle beers. But there's still much to be said for the DIY versions of these dressed-up beers.
For one, they're fresher (you could squeeze your own lemonade for a shandy right this instant). For another, they're customizable: spiciness, fruit choice, how strong you'd like the final drink to be—all those are in your hands. And perhaps more importantly, they're fun. Whether you want to spend two minutes constructing a beer-lemonade shandy or spend an hour infusing your IPA with real chunks of pineapple, there are plenty of ways to get creative in gussying up your beer this summer.
Embrace red beer
A brunch staple across the western half of the U.S., "red beer" is essentially a stripped-down michelada: just your preferred light lager of choice, plus tomato juice. But the devil's in the details—folks can get mighty particular about their red beer specifications.
My preference is Coors Light with just a splash of Campbell's tomato juice. It's a pet peeve of mine when bartenders go too heavy on the tomato juice; it's called red beer after all, not tomato juice. To make this yourself, start with your light lager of choice, then add just a splash of tomato juice so that the beer has a strong orange hue. Sip, taste, and add more if necessary.
Upgrade your salt rim
Another component of some micheladas, salt rims are more versatile than they might seem—and they complement several styles of beer. Just coat the rim of a beer glass with lime juice or water, then dunk the glass in a shallow dish of salt. Try the following combos:
• Mexican lager with a Tajin rim: Try substituting Tajin seasoning for straight salt for a bit of a chili-lime kick. Pair this with a red beer for a michelada-like vibe.
• Gose with a herbal-salt rim: Goses are a beer style with a light salinity already, so pouring them in a glass rimmed with a rosemary salt or basil salt can add an additional flavor that doesn't clash. Try mixing and matching fruited goses with herbal salts—how about a watermelon gose with a basil-salt rim?
• Dark lager with a smoked salt rim: Smoked salt is a surprisingly versatile ingredient because it's way less powerful than liquid smoke. Try a dark lager (like Modelo Negro or a bock) in a glass rimmed with smoked salt for a subtle campfire vibe.
No shame in a shandy
Radlers and shandies are often used interchangeably to refer to a light-colored beer blended with fruit juice (typically lemonade or grapefruit). Packaged versions exist, but with so many fruit flavored non-alcoholic beverages on the market, it's worth playing around with some creative combos in your own kitchen. A good rule of thumb is to start light with the base beer, either a pale lager, cream ale, blonde ale, or (if you're really a hop head) a pale ale. From there, most people blend in a splash of their favorite juice.
But here's my preference: Use a fruit-flavored soda. I find that adding straight fruit juice to beer often makes it too sweet and a bit flat. A high-quality fruit-flavored soda, like the ones from Sanpellegrino, adds carbonation and fruit flavor with too much sweetness. Also, go easy on the ratio of soda to beer to start, because you can always add more soda. I find a ratio of about one part soda to three parts beer is ideal.
Infuse your beer with fruit
Your French press isn't only for coffee—it can also act as a device for infusing fruit or other flavors into beer. If you end up with a bumper crop of strawberries or melons from the farmer's market, this is a great way to use them.
1. Start with a new or perfectly clean French press to avoid coffee flavor leaching into your beer (unless that's what you're after).
2. Pour in your beer of choice. Almost any style could work here: light lagers, blonde ales, saisons, IPAs, even porters and stouts. Pour the beer into the French press, leaving a couple inches empty at the top.
3. Add some cut-up fruit. The possibilities are limitless: porter and raspberry, IPA and pineapple, blonde ale and mango, wheat beer and oranges, saison and cherries…
4. Allow the fruit to infuse. How long to leave the beer in contact with the fruit is up to you, knowing that the longer the mixture sits, the more pronounced the flavors will be. Start with 10 minutes, push the plunger down slightly, pour and taste some of the beer, and wait longer for a more intense flavor.
5. Push the plunger down all the way. Pour your infused beer into a glass and enjoy!
Make a mighty michelada shrub
Micheladas are typically a mixture of Mexican lager, lime juice, tomato juice, and salt. But recently, premixed michelada shrubs (like those from Pacific Pickle Works and Real de Oaxaca) have popped up, adding some vinegar tartness and other ingredients like Worcestershire sauce and spices to the mix.
A shrub combines vinegar with fruit or, sometimes, vegetables, and they're easy to experiment with at home. Michael Dietsch, author of Shrubs: An Old Fashioned Drink for Modern Times, suggests that if you're creating a shrub to mix with beer and tomatoes, beginning with a base of apple cider vinegar or malt vinegar (to match the malt in beer) plus lime is a smart start. From there, savory additions like soy sauce will lend a Bloody Mary feel—just be sure to use a light hand with those umami-packed additions. Because vinegar and soy or Worcestershire sauce are tangy and savory, Dietsch notes that you may want to add just a pinch of sugar to your shrub for balance.
From there, the sky's the limit. Swap apple cider for white balsamic if you're feeling bold, or add orange juice as well as lime. But regardless of what ingredients you use, Dietsch says it's important to let a shrub sit and mellow for a couple days before using it. That time will let the intensity of the vinegar mellow and will ensure all the flavors meld together in perfect harmony. Once the shrub has sat a few days, give it a taste, then add a few splashes of it to your favorite Mexican lager.
Kate Bernot is a certified BJCP judge and freelance reporter whose work regularly appears in Craft Beer & Brewing, Thrillist, and Good Beer Hunting. Follow her at
@kbernot
.