How to Make Coquito for the Holiday Season
Puerto Rican coconut eggnog, a.k.a. Christmas in a bottle.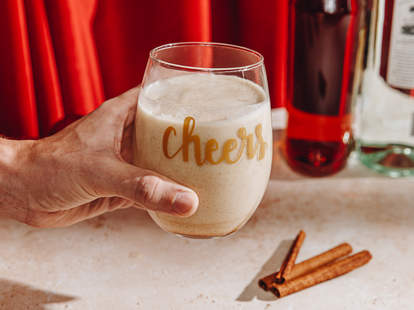 Photo by Cole Saladino for Thrillist
It's not Christmas in Puerto Rico without our traditional coquito drink. Coquito [pronounced "koh-kee-toh"] is a creamy coconut milk beverage that's made especially for the holidays. It is like a Puerto Rican eggnog, only better.
Did you know that Puerto Rico has the longest Christmas in the world? It starts on the first of November and ends in mid-January with our popular San Sebastián Street Festival, also known as "Fiestas de la Calle San Sebastián or San Se" in Old San Juan (although due to COVID-19, the festivities were canceled this year).
Every Christmas my dear querida Abuela used to prepare her famous coquito recipe and the tradition has stayed with me. After I moved to New York to look for job opportunities, I found myself missing my family and culture. I was on a mission to find ways to reconnect with my Puerto Rican roots and when Navidad (Christmas) came, I knew I needed to learn how to make my Abuela's coquito recipe, but with my own vegan twist.
Even though there are different variations of coquito, the base of the recipe is traditionally not vegan, and made with rum, coconut milk, evaporated milk, sweetened condensed milk, eggs, vanilla, cinnamon, nutmeg, and cloves.
This is such a staple in our holiday traditions, and I promise my vegan coquito recipe will not compromise the flavor.
Ingredients:
Serves 6-10
3 cans of coconut milk (Coco Lopez *because Goya is canceled)
2 cans of cream of coconut
1 ½ tsp honey or sweetener of your choice
1 cup of white rum (Palo Viejo, Don Q, or Bacardi)
¼ cup of brandy (this is the secret ingredient)
4 tsp vanilla extract
3 tsp ground cinnamon
2 tsp ground nutmeg
cinnamon sticks, optional garnish
Directions:
Making the sweetened condensed coconut milk
In a small or medium saucepan combine 1 can of coconut milk, 1tsp of vanilla extract, and honey to a boil.
Once boiling, reduce heat and simmer for 25 to 30 minutes, stirring constantly.
After 30 minutes, remove from heat, place in a heat-safe container, and store it in the fridge to cool completely.
Even if your coconut milk makes condensed milk that's a little thin, it still works great in this.
Making the Coquito
In a blender, add the coconut milk, cream of coconut, sweetened condensed coconut milk, white rum, brandy, vanilla extract, and spices.
If you'd like your Coquito extra creamy pour 1/2 cream of coconut can with the other ingredients. (optional)
Blend on high for 1-2 minutes until the mixture is well combined.
Make sure there are no chunks of cream of coconut.
Don't want this with alcohol? Simply leave the rum out for a kid-friendly version.
It's best to chill the Coquito overnight or throw it in the freezer for an hour. Make sure to shake before serving as the cinnamon will settle.
Serve chilled with a sprinkle of cinnamon or a side of cinnamon stick.
Sign up here for our daily Thrillist email and subscribe here for our YouTube channel to get your fix of the best in food/drink/fun.
Kisai Ponce is the Director of Audience Development at Thrillist. You can follow her on Twitter or
see her cats and what Housewives she's watching on Instagram.