Pickleback Shots Are the Perfect Way to Drink Bourbon and Whiskey
Name a better duo than whiskey and pickle juice.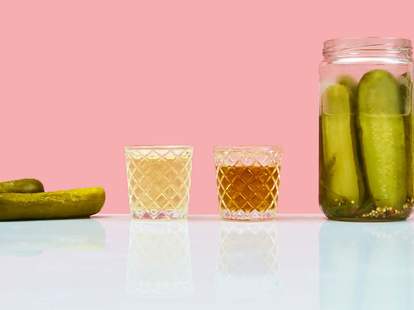 Photo by Marisa Chafetz for Thrillist
If you love the briny, vegetal savoriness of pickles, this two-part shot may become your new go-to shooter at the bar. A happy accident created at the Bushwick Country Club in Brooklyn, New York in 2006, the Pickleback shot is credited to bartender Reggie Cunningham. Legend has it that a customer requested a glass of pickle juice (McClure's pickles are regularly for sale behind the bar at the Country Club, which, it should be noted, is a dive bar rather than an actual country club) to accompany her shot of bourbon. According to Cunningham, after tasting the combo and finding it delicious, he continued to drink the mix and serve the shots at the bar. It is the house specialty at BCC to this day.
The original Pickleback is made with equal parts Old Crow Bourbon and McClure's pickle juice—served in two separate shot glasses. To take the shot, down the bourbon first, then chase it with the brine. While just about any bourbon will work for this shot, cheaper, higher proof bottlings are best. Pickle brine also works well with rye whiskey—the more peppery, the better—and Irish whiskies like Powers or Jameson.
If you can't find McClure's pickles for your Picklebacks at home, it is best to use higher quality, craft pickles for your brine. Most commercial pickles contain large amounts of corn syrup in their pickle brine and aren't as spicy, garlicky, or salty as good quality and fresher pickles. Regardless, if you're at a bar that serves Picklebacks, we highly suggest you take one. The mouth-puckering zip of pickle juice tends to mellow out the heat from bourbon or whiskey, making them the perfect marriage.
INGREDIENTS
1.5 oz

Whiskey

1.5 oz

Pickle Juice
INSTRUCTIONS
Step one
Set two shot glasses on the bar. Fill one with whiskey and one with pickle brine.
Step two
Shoot the shot of whiskey and then chase it with the shot of pickle juice. Voila.
Contributed by Supercall